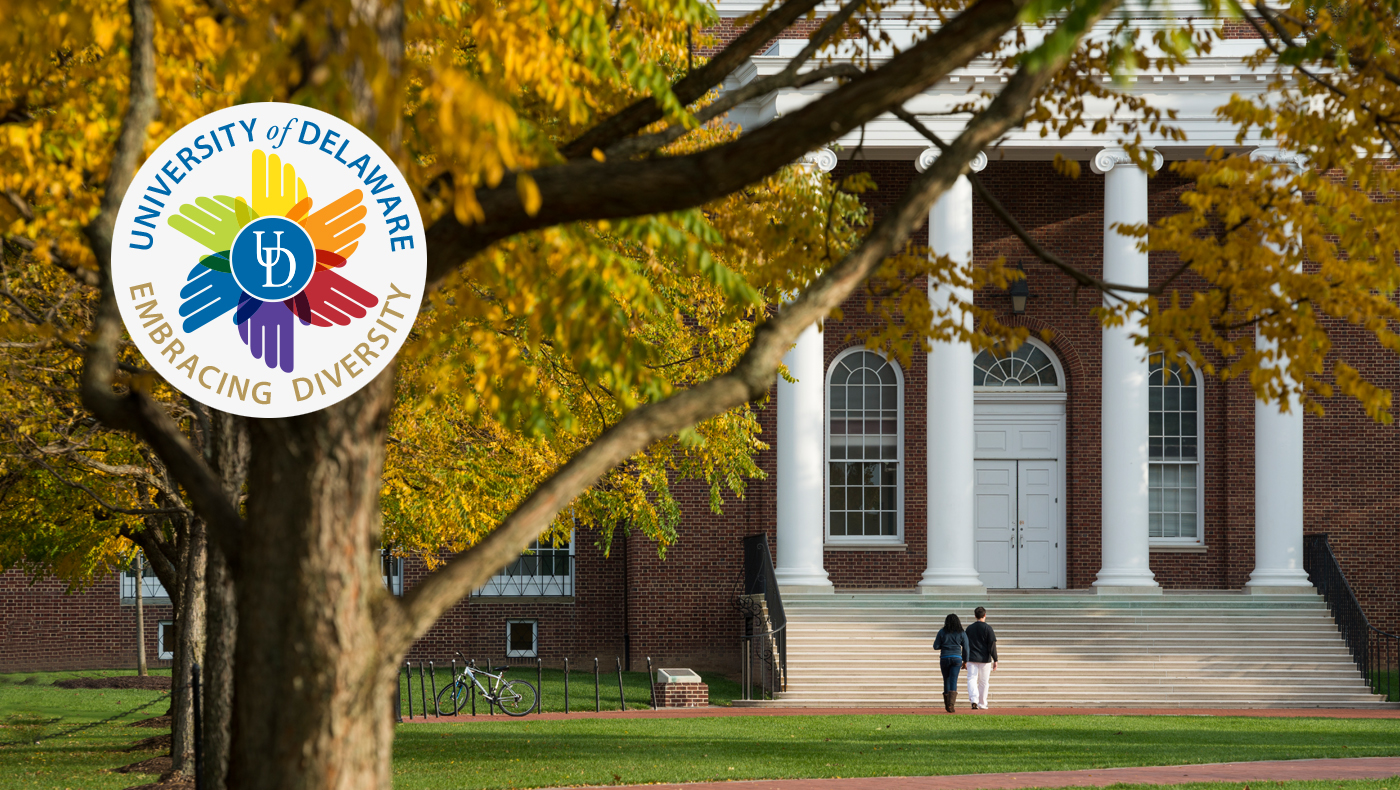 Building an Environment of Inclusive Excellence
Defined as "the recognition and appreciation of all human differences, based upon, but not limited to, age, race, ethnicity, national origin, sex, class, gender identity, disability, sexual orientation, culture, ideology, politics, religion, citizenship, marital status, job classification, veteran status, and income and socioeconomic status" in the University of Delaware's Action Plan for Diversity, diversity is an "essential element of a university experience" (UD Office of the Provost, 2017). Supporting the essential nature of diversity in higher education, the American Council on Education (ACE Board of Directors, 2012) establishes that diversity:
enriches the educational experience,
promotes personal growth and a healthy society,
strengthens communities and the workplace,
and enhances America's economic competitiveness.
The Division of Professional and Continuing Studies is committed to diversity and inclusion in its services and programs. In partnership with the larger UD community, we work toward our common goal of making the University of Delaware a welcoming and inclusive institution.
UD PCS Organizational Structure for Diversity and Inclusion Efforts
UD PCS created a diversity committee in spring 2018. As agreed upon by the diversity committee members, the main purpose of the committee is to facilitate and monitor UD PCS' work toward meeting the University's six primary action items outlined in the Diversity Action Plan.
Primary goals of the committee include achieving inclusive excellence in UD PCS by:
analyzing diversity within the existing UD PCS staff and faculty and recruiting, developing, retaining and promoting a diverse faculty and staff.
analyzing diversity within the existing UD PCS student body and working to create and retain a more diverse student body.
analyzing existing UD PCS courses, programs, etc. and working with instructors to ensure learning experiences include diversity-related topics and meet the needs of diverse audiences of nontraditional learners.
analyzing existing employee professional development opportunities within UD and UD PCS, encouraging participation in such development opportunities, and creating additional diversity-focused professional development opportunities.
researching potential diversity-focused and/or multicultural programs, building and implementing new multicultural programs, and working with instructors to encourage open dialog about diverse issues and views.
strengthening existing and establishing new collaborative relationships with communities outside of UD PCS to bring more diverse programming to nontraditional learners.
Secondary goals of the committee include:
ensuring the division has adequate representation in the chief diversity advocate (CDA) group. As formal liaisons with UD's Office of Equity and Inclusion (OEI), the CDAs represent UD PCS in meetings with OEI and other CDAs, address UD PCS-focused diversity and inclusion-related issues with the group, and share information from OEI with the Division.
holding at least one committee meeting per month.
producing periodic diversity reports, updates, plans, etc.
providing updates to UD PCS team members.
creating smaller working groups as needed to address any of the items mentioned above.
Osher Lifelong Learning Institute (Wilmington) Diversity Committee
The Osher Lifelong Learning Institutes at the University of Delaware are structured as educational cooperatives that include partnerships between councils of volunteers/members and UD. The OLLI Wilmington Council has recognized the need to continue to diversify their membership and has formed a Diversity Committee that operates under the purview of their internal Council to ensure their program is seeking, welcoming, and supporting new members from underrepresented groups.
Additionally, OLLI Wilmington has initiated a Committee to create a new strategic plan, and as with the existing plan, Diversity will play an important role. In addition to examining their current membership, demographic trends in the region will also be examined in order to identify pockets of new potential members—including those who may not fall into traditional membership categories.
Current Diversity Landscape within UD PCS
Staff
77% female, 23% male.
90% Caucasian, 5% African American, 5% Asian.
2.5% employees with reported disabilities.
1.5% veterans.
Faculty
60% female, 40% male.
84% Caucasian, 8% African American, 8% Hispanic.
Students
Age (Non-OLLI): 9% 18-24, 30% 25-34, 27% 35-44, 23% 45-54, 10% 55-64, 1% 65+.
59% female, 41% Male
Improving Diversity and Inclusive Excellence within UD PCS
UD PCS will:
ensure all search committee members complete search committee training programs offered by the University and will work with central HR to ensure any job postings are advertised in locations and in media that reach diverse audiences to create diverse candidate pools
continue to complete diversity and inclusion-focused learning opportunities offered through UD central HR and the Office of Equity and Inclusion.
offer in-person instructor-focused diversity and inclusion training to course instructors at least two times a year.
work with the human resources manager to develop a recruitment plan that enhances its efforts to recruit instructors for new programs from diverse talent pools.
work with OEI and Central HR to ensure future course surveys include diversity- and inclusive excellence-focused questions.
work with instructors to communicate the DC6 competencies so that they may tailor their programs appropriately.
work to build programs that focus on inclusive excellence and the DC6 competencies.
analyze the appeal, level of demand, and effectiveness of existing program offerings and will research and monitor market trends and the educational needs of the diverse communities we serve to potentially create new program offerings.
continue to analyze our classroom locations and adjust as necessary.
continue to offer OLLI-Wilmington members the opportunity to mentor a child through its partnership with Big Brothers Big Sisters of Delaware.
continue its OLLI-Wilmington tutoring program in partnership with Literacy Delaware.
continue to provide education counseling and advisement, career counseling, assistance with completing interrupted degrees, and assistance with gaining re-entry into the University after academic dismissal
work with representatives of the ACCESS Center to better promote their services to under-represented and underserved communities.
Diversity Resources at the University of Delaware
Professional and Continuing Studies serves the state, the nation and the world
As the adult and nontraditional learners' portal to UD, Professional and Continuing Studies impacted nearly 17,000 students last year. Click here to learn more about UD PCS' impact.