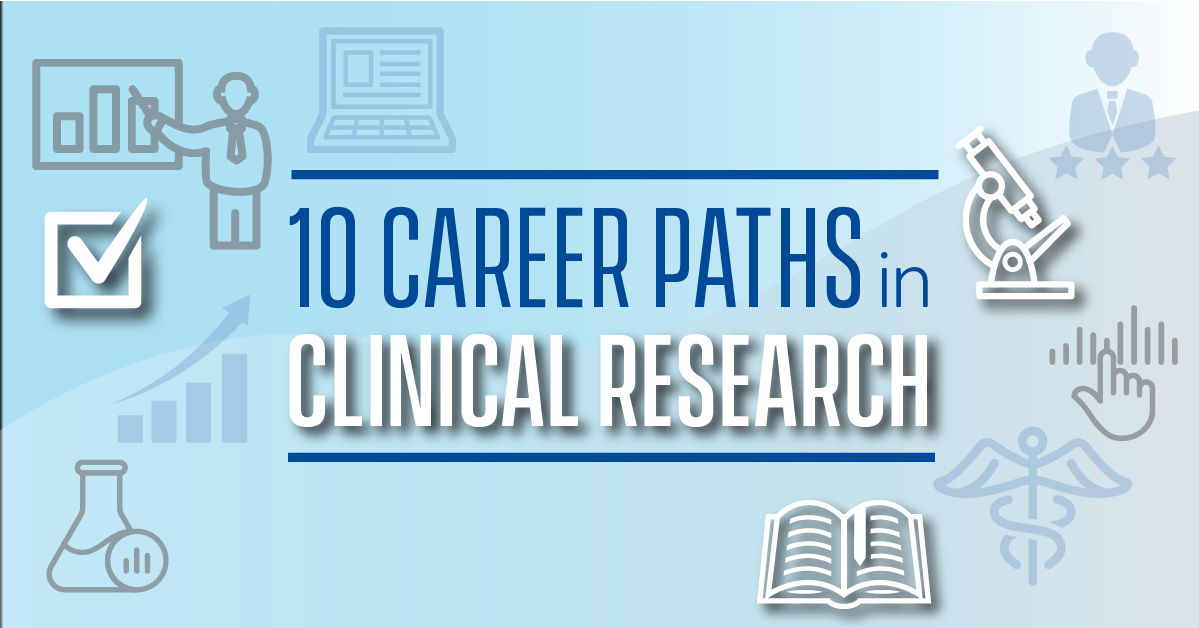 Field offers opportunities for professionals with health, science or technology background
Career opportunities in the clinical research field are many and varied, with employment settings ranging from pharmaceutical and biotechnology, to medical device companies, contract research organizations, hospitals, educational institutions, independent contractors and more.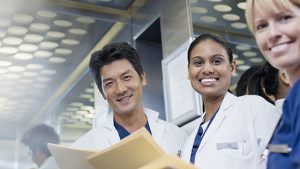 Clinical Trials Management Online Certificate Program

Starts Sept. 12, 2022
ONLINE
Comprehensive introduction to the clinical trials environment aligned with the Academy of Clinical Research Professionals certification exams. Learn more or register now.
Many professionals with a strong science or healthcare related background — such as nurses, pharmacists, medical technologists, physicians and more — are well-positioned to join the clinical research field. Here are 10 career paths in the field.
1. Clinical research coordinator
Also called research nurses, site managers and clinical study coordinators, clinical research coordinators (CRCs) are responsible for the daily operations of clinical research studies at sites like hospitals, independent medical practices, universities, medical schools and other research companies and institutions. CRCs may provide direct care or treatment to patients participating in a study, work with the study's principal investigators, recruit study subjects and more. The background of most CRCs is in nursing and other healthcare professions.
2. Clinical research associate

The clinical research associate or CRA, also called a clinical monitor or trial monitor, works with clinical trial sites to monitor studies and ensure that standard regulatory, operations and ethical standards are being followed. CRAs may be employed by pharmaceutical companies, government research agencies or medical research institutes, and often travel between study sites for monitoring visits, as well as conducting virtual visits. CRAs often obtain their clinical research experience through working several years as CRCs.
3. Clinical research data specialist
The importance of data management and analysis in clinical research cannot be overstated. This includes data from research studies and electronic medical records, as well as other data from disparate systems and sources. Opportunities around clinical research data include data analyst, data manager, data coordinator, data associate and more.
4. Clinical investigator or clinical researcher
5. Research pharmacist
Life scientists, physicians, pharmacists and other scientists are at the core of clinical research. Their work drives the innovations and breakthroughs that result in improved outcomes and treatments for current and future patients. Roles may include research scientist or investigator as part of a research team or as principal investigator, lead scientist, etc.
6. Clinical project manager
Clinical research is a complex enterprise with multiple stakeholders, teams, tasks and challenges. Clinical trials project managers must have an advanced understanding of project management techniques and methodologies and apply them to coordinate all aspects of a clinical study.
7. Clinical laboratory technologist or technician
8. Medical laboratory scientist
Medical laboratory technologists and scientists are directly involved in preparing and analyzing research specimens in the lab. They may be employed in hospital-based research labs, pharmaceutical and biomedical companies, or other research institutions. Medical laboratory technicians usually have an associate degree and advance to medical laboratory scientist with a bachelor's degree and experience in the field.
9. Medical/scientific writer
10. Marketing and communications professional

Writing, marketing and communication professionals with a medical or scientific background play a vital role in research. They write materials for scientific publications and other documents such as abstracts, posters, manuscripts, scientific presentations. They may be involved in grant-writing, publicity campaigns, scientific documentation, patient and stakeholder communications, and more.
Do you have a passion for making a difference?
"Clinical research is a field for individuals who have a passion for leaving their footprint in research as well as seeing the impact their efforts make to humankind," said Michele Welch, program director and lead faculty for the University of Delaware's Clinical Trials Management Online Certificate Program.
"The University of Delaware's Clinical Trials Management Certificate program has been designed to help individuals understand the challenges that the industry faces today and provides an overview of opportunities for career change," explained Welch, a clinical research professional with over 20 years' experience in global pharmaceutical drug development.
---
UD certificate program
UD's Clinical Trials Management Certificate program is aimed at healthcare professionals who want to learn more about the clinical research and new product development process in today's environment, which includes device, biologicals and drug research. Curriculum aligns with Association of Clinical Research Professionals certification exam. Generally offered three times a year with start dates in February, May and September, this online 14-week program covers the logistics of site management, including start up, maintenance, and close out, with the corresponding collection and management of data, as well as regulatory, privacy and compliance issues.
UD students and UD alumni are eligible for a discount when enrolling in this program. Discounts are also available for military personnel and veterans, and groups of two or more individuals from one business or organization. For more information including a detailed curriculum, or to register, visit the Clinical Trials Management Certificate or write to continuing-ed@udel.edu.
---
Career resources in clinical research
---