Note: To learn about tuition assistance for credit courses, please click here.
Students in University of Delaware Professional and Continuing Studies (UD PCS) noncredit programs may be eligible for financial assistance and discounts. For more details about any of these options, please contact Professional and Continuing Studies Noncredit Registration at 302-831-7600 or continuing-registration@udel.edu.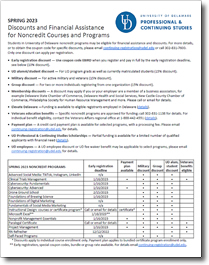 Discounts
Early registration discount—Register and pay in full by the date of a program's information session, use promo code EBIRD for most programs when registering online.
UD alumni & student discount—For graduates of UD programs as well as currently matriculated students.
Military discount—Applies to active military as well as veterans with appropriate documentation.
Group discount—For two or more individuals registering from one organization.
Membership discounts—A discount may apply if you or your employer are a member of a business association, for example the Delaware State Chamber of Commerce.
LEARN MORE: View the current semester's applicable Discounts and Financial Assistance Options for Noncredit Programs (1-page PDF).
Only one discount or scholarship award can apply per registration.
Scholarships and grants
UD Professional and Continuing Studies Scholarships

Continuing Education Scholarships—One-time, partial funding for qualified applicants with substantial financial need who complete the scholarship application and provide all the required documentation.
Application deadline: Applications and all supporting documentation must be received two weeks prior to the start of the program; please submit early for best consideration. For questions or further information, contact the ACCESS Center at access-advise@udel.edu or 302-831-8843.

Elevate Delaware — Funding is available to eligible registrants employed in Delaware, click here for details.
Test Prep Scholarships — Need-based financial aid is available for students enrolling in ACT, SAT, GMAT, GRE or LSAT test prep programs offered by UD PCS. Applications are accepted on a rolling basis, with preference given to submissions received three weeks prior to the applicable course start date. Click here for the online application.
Veterans benefits—Specific noncredit programs are approved for funding; call 302-831-1138 for details. Contact the Veterans Affairs regional office at 1-888-442-4551 to determine individual benefit eligibility. When eligibility is determined, please submit a copy of your DD-214 (if discharged, VA 22-1990 (if active), or NOBE (if active Reserve or National Guard) when you register.
Only one discount or scholarship award can apply per registration.
Other options
COVID-19 Resources – The U.S. Department of Labor and other government agencies have resources to help workers and employers respond to impacts of the COVID-19 virus.
Payment plan (noncredit programs) —A credit card payment plan is available for selected noncredit professional development programs, with a processing fee. For more information, please contact the UD PCS Registrar at

continuing-registration

@udel.edu.

Installment payment (UD credit classes) — An installment payment option is available in UD's spring and fall major semesters, applicable to credit tuition payment. Visit UD's Office of Student Financial Services to learn more.

Private loans—Examples include obtaining a loan from your bank or credit union, or the Sallie Mae Smart Option Student Loan (select University of Delaware Noncredit, code 00143198 from the drop-down menu).
Tax credits—Taxpayers may be able to claim tax credits or deductions on their federal income tax. Call 302-831-1138 for a Confirmation of Tuition letter if required. Please note the registrar's office does not supply a Form 1098-T, as the Confirmation of Tuition represents accepted documentation. Please note that noncredit courses and programs are not eligible for FAFSA.