Are you certified?
Prepare for the FAA's airman knowledge test

Certification applicable to a growing list of professions
3-day weekend live-online course — February 3, 4, 10, 2024

Discounts available
LEARN MORE — view info session presentation
Legally flying a drone for commercial use requires a Federal Aviation Administration (FAA) Part 107 remote pilot certificate. Dedicated to serving all aspiring professional drone pilots, UD PCS has prepared over 200 individuals for this valuable certification since the inception of its award-winning Ground School and FAA Part 107 Test Prep program in 2018. During this intensive course, flight instructors provide comprehensive classroom training and prepare drone pilots for the exam, which is conducted at an FAA-certified testing center.
Course topics include regulations, airspace, weather, loading and performance, and operations. The exam ensures that commercial drone pilots have the ability to act responsibly, coordinate with air traffic control in case of emergencies, read aeronautical maps, and abide by all general aviation regulations and specific regulations pertaining to UAS. (Note: This is a test prep program. The examination is not administered as part of the class.)

The program can also be presented to groups of any size via private, onsite delivery. Customized training clients have included numerous agencies and organizations throughout the region. Please contact UD PCS to discuss pricing and scheduling options.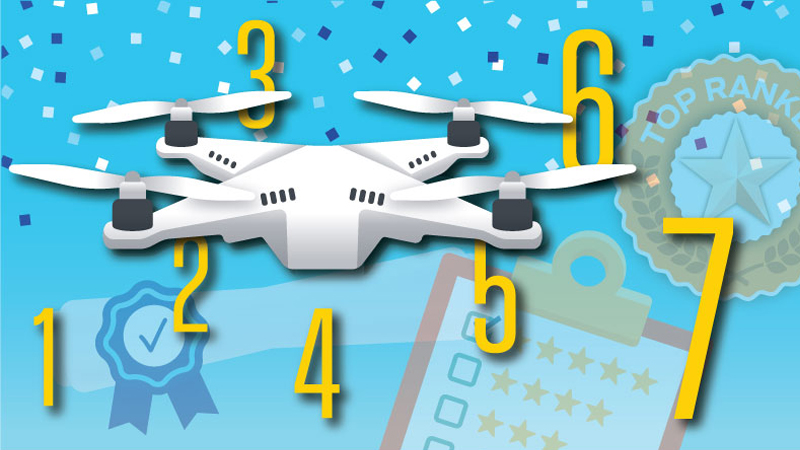 Instructor Paige Fitzgerald has prepared numerous students from diverse professional sectors to earn the FAA Part 107 remote pilot certificate. Drawing on her experience as both a drone pilot and an instructor, Fitzgerald has seven reasons why people should take her class. – LEARN MORE
---
Program details

Professional Drone Pilot: Ground School and FAA Part 107 Test Prep – Noncredit Course
LOCATION: Live-Online
SCHEDULE: February 3, 4, 10, 2024 — 8 a.m.-1 p.m.
PRICE: $395, all materials included. Early registration discount through Jan. 16. Potential discounts available, including: Early registration, Military, UD student or alum, 2 or more (group).
CONTACT HOURS: 15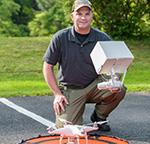 ---
Who should participate in this program?
First responders (police, fire, rescue personnel)
Investigators
Insurance adjusters and real estate agents
Reporters, film makers, producers, photographers, marketers, web designers
Engineers, construction professionals, roofers
Accident scene investigators
Site and structure inspectors (tower, roofing, building, land surveyor, electrical line, oil and gas fields, agriculture)
Construction estimators and project managers
Aerial photographers
Anyone interested in starting a UAS-based business
UAS freelancers
Emergency management professionals (federal, state and municipal level)
Any other professionals or hobbyists using UAVs
---
Instructor
Paige Fitzgerald serves as the director of UAS training for Adam Ringle Consulting. Fitzgerald has successfully prepared dozens of students from diverse professional sectors to earn their FAA Part 107 remote pilot certificate by passing the Federal Aviation Administration's airman knowledge test and has developed a flight-training program utilizing a variety of platforms in multiple environments. A specialist in program management, she can not only provide training, but also develop the foundational documents needed for a successful UAS program, such as policies, procedures and checklists. Fitzgerald is well-versed in public sector grant management and can help identify funding solutions to establish or grow UAS programs. Her extensive public messaging experience across a variety of projects and proven record of creating buy-in among diverse stakeholders can be leveraged to create interagency support for those looking to start new UAS programs.
Fitzgerald has experience in a variety of instructional environments, including online learning, classroom courses and hands-on skills training. She currently serves an instructor for Delaware Technical Community College's Homeland Security and Emergency Management degree program. She was previously a planner at the Delaware Emergency Management Agency, where she oversaw the administration of its UAS program, as well the administration of the state UAS committee. She is highly knowledgeable of FAA regulations and requirements, including 14 CFR Part 107, especially as it relates to public safety flight programs. Her flight experience includes many complex missions in adverse conditions, such as night flying, high wind and multi-use or controlled airspace. Other areas of specialization include NIMS compliant program development and reporting for flight programs.
---
Course outline
Course Introduction and Overview
14 CFR Part 107 – Regulations
Airspace Classification
Operational Requirements
Flight Restrictions
Airport Operations
Loading and Performance
Radio Communication Procedures
Emergency Procedures
Crew Resource Management
Physiological Factors affecting Pilot Performance
Aeronautical Decision Making
Aviation Weather
---
Learner outcomes
Upon completion of this course, participants will be able to understand and apply the following:
14 CFR Part 107 Regulation
National Airspace System
Airspace and Planning
Weather Theory
Aviation Weather Services
Weight and Balance Loading and Performance
Flight Operations
Safety Risk Management
Aeromedical Factors
---
Technology requirements
A laptop or desktop computer (PC or Mac) is required to participate in this class.
---
What our students say
"Because of all the material to grasp, I was really nervous going into the exam. But then I saw that everything they taught us was on the test. They didn't provide us with the actual questions, but all of the information was applicable." – Tavis Miller
"Along with the dramatic savings in cost and time, it is much safer to do the inspections with a drone since we no longer need to have people climbing ladders and walking on roofs. You just fly it up there, take some pictures, and get some great results." – Brian Wagner
---
For more information
---
---