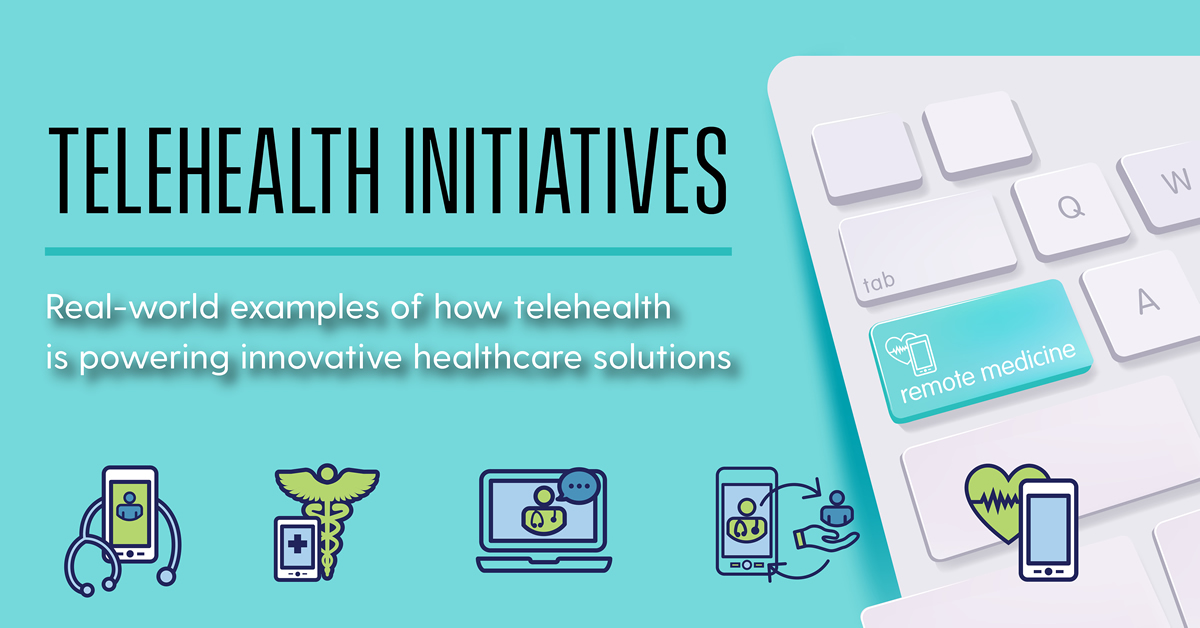 10 real-world examples of how telehealth is powering innovative healthcare solutions
Telehealth initiatives hold exciting potential to address healthcare access issues through solutions like virtual doctor visits and remote monitoring apps, providing the means for patients to access care from a distance, and for healthcare providers to consult with specialists located at other facilities.
And with legislative gains in the last several years, nearly every state's Medicaid laws now require provider reimbursement for most telehealth services, and the majority of states also require reimbursement by private insurers.
Here are 10 examples of telehealth solutions in use.
1. Healthcare care access to people in rural and underserved areas
As rural hospitals continue to close every year and healthcare providers in thinly populated areas of the country become increasingly scarce, rural patients must often wait weeks or months for healthcare, or must travel great distances. In more than half of U.S. states, there are counties with no doctors at all. In Mississippi, a state with one of the country's most acute doctor shortages, telehealth solutions allowed one rural hospital to remain open and increase its services via telehealth technology, including emergency services, psychiatry and a remote diabetes monitoring program.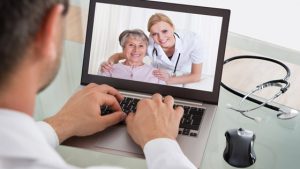 Advanced Telehealth Coordinator Online Course

Starts Sept. 12, 2022
ONLINE
Leverage telehealth technologies to improve access to healthcare and manage the business aspects of telehealth. Register now or learn more.
2. Access to quick minor diagnoses and after-hours consultations
Nearly everyone has experience dealing with a child or family member's health issue while trying to decide whether it's serious enough to warrant a doctor or emergency room visit. For one patient in Delaware, a virtual visit with a nurse practitioner resulted in a visual diagnosis of pink eye, allowing the patient to proceed immediately with treatment, eliminating the need for an in-office visit with a contagious condition. In Louisiana, an after-hours clinic offers video consults with pediatricians who can assess a child's symptoms and determine if an in-person visit is required.
3. Real-time medication management
With more than half of patients not following their doctors' orders when it comes to prescribed medications, patient follow-up for medication adherence is a huge challenge for many healthcare providers. To address this concern during Hurricane Harvey, Texas public health officials used a mobile health app to make sure patients kept up with their vital tuberculosis medication.
4. Increased medical professional collaboration
Parkinson's disease is a chronic condition with wide-ranging symptoms like tremors, gait problems, fatigue, difficulty sleeping and occasional forgetfulness. At the University of Delaware's Parkinson's Clinic, telehealth technology is responsible for helping to assemble an ideal roster of Parkinson's healthcare providers all under one roof, including a movement disorder specialist and other critical Parkinson's experts all based several states away.
5. Greater access to speech pathology and speech therapy
Schools all over the country are experiencing shortages of speech-language pathologists, most acutely in rural and underserved districts. Telepractice for audiology and speech-language services allows practitioners to save on travel time to distant clients and schools while at the same time offering vital therapy to kids who otherwise might not be able to receive services at all. In Alaska, one school district partnered with a speech-language telepractice for an on-site program launch followed by ongoing virtual therapy services to its students.
6. Incorporating medical specialists in prison healthcare initiatives
Healthcare systems within correctional institutions face challenges around treating substance abuse, mental health, chronic disease and other conditions, but the challenges are further compounded by issues of safety, security and potentially disruptive clients. Correctional systems have increasingly embraced telehealth technology, especially for providing access to specialists. In Delaware, the Department of Corrections' adoption of telehealth appeased safety concerns of some doctors and contributed to significant savings in transportation and security costs.
7. Easier access to substance abuse and mental health treatment
Individuals seeking treatment for mental health and substance abuse often face the dual challenge of treatment provider shortages, as well as the anxiety and perceived stigma associated with seeking care for mental illness or drug addiction. Often, they experience long wait times for appointments, or they can't locate care providers within a reasonable distance. As the largest healthcare system in the country, the U.S. Department of Veterans Affairs is providing innovative telehealth options for patients, like in-home psychotherapy and other therapy sessions via videoconferencing.
8. Promoting additional privacy in reproductive care
Healthcare and testing for reproductive issues, sexually transmitted diseases and birth control is another sensitive subject for many patients. Furthermore, in many parts of the country, availability of reproductive healthcare providers is a perennial problem. Through a variety of telehealth solutions, patients can receive care and advice in a private, virtual environment when they may be uncomfortable or unable to seek care in person.
9. Increased access to preventive dental care
Using telehealth technology for remote monitoring and supervision is allowing dental professionals to care for more patients and increase access to dental care in underserved areas. In Minnesota, dental hygienists provide preventive care such as cleanings, X-rays and fluoride treatments at Head Start preschool locations in the community, supervised electronically by dentists at a different location.
10. Chronic condition management
Managing chronic conditions like heart disease, diabetes or asthma requires patient adherence to drug regimens and lifestyle changes, as well as timely intervention in the event of a flare-up or emergency. At Nemours/A.I. duPont Hospital for Children in Delaware, parents and kids use a telehealth-based asthma app to access and share their asthma management plan with schools or babysitters, set medication reminders and check air quality in their neighborhood, and in case of a serious asthma attack, the app can dial 911 and provide directions to the nearest hospital.
Advanced Telehealth Coordinator Online Course

Starts Sept. 12, 2022
ONLINE
Leverage telehealth technologies to improve access to healthcare and manage the business aspects of telehealth. Register now or learn more.
University of Delaware Advanced Telehealth Coordinator Program
Now in its sixth year, the University of Delaware's online Advanced Telehealth Coordinator certificate program addresses the continued need for training around telehealth. The program highlights the benefits and opportunities of telehealth implementations and provides the foundations of telehealth for participants interested in utilizing telehealth for the delivery of healthcare, including technology evaluation, business and operational considerations, regulations, ethics, privacy and more.
The Advanced Telehealth Coordinator Certificate program is currently offered three times a year as a 15-week online course, usually with start dates in February, May and September. UD students and UD alumni are eligible for a discount when enrolling in this program. Other discounts include a military/veterans discount and a group discount when two or more individuals from one business or organization register for the program.
For more details or to learn more, visit the Advanced Telehealth Coordinator Certificate.
Artwork by Cindy Dolan
Article by Nora Zelluk