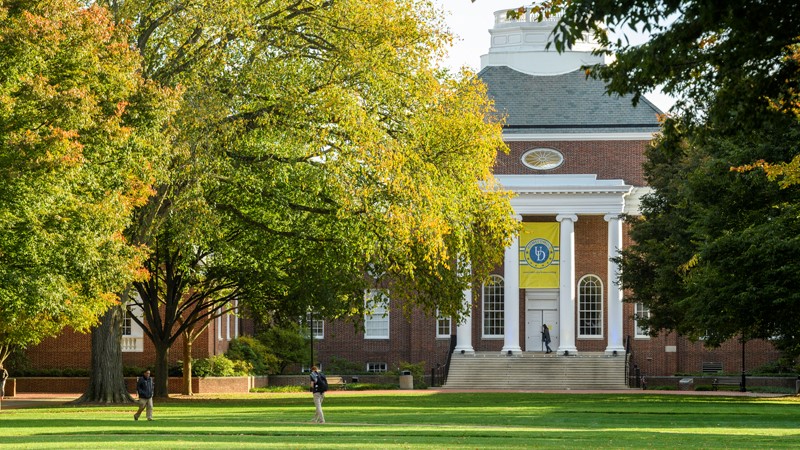 Courses offered on UD's Newark campus, in Wilmington and online this spring
According to college admissions expert Allen Grove, SAT scores can play a big role in a school's admission decision. Grove said nearly all colleges and universities make their SAT data public, and mediocre scores are not going to cut it at selective schools that know reputations often depend on high numbers.
SAT Test Prep

Spring 2018
Newark, Del.
Wilmington, Del.
ONLINE
Acquire the tools needed to prepare for the SAT exam by participating in an intensive test prep program.
In an effort to help their kids perform their best on the critical exam, parents are often faced with deciding if they should enroll them in an SAT prep course. Longtime SAT tutor Allison Kade said students who are nervous test-takers, struggle with core concepts, or have trouble finishing tests during time constraints may not be self-motivated enough to study for the SAT on their own. Such students have the potential to benefit from SAT prep courses.
In response to this need, the University of Delaware's Division of Professional and Continuing Studies (UD PCS) is offering intensive test prep courses this spring for high school students preparing to take the SAT. Enrollment discounts are available for Delaware residents and children of UD employees.
Three course formats are available, including SAT Blitz, SAT Spring Break Institute, and SAT-Live Online Blitz.
SAT Blitz consists of 16 hours of classroom activities delivered over four consecutive Saturday mornings or Sunday afternoons. The 20-hour SAT Spring Break Institute runs four straight days, April 2-5, 9 a.m.-3 p.m. on UD's Newark campus. Both programs are led by an experienced test preparation instructor and include a copy of the official SAT textbook as well as a customized workbook. Students receive an in-depth review of the exam, including real test questions, insight into strategies for succeeding on standardized tests, and a comprehensive study plan. Classroom instruction is supplemented by student access to live online review sessions and online office hours in the weeks leading up to the SAT exam dates.
SAT Blitz is offered on UD's Newark campus and at Arsht Hall in Wilmington, with the following sections scheduled to coincide with spring SAT testing dates:
Newark
Feb. 10-March 3 (Saturdays, 8:30 a.m.-12:30 p.m.)
Feb. 11-March 4 (Sundays, 1-5 p.m.)
April 28-May 19 (Saturdays, 8:30 a.m.-12:30 p.m.)
Wilmington
April 7-28 (Saturdays, 8:30 a.m.-12:30 p.m.)
April 8-29 (Sundays, 1-5 p.m.)
Providing the flexibility to attend class from anywhere with the same curriculum as the on-campus courses, the 16-hour SAT-Live Online Blitz meets two evenings per week over four weeks or one weekend day for eight weeks in a live online, interactive virtual class environment. Students engage in real-time interaction with expert instructors and receive unlimited access to recorded class sessions for up to 30 days after the course ends. Upcoming sessions of SAT-Live Online Blitz scheduled to coincide with spring SAT testing dates include the following:
Feb. 8-March 6 (Tuesdays and Thursdays, 7-9 p.m.)
March 4-April 29 (Sundays, 4-6 p.m.)
Need-based scholarships covering the full cost of the courses—including books, materials and online resources—are available to first-generation college students wishing to enroll in one of these programs. Scholarship applications are accepted on a rolling basis, with preference given to submissions received at least three weeks prior to the course start date.
For more information or to register for the SAT prep course, visit www.pcs.udel.edu/test-prep/, email continuing-ed@udel.edu, or call 302-831-7600.