50 years of UD outreach in sports medicine and athletic training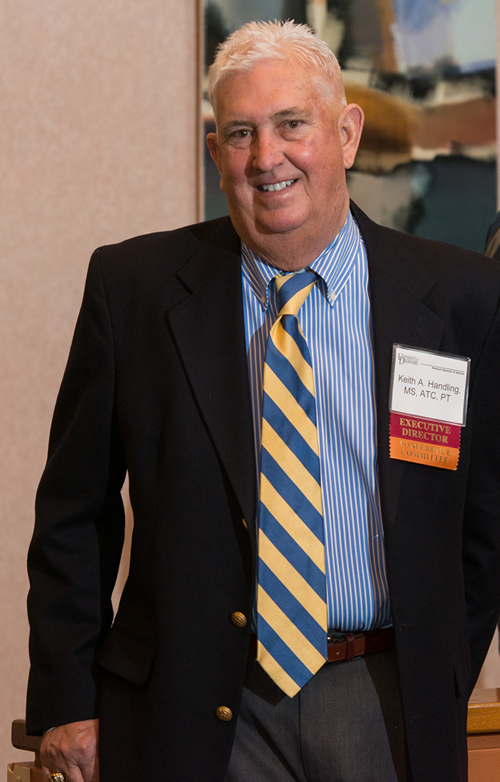 The University of Delaware's 50th annual Medical Aspects of Sports seminar will take place on Saturday, March 2 at UD's Tower at STAR (Science Technology and Advanced Research) Campus in Newark.
Since 1970, the one-day event has served as a forum for experts from UD and the region to share research and practical expertise in the field of athletic training and sports medicine.
This year's conference is notable for its 50-year milestone as well as for the contributions of its outgoing program director, UD's Keith Handling, associate professor in the Department of Kinesiology and Applied Physiology. Participating in the 1970 event as a UD athletic training student, Handling has since attended, presented or directed the event every single year with the exception of his two-year service in the U.S. Navy.
"From the beginning, the Medical Aspects of Sports seminar was conceived as an outreach opportunity for UD students, faculty and athletic trainers to share their knowledge," said Handling. "UD's athletic training education program has always stressed the importance of continuing education and lifelong learning in our field, emphasizing that as practitioners we need to be continually involved in keeping pace with advances in research and practice."
Mentorship and continuity in UD's athletic training education program
The seminar's leadership closely parallels the very short list representing UD's athletic training leadership of the last half-century. UD Athletic Hall of Fame director of athletic training Dr. C. Roy "Doc" Rylander founded and led the event until his retirement in 1988, when it was taken over by Handling, who was Rylander's student and himself a UD Athletic Hall of Fame inductee for athletic training.
Together, Rylander and Handling founded UD's athletic training education program in 1972, making it one of the oldest accredited athletic training education programs in the country.
Most recently, UD's Dan Watson, associate director of athletics for athletic training and head athletic trainer – and one of Handling's students – has officially taken over leadership of the event.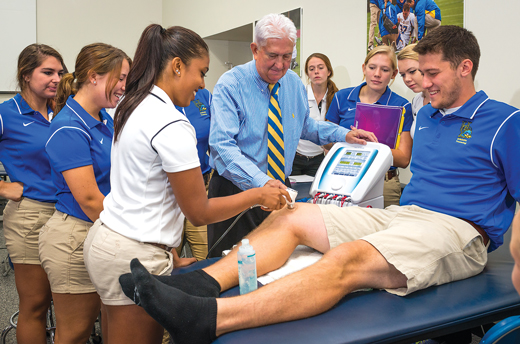 Like Handling, Watson emphasizes the seminar's ongoing outreach mission, and the role of mentorship and continuity in UD's athletic training education program. "This program allows us to showcase the talent we have on campus, especially from UD's athletic training and physical therapy programs, as well as local and regional experts, including our UD alumni who are involved in the field and bring back their experiences."
Added Handling, "To see our students and alums come back and become the event's experts and presenters is extremely rewarding as an educator and a professional."
Presenters include UD alum pro football athletic trainers
Two of this year's presenters are UD alums who currently serve as athletic trainers and physical therapists with NFL professional football teams. UD athletic training alum Jon Boone will discuss vestibular/ocular-motor screening (VOMS) for sport-related concussion, and UD athletic training and physical therapy graduate Steve Feldman will discuss return-to-play for professional athletes.
UD presenters include Brad Wolgast, director of UD's Center for Counseling and Student Development; Amit Gohil, Sean McGuire and Thomas Mandala, sports physical therapy residents from UD's Physical Therapy Clinic; Kara Feeney, UD's former director of sports nutrition; and Chris Stewart, UD football strength and conditioning coach.
Additional Delaware presenters include Dr. Heather Gotha of First State Orthopaedics and Dr. Damian Andrisani of Delaware Orthopaedic Specialists.
An interactive sports taping clinic is an annual feature of the program, with this year's demonstration clinic led by UD assistant athletic trainer Steven Browne.
"In our field, there's always new knowledge, new techniques, new practices. And we're always motivated to hear about the research and practical insights from our colleagues in the field." For example, as Watson explained, "Obviously we're here for the injured athlete, but injury prevention is also key," pointing out that this year's presentations cover several topics surrounding prevention, including nutrition, sleep health and injury prevention techniques.
New STAR Tower a natural fit for this event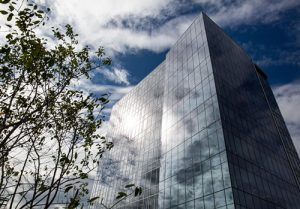 Significantly, the event's 50th year boasts a completely new venue. From its first year held at the former Howard Johnson's Motor Lodge in Newark and the many following decades held at UD's John M. Clayton Hall Conference Center, the program moves to UD's new Tower at STAR this year.
"The STAR Tower and UD Audion space are a natural fit for this event," adds Watson, noting the capability to host a hands-on sports nutrition presentation in the STAR Audion's new demonstration kitchen.
The Medical Aspects of Sports seminar is co-sponsored by UD's Intercollegiate Athletics Program and the College of Health Sciences' Department of Kinesiology and Applied Physiology, held in partnership with UD's Division of Professional and Continuing Studies.
Still time to register
Registration is still available for this year's conference, which is recommended for physical therapists, team and family physicians, athletic trainers, coaches, fitness club personnel, and students or school personnel involved in physical education, recreation and physical fitness programs.
UD is recognized by the Board of Certification, Inc. to offer 8.0 Continuing Education Units (CEUs) to certified athletic trainers for completion of this program.
The program is also approved for physical therapy continuing education credits by the Delaware Examining Board of Physical Therapists (0.8 CEUs). Application has been made (and approval is anticipated) for CEUs from the Pennsylvania State Board of Physical Therapy (8.0 CEUs) and Maryland State Board of Physical Therapy Examiners (0.8 CEUs). Physical therapists practicing in other states should contact their state examining board to verify whether this seminar is approved for credit.
The cost to attend the seminar is $215. UD students, as well as students from other institutions, are encouraged to attend. A student rate of $80 is available. There is a group rate for two or more registrations from one school, team or other organization.
For more information about this program call 302-831-3474, visit https://www.pcs.udel.edu/sports/ or write to continuing-ed@udel.edu.