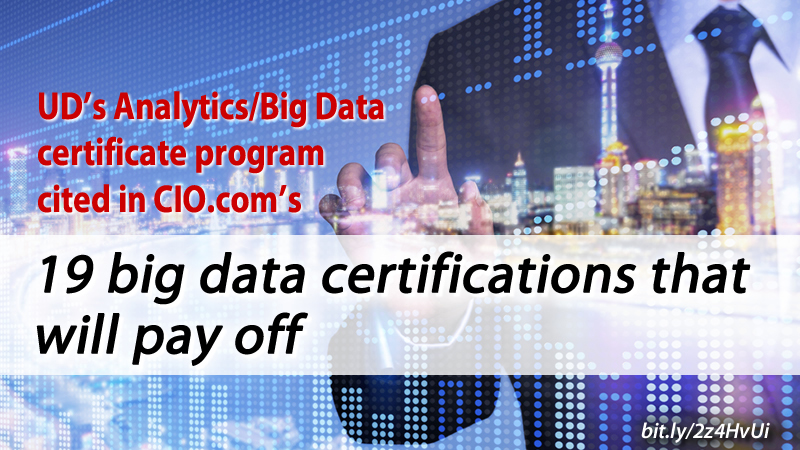 Next session begins Feb. 1 in Wilmington
With data scientists, data analysts and data engineers in high demand, CIO.com recently featured the Analytics: Optimizing Big Data Certificate offered by the University of Delaware's Division of Professional and Continuing Studies (UD PCS) on its list of 19 big data certifications that will pay off.
Analytics: Optimizing Big Data Certificate

Feb. 1-May 10, 2018
Wilmington, Del.
Acquire the tools needed to analyze large datasets and join the rapidly growing analytics field.
The article said as data and big data analytics are fast becoming the lifeblood of any successful business, certification is a great option for gaining an edge. Thanks to these talents being in substantial need and relatively rare, individuals with the right mix of experience and ability can command high salaries.
Focusing on the unique combination of computational, analytical and communication skills required by the big data field, UD introduces the tools and techniques needed to analyze large datasets in order to make more informed business decisions. The next 15-week course begins Feb. 1 and runs from 6-9:15 p.m. on Thursdays at Arsht Hall in Wilmington. Topics include importing data into analytics software, performing graphical and data analysis, building analytics models using tools like multiple regression and decision trees, finding the best model to explain correlation among variables, and learning how to control and assess data variability to better meet customer requirements.
The program is directed at business, marketing and operations managers; financial industry professionals; small business owners; and data analysts or professionals in any field who deal with large amounts of data. Though there are not any prerequisites, a basic understanding of statistics and prior experience with data management will be helpful.
Potential discounts are available for early registration, UD alumni, Project Management Institute Delaware Valley Chapter (PMI-DVC) members, active military members, veterans and groups of two or more from the same organization. For more information about the Analytics: Optimizing Big Data Certificate, visit https://www.pcs.udel.edu/data, email continuing-ed@udel.edu, or call 302-831-7600.