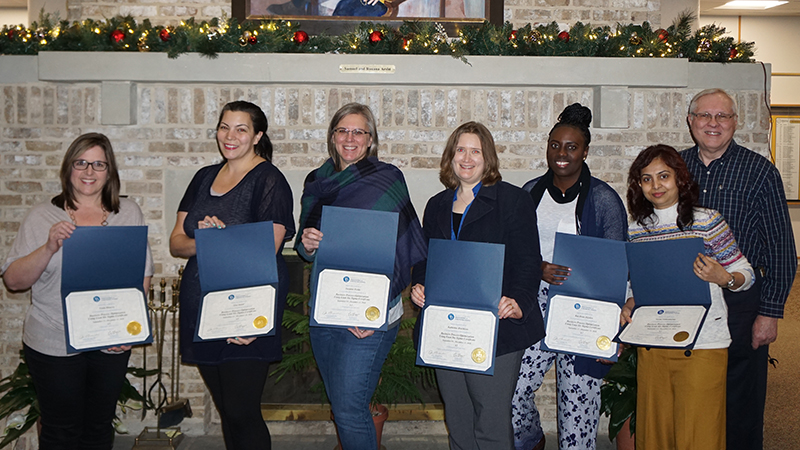 PCS program focuses on continual improvement of work processes
In her position as a traffic manager for an advertising agency in Wilmington, Delaware, Suzanne Fields' duties include working on procedures to make sure everything flows smoothly. Looking to strengthen her skills in this role, Fields enrolled in the Business Process Optimization Using Lean Six Sigma program offered by the University of Delaware's Division of Professional and Continuing Studies (UD PCS).
Business Process Optimization Using Lean Six Sigma
Feb. 23 – May 22, 2019
Wilmington, Del. and Online
Learn to identify the key touch points to make your customers happy.
"I learned how to manage and handle situations as they come up," said Fields. "It can be as simple as knowing when to meet for a brainstorming session instead of going back and forth via email."
Training students to identify the key touch points that arise before, during and after transactions with customers, the program presents both the problem-solving form of Six Sigma and Lean methodology to give participants a comprehensive set of skills and tools.
"The classical differentiation between Lean and Six Sigma is that Lean focuses on waste in the process while Six Sigma focuses on defects in the process," said instructor Rich McGuigan. "They work so well together because the concepts are linked and intertwined. If there is waste in my process, it is probably because I am creating a lot of defects. If I create something that is defective, I have caused waste to occur."
Fields, who earned her bachelor's degree in graphic design from UD in 1995, has spent her career in the advertising business in a variety of capacities. One of her current primary responsibilities is to monitor her coworkers' schedules and make sure there are people available for each task and enough time to get the work done. She previously participated in the UD PCS Project Management Certificate program and sees opportunities to apply the lessons from both courses she has taken.
"Project management helps me with the scheduling, and Lean Six Sigma helps with the streamlining process and procedures that we have," said Fields.
Whatever business one is in, profit or nonprofit, product or service-oriented, McGuigan said anybody who wants to continuously improve work processes can benefit from Business Process Optimization Using Lean Six Sigma. Though there are not any prerequisites, he said anyone who does not mind a bit of math, because the methodologies are based on statistics, and has an inquisitive and investigative mindset should be a perfect fit.
"The combination of Lean and Six Sigma methodologies really gives practitioners a very powerful set of tools," said McGuigan. "They're the ones who can collect data, factually describe how a process is performing, and quantify the impact on the organization, including what it is costing the company. It is a highly marketable skill."
Following an all-day Saturday seminar on Feb. 23 at Arsht Hall in Wilmington, the next Business Process Optimization Using Lean Six Sigma class will have four in-person meetings and nine virtual sessions on Wednesday evenings from Feb. 27 to May 22.
Fields welcomed the weekend and evening format, which did not conflict with her work schedule. While the online sessions provided a new learning vehicle for her, once she made the adjustment, she appreciated the flexibility of attending class from anywhere. Though her class was largely comprised of students employed in information technology or management positions, she feels many others can gain from the program.
"I think anybody who wants to learn more about streamlining procedures and how to handle certain situations can benefit from this course," said Fields.
Potential discounts are available for UD alumni, Project Management Institute Delaware Valley Chapter (PMI-DVC) members, active military members, and groups of two or more from the same organization. For more information about Business Process Optimization Using Lean Six Sigma, visit www.pcs.udel.edu/sixsigma, email continuing-ed@udel.edu, or call 302-831-7600.