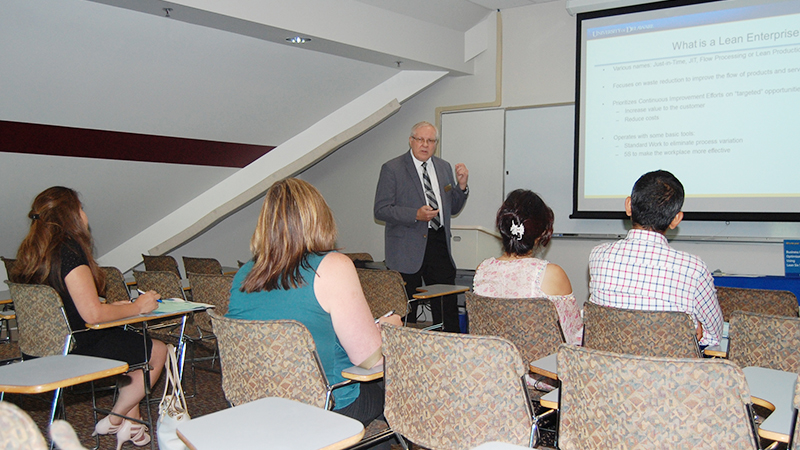 Methodologies focus on making customers happy
Even if your customers are pleased with your products and services, there are many opportunities before, during and after the transaction to satisfy or dissatisfy them. Whether it is the experience they have dealing with a salesperson, scheduling an appointment or just getting their questions answered, these and the many other touch points encountered throughout the process can have beneficial or detrimental effects on your organization's bottom line.
Business Process Optimization Using Lean Six Sigma
Sept. 15 – Dec. 13, 2018
Wilmington, Del. and Online
Learn to identify the key touch points to make your customers happy.
Training students to identify these key touch points, determine how well they are or are not executing them, and then focus on opportunities for improvement, the University of Delaware's Division of Professional and Continuing Studies (UD PCS) is offering Business Process Optimization Using Lean Six Sigma. The program presents both the problem-solving form of Six Sigma and Lean methodology to give participants a comprehensive set of skills and tools.
"Organizations often have many more key customer touch points than they realize," said instructor Rich McGuigan. "Sometimes they just concentrate on their products or services and think that's kind of it. No business or organization exists, or will exist for very long, if ultimately it doesn't satisfy its consumers."
A retired information technology project manager, McGuigan has been teaching Lean Six Sigma at UD since 2010. He earned his Six Sigma Black Belt certification in 2004 and led his organization's Six Sigma efforts.
"The classical differentiation between Lean and Six Sigma is that Lean focuses on waste in the process while Six Sigma focuses on defects in the process," said McGuigan. "They work so well together because the concepts are linked and intertwined. If there is waste in my process, it is probably because I am creating a lot of defects. If I create something that is defective, I have caused waste to occur."
Whatever business one is in, profit or nonprofit, product or service-oriented, anybody who wants to continuously improve work processes can benefit from this course. Though there are not any prerequisites, McGuigan said anyone who does not mind a bit of math, because the methodologies are based on statistics, and has an inquisitive and investigative mindset should be a perfect fit.
"The combination of Lean and Six Sigma methodologies really gives practitioners a very powerful set of tools," said McGuigan. "They're the ones who can collect data, factually describe how a process is performing, and quantify the impact on the organization, including what it is costing the company. It is a highly marketable skill."
Following an all-day Saturday seminar on Sept. 15 at Arsht Hall in Wilmington, the class will have four in-person meetings and nine virtual sessions on Thursday evenings from Sept. 20 to Dec. 13.
Potential discounts are available for UD alumni, Project Management Institute Delaware Valley Chapter (PMI-DVC) members, active military members, and groups of two or more from the same organization. For more information about Business Process Optimization Using Lean Six Sigma, visit www.pcs.udel.edu/sixsigma, email continuing-ed@udel.edu, or call 302-831-7600.