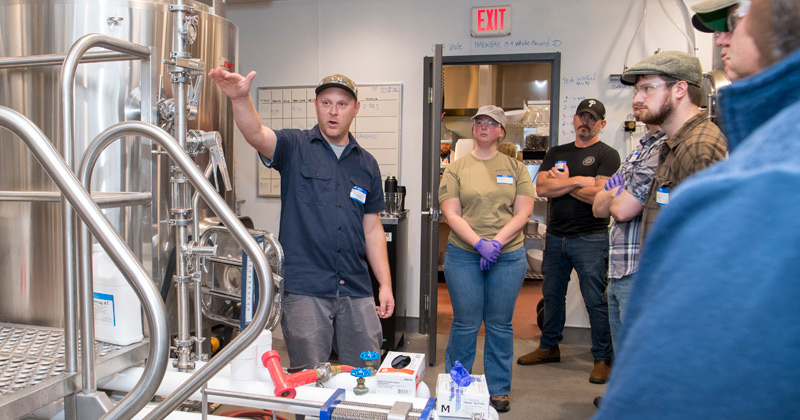 Raise a toast to Blue Hen brewers
UD's Foundations of Brewing Science course is opening entry-level doors
Not too long ago, John Cordrey looked back at where he had been, and knew he needed to think about where he really wanted to go.
Teaching had been his career, but now he craved a different kind of challenge, one where the work was hands-on, the people were passionate, and job satisfaction is measured by the barrel.
He found it at the place where his career journey had started: back at the University of Delaware, in an innovative live-online course called the Foundations of Brewing Science and Brewery Operations. Today, the 2011 political science alumnus is content again, surrounded by chilly vats of beer, coaxing magic out of mashed-up grains.
"It was well worth it," he said of the 10-week course, offered each fall and spring by UD's Division of Professional and Continuing Studies (UD PCS). "It was a great course, and I was very sad to see it end."
Sometimes, his beer-making job at Wilmington Brew Works doesn't really seem like work at all — and in a way, neither did the course. It's certainly filled with deep-dive science and real-deal academic rigor, but it's also designed to give aspiring brewers a smoother entry-level pathway into a fast-growing industry, even as they work their "day jobs."
For Cordrey, the course gave him just the credentials he needed for stepping from "front of the house" operations to the brewery itself, where he's been loading grains for mashing and monitoring the crucial fermentation process. He was promoted just a month after taking the class: Course work in "cold side" procedures and beer chemistry gave him just the right skills to earn the role, and showed him just how crucial careful handling can be.
"Tweaking little things can really make an impact on the beer," said Cordrey, 35. "There's a lot of cleaning, a lot of sanitizing."
It's an ideal program for workers seeking fresh careers, but it's also designed to give casual home brewers next-level skills, said Brad Adelson, the California transplant and expert brewmaster who instructs the participants in his off time. It's most certainly no "cake" course.
Adelson spent months designing a curriculum from the ground up: Chemical concepts reveal the molecular complexities of fermentation, and process-focused lectures stress beer's temperamental nature and its demands for gentle nurturing. Throughout the course, the commercial realities of an otherwise fun-centric product bubble to the top of the syllabus.
"We talk about where the brewer can help the brewery not only in a quality way, but in a financial way," said Adelson, who has worked at an array of prominent craft producers after getting his food science and technology degree from Oregon State University. "We show them, where is the opportunity here to save money while maintaining quality?"
That's just what brewmasters like to hear when the labor market is tight, and your industry is seeking to extend a win streak in a fitful economy. Craft brewers enjoyed double-digit growth in the 2010s, and U.S. totals increased fivefold from 2000 until the pandemic struck, though recent months have softened outlooks somewhat.
"When I got into the industry in 2014, I think there were 3,000 craft breweries in the country," Adelson said. "Now, I think we're approaching 10,000." Delaware has leapt from just seven craft breweries in 2007 to 37 in 2022.
Some of those in-demand Delaware beers flow out of breweries owned by Blue Hens, with Blue Hen brewers in the back as well. They're surely seeing success these days, but know that success in a crowded market depends on employees with rigorous knowledge of the finicky brewing process.
"It's not that hard to make an OK beer on the stove at home," said UD alumnus Jimmy Vennard, co-founder (with Blue Hen brother Dan Vennard) of the Autumn Arch Beer Project in Newark. "But to make a really great beer takes a deep understanding of all the factors that go into making the product that you want — the grain, the temperature you mash the grain at, how long you boil it, what you add to the boil, how long you let it ferment, and at what temperature?
"There are dozens and dozens of large factors and probably hundreds of little factors," he said. "There's pretty deep applied science to brewing."
As a UD chemical engineering graduate, Vennard wasn't too intimidated by the science, but knows it can be tricky finding capable brewers.
"I was glad to see UD started a program on this," Jimmy Vennard said. "This program will definitely be an asset to the Delaware brewing community as a whole. Someone out of this program would have a leg up. It's a cool opportunity to combine passion and knowledge, and get your foot in the door of the brewing industry."
Another industry pro, Keith Sincavage, graduated in 2004 with a bachelor's degree in business administration, and now works as general manager at Wrightsville Beach Brewery in Wilmington, North Carolina. He said UD's program seems ideal for giving people a "jump start" in the still-growing industry.
"If it's something people love, I would 100% encourage them to do it," he said. "As a cellerman, you may not do the most glamorous work when you first get started, but there will be chances to move up as you learn. You don't go into breweries too often and see staffers who don't seem happy to be there."
The next section of Foundations of Brewing Science and Brewery Operations begins Sept. 13. The live-online course features an optional in-person session, at Delaware Park's 1937 Brewing Company, which includes an optional instructor-led beer tasting in which participants will be responsible for the cost of their beer. Attendance at the in-person session and participation in the beer tasting are not required to complete the program. Discounts and scholarships are available.
Participants must be at least 21 years old. For more information, visit pcs.udel.edu/brewing, email continuing-ed@udel.edu or call 302-831-7600.