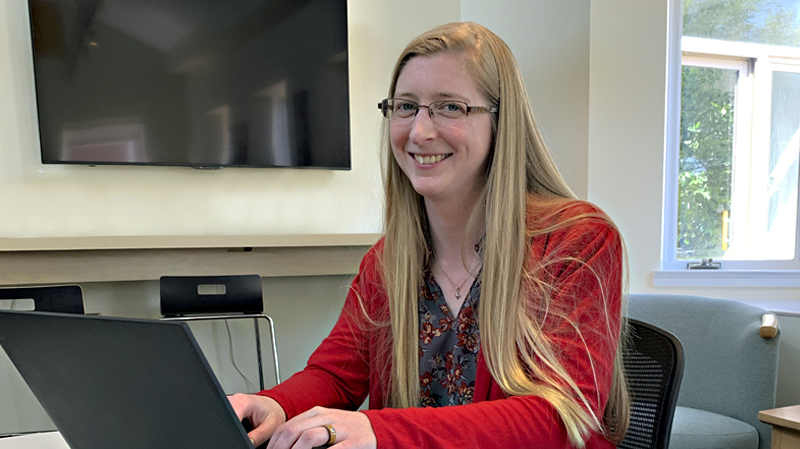 Modules resume in September
As part of her transition to a business analyst role at Yale University, Jessica Foote was tasked with finding a training program to assist her and her newly formed unit. Following extensive research of the options, Foote and one of her coworkers decided to make four monthly train trips from Connecticut to the First State to participate in the Business Analysis Certificate series offered by the University of Delaware's Division of Professional and Continuing Studies (UD PCS).
Business Analysis Certificate

Foundations of Business Analysis
Sept. 18-19, 2019
Eliciting and Documenting Requirements
Oct. 16-17, 2019
Requirements Analysis and Design Definition
Nov. 13-14 2019
Solution Deployment and Evaluation
Dec. 4-5, 2019

Newark, Del.

Bridging the business/IT divide
"I found a few programs, but I couldn't tell anything about the companies offering them," said Foote. "They had great marketing websites, but does that mean they are actually going to deliver? That fact that this was offered by a university really made me confident I was going to get a quality education."
Realizing she learns better in a classroom, Foote knew online courses were not for her since she wanted to be able to ask questions and interact with an instructor and other students in person. She was also attracted to the four, two-day module format that enabled her to receive digestible amounts of material she could incrementally apply back at Yale and monitor the results of.
"Although it increased the amount of travel required, I couldn't imagine trying to learn all of this in a week," said Foote. "I would have come back swimming in a sea of information and not have been able to parse any of it out."
The International Institute of Business Analysis™ (IIBA®) describes business analysis as the practice of enabling change in an organizational context by defining needs and recommending solutions that deliver value to stakeholders. Though there are many people serving as business analysts, one does not need to have the official job title to function in this role.
"Business analysis can be practiced at any level of an organization in almost any capacity and industry," said Peter Johnson, UD PCS instructor. "It is not just done by someone in information technology or on a project team."
An IIBA® Certified Business Analysis Professional™ and senior consultant for Orion Development Group with more than 25 years of experience in information technology, quality management and client services, Johnson is returning to UD's Newark campus Sept. 18-19 when the series restarts with Foundations of Business Analysis. Utilizing version 3.0 of A Guide to the Business Analysis Body of Knowledge® (BABOK® Guide), students will learn the importance of value creation in the role of the business analyst. Subsequent modules include Eliciting and Documenting Requirements (Oct. 16-17), Requirements Analysis and Design Definition (Nov. 13-14), and Solution Deployment and Evaluation (Dec. 4-5).
"People more or less liked what I was doing before I took these classes; now, they are asking me to help run their sessions," said Foote. "They're asking me to do their process flows. I'm really proud that by applying what I learned, I'm creating demand for my own skills by using them well."
Foote appreciated Johnson's teaching style, which consists of a mix of lecture and discussion. With classmates representing a variety of fields and industries, she enjoyed hearing about the similarities and differences of everyone's experiences and having the opportunity to play off each other.
"Peter has a strong background in business analysis and is able to provide examples to accompany the facts," said Foote. "He has a really good sense of humor and, as a class, we caught onto his jokes. Most of the people enrolled in all four modules, so we had a good cohort working together."
Foote also credits Johnson with using the same techniques he was teaching to run the class. Though Johnson pointed this out, and asked the students to discuss how it was working, Foote did not realize how powerful that approach was until she returned to Yale and was able to help a team avoid doing a body of unnecessary work, which could have jeopardized a project's timeline.
"Having experienced how it felt to be on the other side of the techniques, I have done a better job of picking the right tools to run my sessions," said Foote.
While in the midst of the UD program, Foote applied the data diagrams she had learned about to help kickstart a project at Yale. By being able to organize the information and put it down on paper and visualize it, she was able to greatly aid in the launch of the initiative.
"This program is literally like a toolbox," said Foote. "Here's a drill; here's how it works. Here's a screwdriver; here's how it works. Here's a saw; here's a different kind of saw; here's another kind of saw. It's then up to you when you are in a particular situation to decide which tool you need."
Though the modules build on each other, participants can enroll in the series at any point and still benefit from the lessons. Students who register for all four modules in a single transaction will qualify for a bundled rate of $3,380, which equates to a $600 savings off the cost of paying $995 for each class individually, and be eligible to earn a University of Delaware Certificate of Completion.
"I felt like business analysis was a good fit for me, and this program has confirmed it," said Foote. "Whether you are taking one module or all of the modules, you will learn something that you can apply immediately."
Potential discounts are available for UD alumni, Project Management Institute Delaware Valley Chapter (PMI-DVC) members, active military members, veterans and groups of two or more from the same organization. For more information about the Business Analysis Certificate program, visit pcs.udel.edu/business-analysis, email continuing-ed@udel.edu, or call 302-831-7600.