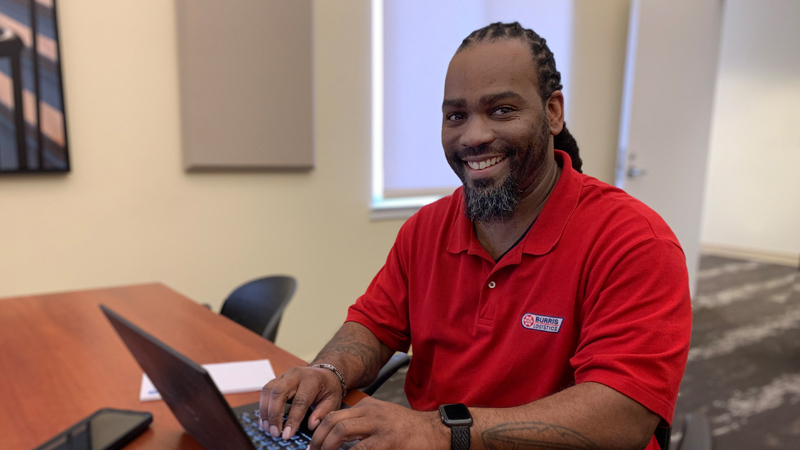 Modules resume in September
The combination of being in his early 40s and only having been in his current field for about a year had James Maynard somewhat intimidated to enroll in the Business Analysis Certificate program offered by the University of Delaware's Division of Professional and Continuing Studies (UD PCS).
Business Analysis Certificate

Foundations of Business Analysis
Sept. 15-16, 2020
Eliciting and Documenting Requirements
Oct. 13-14, 2020
Requirements Analysis and Design Definition
Nov. 17-18, 2020
Solution Deployment and Evaluation
Dec. 8-9, 2020

LIVE-ONLINE

Bridging the business/IT divide
Maynard, who spent his first nine years with Burris Logistics in various warehousing, customer service and transportation roles, was still settling into his position as a business analyst when he decided to further his education at UD. Since 74% of all UD PCS students are least 35 years old, he quickly realized that it would be easy for him to fit in and relate to his classmates even if they were more experienced than he was. As for being able to grasp the material being covered over the four two-day modules, he gives a great deal of praise to the instructor, Peter Johnson, for creating a supportive and encouraging learning environment.
"You can talk to me all day, but I am not going to get anything out of it if I am not interacting," said Maynard. "Peter did an awesome job of bridging the lectures with the discussions and allowing us to learn together through our exchanges with each other. When you have an instructor you can relate to, you can be yourself and won't feel out of place."
Maynard especially credits the program with giving him a greater understanding of the technical side of being a business analyst and all he can do to help his customers be more efficient in their processes. He was pleased to see how much of what was being covered in the classes related to his job, such as designing mockups, interviewing and testing user experience.
"Everything in every module applied to what I do as a business analyst," said Maynard.
The International Institute of Business Analysis™ (IIBA®) describes business analysis as the practice of enabling change in an organizational context by defining needs and recommending solutions that deliver value to stakeholders. Though there are many people serving as business analysts, one does not need to have the official job title to function in this role.
"Business analysis can be practiced at any level of an organization in almost any capacity and industry," said Johnson. "It is not just done by someone in information technology or on a project team."
An IIBA® Certified Business Analysis Professional™ and senior consultant for Orion Development Group with more than 25 years of experience in information technology, quality management and client services, Johnson is continuing to lead the program when the series restarts live-online, Sept. 15-16, with Foundations of Business Analysis. Utilizing version 3.0 of A Guide to the Business Analysis Body of Knowledge® (BABOK® Guide), students will learn the importance of value creation in the role of the business analyst. Subsequent modules include Eliciting and Documenting Requirements (Oct. 13-14), Requirements Analysis and Design Definition (Nov. 17-18), and Solution Deployment and Evaluation (Dec. 8-9).
Though the modules build on each other, participants can enroll in the series at any point and still benefit from the lessons. Students who register for all four modules in a single transaction will qualify for a bundled rate of $3,380, which equates to a $600 savings off the cost of paying $995 for each class individually, and be eligible to earn a University of Delaware Certificate of Completion.
Maynard advises anyone enrolling in the Business Analysis Certificate program to go in with an open mind and be ready to participate.
"Don't think you are just going to sit in the back of the class and listen to the instructor lecture," said Maynard. "By sharing your experiences and asking questions, you may even receive solutions to problems you didn't realize you had."
Discounts are available, and a payment plan is offered for those pursuing the certificate. For more information, visit pcs.udel.edu/business-analysis, email continuing-ed@udel.edu or call 302-831-7600.
This article has been updated to reflect the fall 2020 Business Analysis Certificate schedule.