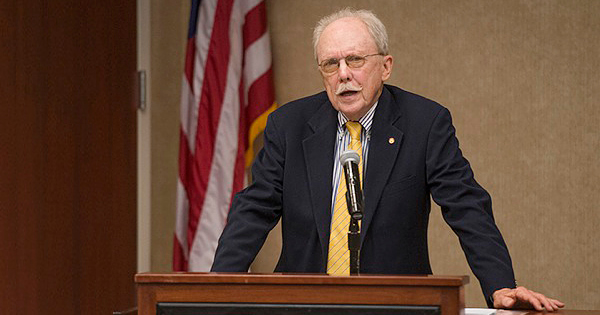 Oct. 13-Nov. 17: "Setting Europe Ablaze"
Prof. Raymond Callahan to lecture on WWII resistance movement
Updated 10/5/2017–first lecture takes place Friday, Oct. 13
After the fall of France early in World War II, Britain's newly formed Special Operations Executive (SOE) became one of the war's first organized resistance initiatives, famously charged by Winston Churchill to "set Europe ablaze."
The SOE disrupted enemy activities through sabotage and subversion throughout Europe, and later served as the model for the U.S. Office of Strategic Services, which in turn gave birth to the CIA.
This fall, a series of six lectures by Raymond Callahan, University of Delaware professor emeritus of history, will discuss the SOE's impact not only on the conduct and outcome of World War II but on events to the present day.
Setting Europe Ablaze: Britain and the European Resistance is the title of a free Friday lecture series taking place Oct. 13-Nov. 17 at the Osher Lifelong Learning Institute at the University of Delaware in Wilmington.
An expert on military history, Callahan taught at UD for 38 years and served as director of the Master of Arts in Liberal Studies program and as associate dean of the College of Arts and Sciences. He held the John F. Morrison Chair of Military History at the U.S. Army's Command and General Staff College and is a Fellow of the Royal Historical Society.
Callahan has authored six books, including Churchill and His Generals, and most recently Triumph at Imphal-Kohima: How the Indian Army Finally Stopped the Japanese Juggernaut. His doctoral and master's degrees are from Harvard University; his bachelor's degree is from Georgetown University.
The talks are sponsored by UD's Osher Lifelong Learning Institute in Wilmington (OLLI), a membership organization for adults 50 and over to exchange ideas, take classes, teach, and travel in the company of their peers. The program is a learning cooperative whose members are its students, planners, instructors, committee members, and facilitators. UD offers OLLI programs in Wilmington, Dover, Lewes and Ocean View.
The talks take place in Room 108 of Arsht Hall, 2700 Pennsylvania Ave., Wilmington, from 12:30-1:45 p.m.
The lectures are free and open to the public; no registration is required. For more information, please call 302-573-4486 or write to LLL-wilm@udel.edu.