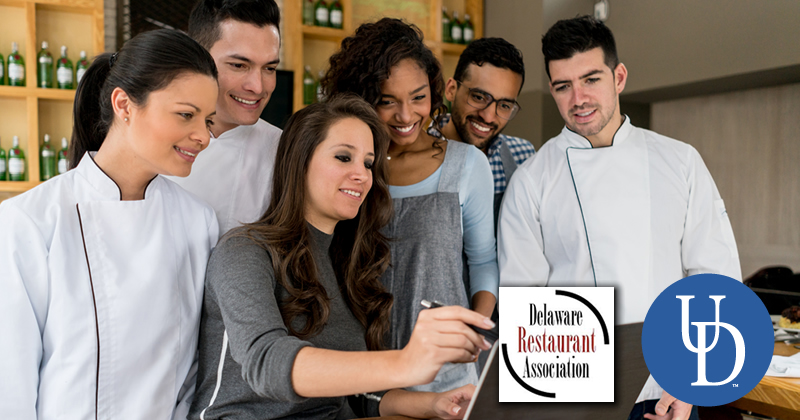 Online HR management course offered free for Delaware restaurant professionals
CARES Act to support restaurant professional education
The University of Delaware's online course focused on restaurant human resources management is being offered free next semester for Delaware residents.
HR Competencies for Restaurant Managers
Starts Jan. 19 or Feb. 1
ONLINE
FREE for Delaware residents
The University of Delaware's online course focused on restaurant human resources management is being offered free next semester for Delaware residents. Register now or learn more.
Two offerings of HR Competencies for Restaurant Managers, set for Jan. 19-March 15 and Feb. 1-March 29, are reserved for up to 60 Delaware residents through funding provided by the CARES Act (Coronavirus Aid, Relief, and Economic Security Act of 2020).
Offered in partnership with the Delaware Restaurant Association (DRA) and UD's Division of Professional and Continuing Studies (UD PCS), the eight-week online program is led by UD's Ali A. Poorani, associate professor and director of Hospitality Associates for Research and Training (HART) in UD's Department of Hospitality and Sport Business Management in the Alfred Lerner College of Business and Economics.
Support for Delaware residents to enroll in this program is funded by Delaware's Rapid Workforce Training and Redeployment Training Initiative to assist Delaware workers and their families who have lost jobs and income due to the COVID-19 crisis, underwritten by $10 million of federal CARES Act funding.
"Delaware's restaurant industry has been devastated by COVID-19, suffering a staggering $900 million in lost sales revenue since March," said Carrie Leishman, president and CEO of the Delaware Restaurant Association. "The reality is that with business shutdowns and continued capacity restrictions, many Delawareans are suffering from underemployment due to decreased hours, and total unemployment from furloughs and layoffs."
"This program offers valuable training that can help get people back to work, with industry-recognized credentials and higher earning potential. We're excited to begin offering these training opportunities and help move our industry forward in 2021," added Leishman.
The UD program is relevant for a wide variety of restaurant professionals and staff, including restaurant owners and operators, aspiring managers, recently appointed managers, and any team members who carry out HR functions.
Drawing from the expertise of both industry professionals and research faculty for a valuable mix of theory and practice, the course provides restaurant professionals with the knowledge and skills to address the increasingly complex human resource challenges facing restaurants today. Along with Poorani, program faculty include Katherine Witherspoon Fry, an attorney specializing in employment and business law, and Rosanne Sawyer, chief human resources officer for NAMSA.
The program covers workplace laws affecting restaurants, strategic culture change in the restaurant business, managing human resources, and change leadership and talent development.
"Pandemic-related topics are a critical and timely addition to the program," said Poorani. Highlighted topics include managing team-members affected by the pandemic, factors impacting employees and employers facing disruption, the critical roles that managers play during and after transition and transformation, and incorporating COVID-19 related policies and procedures into an employee handbook.
Delaware Department of Labor grant funding was instrumental in the original creation and development of the HR Competencies for Restaurant Managers program. Added Poorani, "This certificate program is the first of its kind in the country aimed specifically at professional development for restaurant human resource management, and has been highly rated by the professionals who attended the previous offerings."
The certificate program is structured as four five-hour modules taught over eight weeks consisting of online presentations, self-paced learning activities and interactive discussion.
An additional offering of the online course is being held Feb. 3-March 31 for residents of other states and additional Delaware registrants after the free registration enrollment capacity has been reached. The registration price is $995, with a discount available for veterans and military, UD students and alumni, or enrollment of two or more from one business or organization.
For more details or to register, visit the HR Competencies for Restaurant Managers program website.