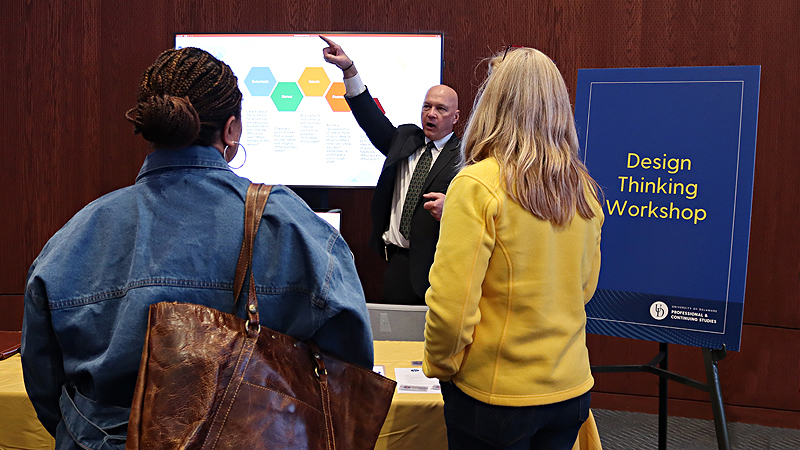 CLASS HAS BEEN CANCELED
Agile, iterative process used by many successful companies
Prior to their arrival in Nepal, students from Stanford University's d.school were told that hospitals in the Asian nation were in need of an inexpensive incubator design to keep up with all of the premature babies being born there. After observing numerous empty incubators, the students traveled out to the rural areas and discovered in their meetings with the mothers that the majority of the premature Nepalese infants were born in these remote locations and most would never even make it to a hospital. Realizing it would not matter how great and cost-effective their design is if the incubators were not used, they came up with a $25 infant warmer that looked like a mini sleeping bag and could protect a baby until it arrives at a medical facility.
May 27-28, 2020
Newark, Del.

Apply human-centered techniques to solve problems in a creative and innovative way
Back in the U.S, a financial services company in New York City initially thought it might be able to attract more millennials by having them talk to other millennials. Thanks to taking the time to interview members of its target market, the company learned that not only do all millennials not think alike, but most of them want advice from someone older and more experienced. As a result of this research, a short online survey was created to align customers with the best advisor to fit their needs rather than assigning them to the next person in the queue.
Though the situations in Nepal and the U.S. were very different, both issues were addressed by following the five steps of design thinking: empathize, define, ideate, prototype and test. Instead of relying on assumptions of what the customer needs, such as more incubators in the Nepalese hospitals or the opportunity to be advised on financial services by fellow millennials, empathizing took place by learning about each audience through observation and interview. From there, needs were defined, ideas were generated and prototypes were created and tested.
"Design thinking is an efficacy-based visual methodology that provides superior solutions to business opportunities or problems," said Edward Kashmere, University of Delaware instructor and the founder and president of Efficiencies, Inc. "Although it has a framework and a roadmap, it is also very flexible and allows you to change as you need."
A global consultant who has visited 39 countries and led complex projects across numerous industries, cultures and technologies, Kashmere said design thinking is very agile and allows users to change their thinking in an instant. He compares the process to setting out to build a Volkswagen Beetle but creating a Honda CRV instead, without incurring significant expenses.
"What we do is called fail fast, fail early by making a small investment in a low fidelity prototype," said Kashmere. "We don't build the whole VW before finding out that people really want an SUV."
Initially exposed to design thinking as a member of the financial services company's millennial project team, Kashmere was so impressed with the process that he gained certification from Harvard University and began training others. He is joining forces with Adam Radziszewski to co-teach the two-day Design Thinking Workshop offered by the University of Delaware's Division of Professional and Continuing Studies (UD PCS), May 27-28, in Newark.
Radziszewski is the founder and owner of an innovation consulting firm, InsightsGen. He delivers innovation and design thinking workshops globally and has been a speaker at numerous innovation events, including the World Innovation Convention in Berlin in 2017.
"Ed comes with a very strong process improvement and project management discipline, while I bring the innovation and design skills. Together the two create nice brain," said Radziszewski. "Because of our different backgrounds, we can inject ideas the other may not have mentioned, challenge each other a bit, and offer a more upbeat, less monotonous style of teaching."
The hands-on class covers design thinking framework, methodology, tools and techniques, templates, exercises and practice, case studies, and next steps to successfully leverage design thinking in an organization. Participants are asked to bring their business problems to the workshop, where they will have an opportunity to apply the tools.
"We'll go through iterations and ask the students questions for each of the steps of empathizing, defining, ideating, prototyping and testing," said Kashmere. "They'll put their ideas down on Post-it notes, and we'll go through various techniques for sorting and prioritizing their thoughts."
From executives to operations people, Kashmere and Radziszewski are confident that a wide variety of individuals can benefit from design thinking, including innovators, senior managers, strategists, project managers, business analysts, information technology solution designers, Lean Six Sigma personnel, marketing and sales managers, and students
"Design thinking borrows from ethnography and psychology to discover the right problems," said Radziszewski. "What makes it really popular in business is that after identifying human-centered solutions, it considers what is doable and what is viable."
According to the Design Management Institute, the long list of design-centric companies includes Apple, Coca-Cola, Ford, IBM, Nike, Starbucks, Target and Walt Disney. In a study by McKinsey & Company of 2 million pieces of financial data and 100,000 design actions over five years, compared with other companies, design-led companies experienced 32% more revenue and 56% greater returns to shareholders.
Kashmere said because design thinking breaks down the barriers of people's way of thinking, it enables them to come up with some different ideas they had not previously thought of. Rather than settling for the first answers that arise, they go through a series of techniques, steps and methods to get a superior answer.
"Along with providing superior solutions, design thinking saves time and money and is agile, iterative and collaborative," said Kashmere. "Your customer is smelling, tasting, pushing the buttons and saying, 'I like this' or 'I don't like this.'''
Discounts for the Design Thinking Workshop are available. To register, or for more information, visit pcs.udel.edu/design-thinking, email continuing-ed@udel.edu or call 302-831-7600.