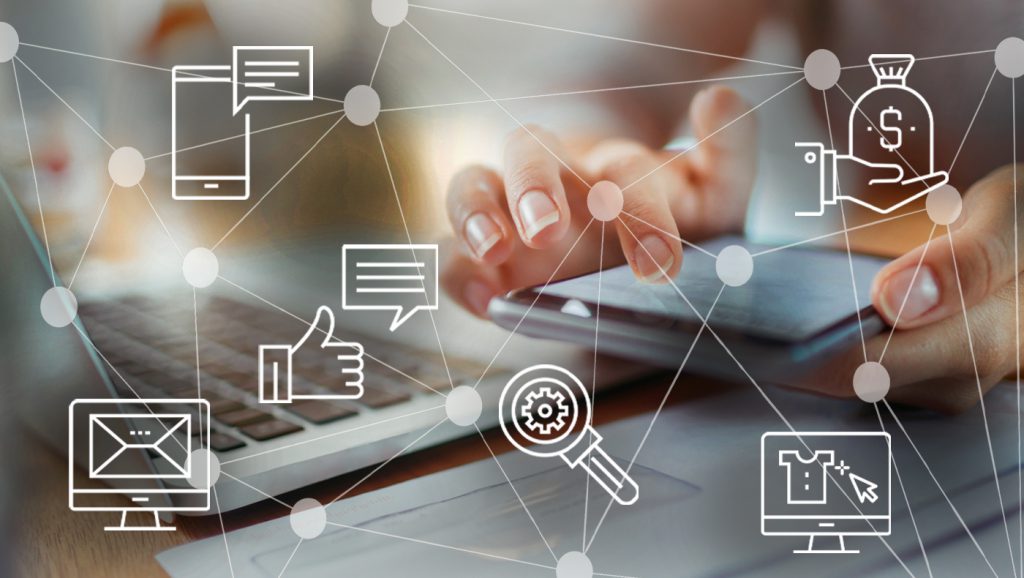 Digital ad spending expected to surpass traditional in 2019
In 1994, the banner advertisement was born when Wired.com, then known as HotWired, posted a clickable image for AT&T that asked, "Have you ever clicked your mouse right here? You will." Twenty-five years later, the practice of advertising and promoting products or services mainly online—known as digital marketing—using web browsers, mobile phones and other digital mediums is ubiquitous.
Digital Marketing

Foundations of Digital Marketing Concepts
Sept. 4-5, 2019
Email Marketing
Sept. 24-25, 2019
Fundamentals of Social Media Marketing
Oct. 22-23, 209
Search Engine Optimization
Nov. 5-6, 2019
Pay Per Click Digital Advertising
Nov. 19-20, 2019
Analytics and Measuring Return on Investment
Dec. 4-5, 2019

Newark, Del.

Prepare to undertake specialized digital marketing roles.
From the more obvious tactics, like emails delivered to consumers' inboxes and messages appearing in their Facebook feeds, to less transparent measures, such as certain businesses rising to the top of Google searches, anyone with an internet connection is targeted by digital marketing. Whereas traditional advertising via printed paper, television and radio is a linear approach of one-way communication that makes it difficult for businesses to gather feedback from customers, digital marketing creates a platform that enables two-way communication resulting in close relationships between both sides. As companies spread brand awareness through various channels, consumers respond by publishing their opinions, experiences and thoughts about products while engaging in online dialogue.
According to eMarketer's latest forecast, a major milestone will be achieved in the U.S. in 2019 when digital ad spending exceeds traditional ad spending for the first time. Digital ad spending for the year is expected to rise to $129.34 billion, which would be 54.2% of the nation's total. Concurrently, it is anticipated that traditional ad spending's share in the U.S. will dip from 51.4% in 2018 to 45.8%.
With the growth of digital marketing comes a demand for more people with the ability to understand and be able to effectively practice this continually evolving means of communication. The University of Delaware's Division of Professional and Continuing Studies (UD PCS) is answering the need with the introduction of six Digital Marketing, two-day, short courses created for anyone involved in the planning, implementation or measurement of digital strategies or who would like to pursue a career in these areas.
Designed and taught by distinguished digital marketing expert Nancy Dibert, the series commences Sept. 4-5 with Foundations of Digital Marketing Concepts, which addresses what digital marketing is and why it matters to businesses and how to incorporate digital into the marketing mix to meet audiences online.
"Foundations of Digital Marketing is a great primer or refresher to lead into the other courses," said Dibert.
The founder and CEO of Epic Marketing Consultants Corporation, Dibert also teaches UD's Advanced Social Media Marketing course. Upon completion of this program, students have consistently requested additional opportunities to enhance their learning in other digital marketing outlets.
"We had planned all along to add the Digital Marketing modules, but the outstanding response from the students really spurred us to fast-track it," said Dibert.
Subsequent Digital Marketing short courses include Email Marketing (Sept. 24-25), Fundamentals of Social Media Marketing (Oct. 22-23), Search Engine Optimization (Nov. 5-6), Pay Per Click Digital Advertising (Nov. 19-20) and Analytics and Measuring Return on Investment (Dec. 4-5). Students can enroll in any of the modules as needed or desired for professional development purposes. All courses are conducted on UD's Newark campus at 501 S. College Ave.
"We opted for the two-day format so more professionals can take advantage of the program," said Dibert. "Rather than a weekly class for eight or so weeks, we'll cover the same material in two-day workshops. Topic immersion has proven to be a powerful and beneficial way to learn."
Statistics from Labor Insights offered by Burning Glass Technologies show that 111,175 jobs were posted from June 1, 2018 to May 31, 2019 for digital marketing positions in the U.S. Of these listings, 10,396 were in Delaware, Pennsylvania, Maryland and Virginia. According to the Occupational Outlook Handbook, overall employment of advertising, promotions and marketing managers, who are often tasked with digital marketing duties, is expected to grow 10% in the United States from 2016 to 2026.
Whether digital marketing is one's primary job function or just falls under an employee's list of duties, Dibert is confident the short courses can help.
"These modules are for working professionals who receive reports on the different topics and need to have a better understanding," said Dibert. "They are also for those who want to update their skill set or are looking to enter or reenter the workforce with valuable, current capabilities."
Discounts for the Digital Marketing short courses are available for UD alumni, Project Management Institute Delaware Valley Chapter (PMI-DVC) members, active military members, veterans and groups of two or more from the same organization. For more information, visit pcs.udel.edu/digital-marketing, email continuing-ed@udel.edu, or call 302-831-7600.