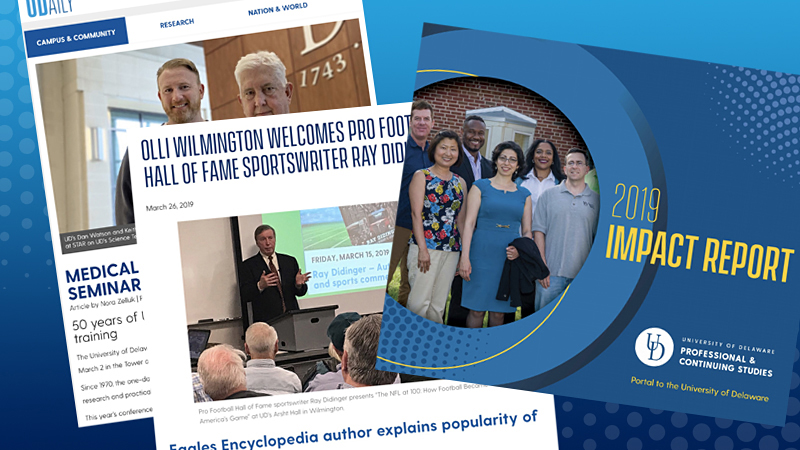 Articles, publications and ads recognized by DPA and NFPW
The University of Delaware's Division of Professional and Continuing Studies (UD PCS) has been recognized for its marketing and communications efforts with 17 awards from the Delaware Press Association (DPA) and two awards from the National Federation of Press Women (NFPW).
Four of the 17 certificates in the annual DPA Communications Contest were presented to the UD PCS marketing and communications team for projects designed by Cindy Dolan, art director, while Adam S. Kamras and Nora Zelluk, communications specialists, earned nine and four honors, respectively for their Specialty Articles in the statewide competition.
The DPA accolades included three first-place selections that advanced to the annual NFPW Communications Contest to be judged against winners from other states: the team's UD PCS 2019 Impact Report, Kamras' "OLLI Wilmington welcomes Pro Football Hall of Fame sportswriter Ray Didinger" article and Zelluk's "50 years of UD outreach in sports medicine and athletic training" article. In the national competition, the UD PCS 2019 Impact Report placed second in the Reports category, and Kamras received an honorable mention award in the Sports category.
Evaluating the impact report, which Dolan produced with assistance from Steven M. Kendus, director, marketing and communications; Sherrie Fauvelle, data analyst; Tim Nelson, marketing assistant; Susan Castelli, financial processor; Kamras, and Zelluk, the Delaware Press Association judges noted that it was "very professionally designed" and made "great use of diverse images on cover and throughout the piece." They also said, "Overall very beautifully designed with consistent and clean layout. Copy is concise and not overwhelming. Great use of color, graphics and icons contributed to ease of navigation. Clearly a lot of thought has gone into this piece."
Feedback on Kamras' sports article from the DPA judges included, "What compelling reporting on what the speaker, Ray Didinger, told his audience! I felt like I was in the room. Well written, very readable and presented a most-needed conclusion for the average person to read."
For Zelluk's sports medicine article, the DPA judges said, "This is a solid news story with a traditional 5W&H lead. That opens to a well-organized and researched presentation of the seminar, giving readers an understanding and rationale for the seminar. It ends with a 'call to action,' telling readers they can still register. Overall, an exceptional job of reporting."
Following is a list of the 17 awards won by UD PCS in the annual Delaware Press Association Communications Contest:
Team projects designed by Cindy Dolan
1st place (2nd place nationally): Reports – UD PCS 2019 Impact Report
2nd place: Catalogs, Manuals and Handbooks – UD PCS Fall 2019 Guide to Programs and Courses
2nd place: Advertising Posters, Billboards and Banners – UD PCS standup displays
3rd place: Single Advertisements for Print or Electronic Publication – UD PCS Fall 2019 Information Session News Journal insert
Adam S. Kamras
Nora Zelluk
The Delaware Press Association is a network of more than 150 journalists, broadcasters, public relations specialists, graphic designers, photojournalists, educators, authors, poets and freelancers dedicated to the highest standards of excellence in communication and to protecting First Amendment freedoms. The annual DPA Communications Contest is open to all professional communicators in Delaware and encourages and rewards excellence in communication. The contest is judged by out-of-state communications professionals to ensure impartiality and provides communicators opportunities to compete in various categories.
The National Federation of Press Women is a nationwide organization of professional women and men pursuing careers across the communications spectrum. The NFPW Communications Contest encourages and rewards excellence in communications in a wide range of categories. Entries are judged by leaders in their fields of expertise.