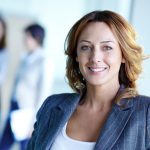 Earning a post-secondary degree or credential is no longer just a pathway to opportunity for a talented few; rather, it is a prerequisite for the growing jobs of the new economy.
The value of education in the workplace is well documented.  U.S. Bureau of Labor Statistics data show that earnings consistently increase with the level of education.  On average, workers over 25 years old with bachelor's degrees earn an astonishing 70% more than their counterparts with high school diplomas. Education beyond a bachelor's degree increases earnings even further.
For many individuals, completing a college degree they may have started earlier in life is an option well worth pursuing, and education researchers project dramatic growth in the number of individuals enrolling in college after the age of 25.
In addition, people are turning to certificate programs to boost their earnings, add competencies to their professional toolboxes and improve their career prospects. Professional development certificate programs and courses also provide an excellent way to earn a credential or retool for a job change.
Certificates are nondegree programs that offer practical, concentrated study in a particular professional area. They take a relatively short time to complete—generally between four months and a year.
A study by Georgetown University's Center on Education and the Workforce called certificate programs a gateway to gainful employment and college degrees with over a million certificates awarded each year. "In the context of concerns about rising college costs and student loan debt, certificates, which are cheaper and take less time to complete than college degrees, have become of increasing interest to researchers, institutions, and other stakeholders in higher education," explained the researchers, outlining the rationale for their study.
"Certificates are a homegrown American invention and are expanding rapidly in response to a wide range of educational and labor market demands," reported the researchers. A major finding of the study is that the postsecondary certificate has become a cost-effective tool for increasing educational attainment and gainful employment in the U.S.
The University of Delaware's Division of Professional and Continuing Studies offers a range of certificates in the health care, legal and business fields.
Certificates meet in Dover, Newark or Wilmington, and are scheduled to suit people who are already working.  For more information about UD continuing education programs, call 302-831-7600, visit the UD Professional and Continuing Studies web page, or write to continuing-ed@udel.edu.
For those considering a return to college, whether for a degree or certificate program, the University of Delaware ACCESS Center provides free academic advisement. Advisers can help identify career and educational goals, develop educational plans, implement decisions and build learning skills.