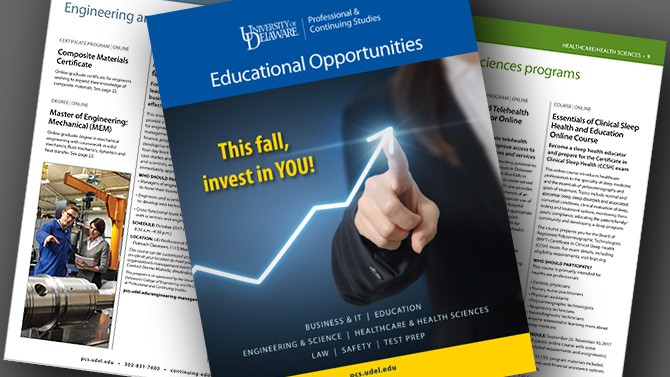 The fall 2017 program guide from the University of Delaware's Division of Professional and Continuing Studies (UD PCS) is available now.
This award-winning publication, featuring a new design, introduces the services provided by UD PCS and lists the courses and programs slated for the upcoming semester.
The Division of Professional and Continuing Studies provides educational opportunities for anyone seeking to begin or complete their college career, to enhance their professional skills or to enrich their personal lives. UD PCS also provides customized training and educational services to area businesses, organizations and professional associations.
As the adult and nontraditional learners' portal to UD, Professional and Continuing Studies impacts more than 15,000 students (including University of Delaware employees) each year through UD credit courses and degree offerings, professional development courses, certificate programs, specialized conferences, workshops and lifelong learning member cooperatives throughout the state.
For those interested in learning more about UD PCS offerings, a free information session will be held July 20 in Wilmington. The information session offers program overviews and question-and-answer opportunities with faculty and program graduates. Refreshments will be served.