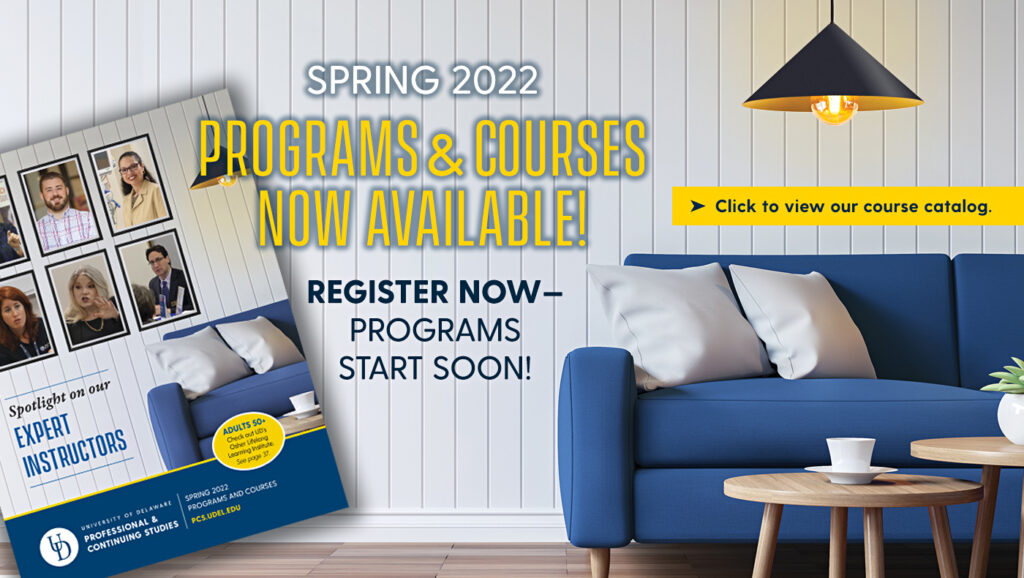 Learn more about Fall 2021 Professional and Continuing Studies programs

Catalog theme is "Navigating the changing landscape"
The fall 2021 program guide from the University of Delaware's Division of Professional and Continuing Studies (UD PCS) is now available online.
Along with listings of upcoming business, healthcare, IT and legal courses, the publication highlights the resources and services UD PCS provides.
There is continued emphasis on addressing challenges relating to the receding pandemic environment and ongoing economic realities. Learners can take advantage of online programs as well as scholarships, payment plans and financial assistance options.
This semester's catalog features an article offering career tips from the ACCESS Center, UD PCS' career and academic advisement office. The advisers' tips are relevant for anyone in career transition or those wishing to advance their current careers, and cover goal setting, networking, how to research career information, personal branding and more.
UD's Division of Professional and Continuing Studies provides educational opportunities for anyone seeking to begin or complete their college education, enhance their professional skills or enrich their personal lives. UD PCS also provides customized training and educational services to area businesses, organizations and professional associations.
PCS is home to more than 25,000 enrollments each year — including UD employees — through UD credit courses and degrees, professional development courses, certificate programs, specialized conferences, workshops and lifelong learning member cooperatives throughout the state.

Members of the public and the UD community are invited to learn about fall programs at free online information sessions held July 19-22 at 7 p.m.
For details or to read the current catalog, visit https://www.pcs.udel.edu/guide/.