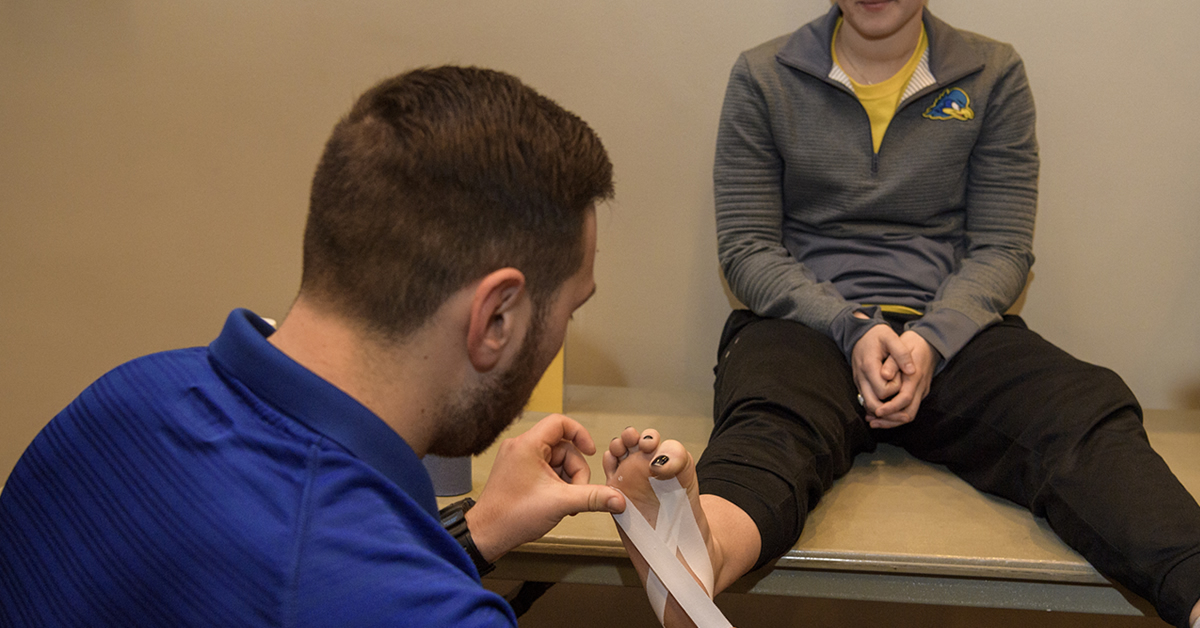 ­­Annual sports medicine conference features UD and regional experts
The 49th annual Medical Aspects of Sports seminar will take place at the University of Delaware's Clayton Hall on Saturday, Feb. 24. Each year, the one-day program brings together coaches, physical therapists, athletic trainers, physical education teachers, school nurses, and other sports and health professionals for updates on the latest in treating, managing and rehabilitating sports-related injuries.
Medical Aspects of Sports Seminar

Saturday, Feb. 24, 2018
Newark, Del.
A one-day sports medicine conference focused on successful prevention, evaluation and rehabilitation of sports injuries.

This year, the conference will focus on concussion treatment and follow-up, psychosomatic aspects of sports medicine, imagery in sports rehabilitation and more.
Co-sponsored by UD's Intercollegiate Athletics Program and Department of Kinesiology and Applied Physiology, in cooperation with the Division of Professional and Continuing Studies, the Medical Aspects of Sports seminar provides a forum for experts from UD and the region to share their research and practical expertise in the field.
Presenters from the University's Intercollegiate Athletics Program include Daniel Watson, assistant director of athletics for athletic training and head athletic trainer; Rachel Walker, sport psychologist; and Chaney Stewman, team physician for UD varsity athletics and associate director of the Sports Medicine Fellowship at Christiana Care Health System.
Other presenters include UD assistant athletic trainers Brandon DeSantis and Leyla Kuz-Dworzak, as well as Shane Reybold, Sam Arnold and Fred Breidenbach, sports physical therapy residents from Delaware Physical Therapy Clinic located on UD's Science, Technology and Advanced Research (STAR) campus.
The seminar director is Keith Handling, associate professor in the Department of Kinesiology and Applied Physiology at UD.
An interactive sports taping clinic is an annual feature of the program, with this year's demonstration clinic led by UD athletic training graduate assistants Caroline Howard and Chantel Hunter.
The athletic training education program at the University of Delaware has the distinction of being one of the oldest accredited programs in the nation, with a long history of sharing UD's expertise in this field with the region's professionals through the Medical Aspects of Sports seminar.
As Handling commented, "The seminar helps area practitioners keep current in the field and maintain their certifications and gives our students a concrete experience, which makes them aware of a very important aspect of the field: the need for continuing professional development."
The University of Delaware is recognized by the Board of Certification, Inc. to offer 8.0 Continuing Education Units (CEUs) to certified athletic trainers for completion of this program.
The program is also approved for physical therapy continuing education credits by the Delaware Examining Board of Physical Therapists (0.8 CEUs). Application has been made (and approval is anticipated) for CEUs from the Pennsylvania State Board of Physical Therapy (8.0 CEUs) and Maryland State Board of Physical Therapy Examiners (0.8 CEUs). Physical therapists practicing in other states should contact their state examining board to verify whether this seminar is approved for credit.
This conference is recommended for physical therapists, team and family physicians, athletic trainers, coaches, fitness club personnel, and students or school personnel involved in physical education, recreation and physical fitness programs. There is a group rate for two or more registrations from one school, team or other organization.
UD students, as well as students from other institutions, are encouraged to attend. A student rate of $80 is available.
For more information about this program call 302-831-3474, https://www.pcs.udel.edu/sports/ or write to continuing-ed@udel.edu.
Photo by Kathy F. Atkinson