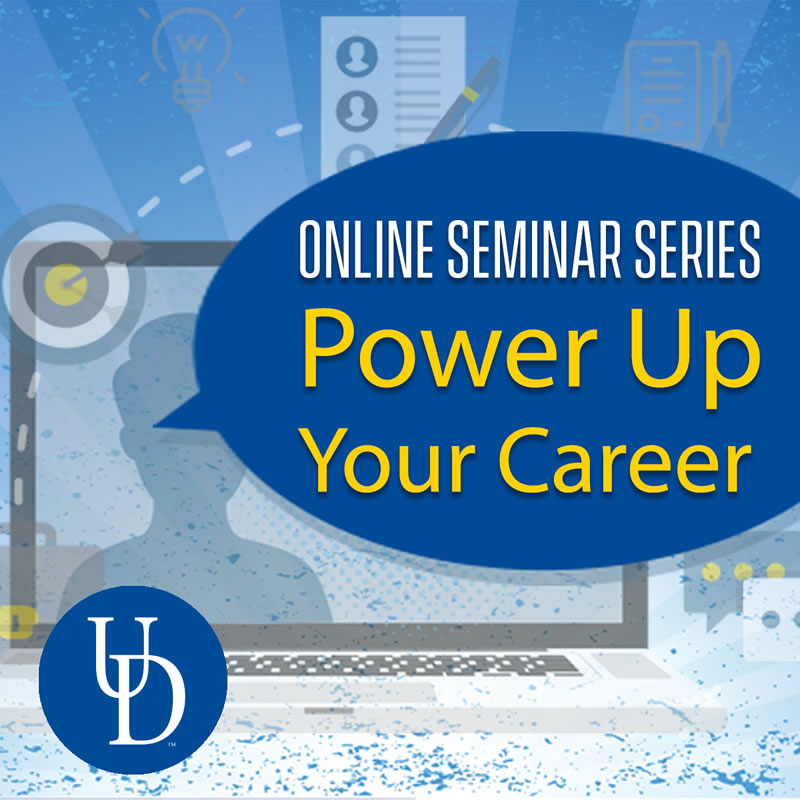 Career and personal strategies to navigate the current economy
The University of Delaware's Division of Professional and Continuing Studies (UD PCS) is offering its Power Up Your Career seminar series free of charge this summer and fall. Upcoming seminars are offered monthly through December.
The professional development webinar series is open to anyone looking for practical and immediately applicable career tips and resources, like networking, job-search strategies, virtual interviews and more.
"We're especially pleased to offer this series to the community during this time of the pandemic," said Lynn Fishlock, series coordinator and program manager for UD's Division of Professional and Continuing Studies. "We hope the sessions can help participants become better prepared and positioned to successfully meet the challenges they may be facing."
Nearly 100 virtual attendees tuned into last month's webinars for strategies on navigating career transitions during the current economy. In the first session, Gearing Up for a Potential Job/Career Shift Due to the Coronavirus, career coaches Gay Lynch and Andrea Abernethy laid out a roadmap of preparedness tasks that participants could use as a checklist when faced with a job transition.
Topics included having the right mindset, updating your resumes and cover letters, refreshing your social media presence and expanding your networking efforts.
One particularly actionable suggestion was to work on perfecting your "elevator speech" (a personal branding pitch that's short and memorable for quick networking opportunities) and your "STAR" stories (interview-ready anecdotes that illustrate your professional accomplishments and include all the relevant ingredients of situation, task, action and result).
Whether or not participants are currently facing an imminent job change, Lynch and Abernethy recommended investing the time now to expand and refresh social media presence. In Establishing Your Social Media Presence, the coaches focused primarily on best practices for LinkedIn.
Webinar participants submitted questions to the coaches, for example, asking if you should submit job applications via LinkedIn (the coaches said yes) and if it matters who your LinkedIn connections are as long as you have a lot of them. On that topic, Lynch and Abernethy echoed conventional wisdom that you should aim for 500 connections on LinkedIn for maximum effectiveness, but that "it's not just a popularity contest." They emphasized that connections from a real personal or business relationship are valuable in expanding your virtual network, not random clicks and requests from unknown individuals.
To expand your network with real connections, they suggested following up with a LinkedIn request every time you meet someone in a professional or personal context, attend a presentation or meeting, participate in a work or social event, or even read a particularly valuable article. They also recommend including a personal note to reinforce the connection invitation.
Power Up Your Career seminars have been a regular Professional and Continuing Studies offering for nearly a decade and are currently free and open to the public.
"This seminar series is the perfect venue for reaching out to the community to share career tips and strategies relevant for the current environment," added Fishlock. "Our career coaches Gay Lynch and Andrea Abernethy enthusiastically stepped up to the plate for the summer series because they too understand the many challenges people are facing right now," added Fishlock.
Suprawee Tepsuporn, assistant dean for graduate professional development in UD's Graduate College, is leading next month's session on virtual interviews. "Based on my conversations with our graduate students, there is anxiety and concern around the uncertainty of the job market. With the rising unemployment rate and changing landscape of the job market, these worries extend far beyond UD campuses," said Tepsuporn.
Upcoming topics in the Power Up Your Career Seminar Series include:
Gearing Up for a Potential Job/Career Shift Due to the Coronavirus (COVID-19) Pandemic (July 16, August 13)
Networking, Locating and Applying for Positions (July 16)
Acing the Virtual Interview (August 13)
Why Writing Email Is a Skill and Why It Matters (September 12)
Resiliency in Personal and Professional Setbacks (October 10)
How to Speak Up in Meetings and When to Hold Back (November 14)
Building Relationships through Storytelling (December 12)
Members of the public and the UD community are invited to learn more, or RSVP for upcoming webinars, by visiting https://www.pcs.udel.edu/power-up/.
Article by Nora Zelluk
Illustration by Cindy Dolan