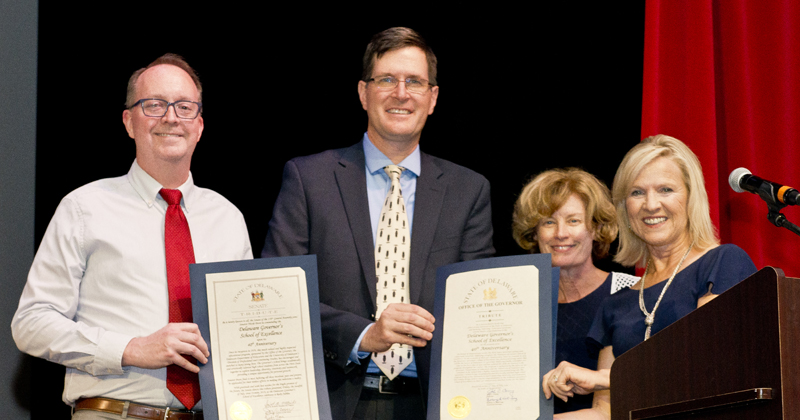 Alumna Lt. Gov. Hall-Long presents tributes
Forty years after participating in the inaugural Delaware Governor's School for Excellence, Delaware Lt. Gov. Bethany Hall-Long addressed the Class of 2019 and their families as well as fellow alumni who returned to the University of Delaware to celebrate the first four decades of the program.
Hall-Long, whose maiden name was Hall when she represented Indian River High School in the one-week UD residential program that brings together academically and artistically talented high school students from throughout the state, recollected some of the lessons she learned at Governor's School.
"I encourage you to stay in touch with one another, and I want you to think about some of the challenges you faced this week," said Hall-Long, who still has the Governor's School T-shirt and booklet she received as a student participant. "If I had to go back to 1979, I would probably say, 'Be a little more patient.'''
Raised on a chicken farm in Sussex County, Hall-Long told everyone to be very proud of who they are and to never forget where they came from. She also encouraged the students to think about their "why" and "passion" and what they are going to take away from the experience.
"Life is a journey," said Hall-Long. "I think failure is a better teacher than success sometimes. When things don't go your way, take those lessons and turn them into positive actions."
Sponsored by the Office of the Governor of the State of Delaware in cooperation with the Delaware Department of Education and the University of Delaware's Division of Professional and Continuing Studies (UD PCS), Governor's School provides academic, artistic and leadership development to participants selected via a competitive application process after being nominated by their schools. Held annually on the University of Delaware's Newark campus, Governor's School for Excellence has welcomed more than 4,000 students over the last 40 years.
Consisting of traditional and non-traditional college-level education, leadership training, field trips, and recreational and social activities, Governor's School is comprised of four programs: academic, visual arts, theatre and music. All of the students interact with each other in the exploration of leadership, diversity, teamwork and creativity. The program, which includes lodging and meals, is provided at no cost to the participants, courtesy of the Office of the Governor.
On behalf of the Office of the Governor and the Delaware Senate, Hall-Long presented a pair of tributes—one from the Office of the Governor, signed by Gov. John Carney and Hall-Long, and one from the Senate, signed by Sen. President Pro Tempore David McBride, Majority Leader Nicole Poore and Secretary Joy C. Bower—to UD Provost Robin Morgan; Interim Associate Vice Provost, Professional and Continuing Studies, George Irvine; and Governor's School for Excellence Coordinator Jason Thompson.
"Due to the size of our initiative, Governor's School would not be possible without the fantastic support from the governor's office and the various units throughout the University, which enables us to run such a highly successful program," said Thompson. "We are already looking forward to another year of amazing students and outstanding collaboration in 2020."
In addition to UD PCS, numerous University of Delaware units supported the 2019 Governor's School for Excellence, including the College of Arts and Sciences; College of Health Sciences; College of Earth, Ocean and Environment; Alfred Lerner College of Business and Economics; College of Engineering; Office of the Provost; Office of Equity and Inclusion; Campus and Public Safety; Conference Services; Office of the Registrar; and Transportation.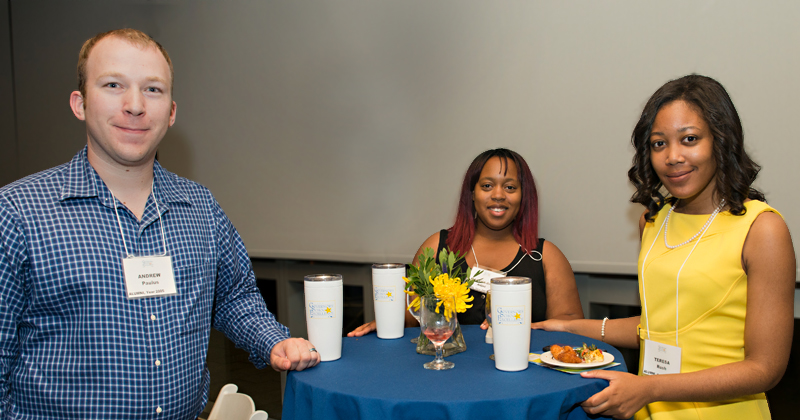 Approximately half of Governor's School participants enroll at the University of Delaware, including Andrew Paulus whose career path was triggered by his 2005 experience.
"I give a lot of credit to Governor's School as the spark that introduced me to engineering," said Paulus, who has been working in the field since earning his bachelor's degree in mechanical engineering in 2011. "We took a field trip to the engineering department, did a few hands-on activities, and I said, 'This is really cool.' I enjoyed applying the lessons to various situations, and it kind of sparked me into learning more about engineering and ultimately declaring it as my major."
While enrolled at UD, the A.I. Dupont High School graduate served as a Governor's School resident assistant for three years. He especially enjoyed chaperoning the engineering field trips and seeing that same spark in the students that he had when he was in their place. Paulus always made a point to introduce himself as a mechanical engineering major and offer to answer any questions about the program.
Governor's School Class of 2007 alumna Martha-Raye Adjei also came by way of A.I. Dupont High School and loved the experience. She still keeps in touch with many of the students and enjoys following their achievements on social media. Adjei, who received a bachelor's degree in environmental studies from UD in 2013, is a quality assurance specialist with SEMrush.
"I came to Governor's School for academics and also made lifelong friends," said Adjei. "It really taught me how to be an independent thinker. The sessions were very thought-provoking and kind of shaped my whole educational and professional experience."
When Teresa Rush was selected to represent Kent County's Polytech High School in 2002, she admits knowing very little about the University of Delaware at the time. Since then, she has returned to UD to earn two degrees and serve as an employee.
"I believe that Governor's School motivated me to try new things and to take a chance on myself and pursue opportunities that were outside of my comfort zone," said Rush. "It absolutely played a role in my decision to attend the University of Delaware. I would not have known that the University of Delaware offered so many wonderful, nationally ranked programs."
After receiving a bachelor's degree in elementary teacher education in 2008, Rush became a teacher. She was recently awarded a doctorate in educational leadership at UD and has taken on the position of program coordinator for the University's elementary teacher education associate in arts degree.
"I love having the opportunity to be part of the journey of other University of Delaware associates and students, and I love being able to give back to the University that poured so much into me and my experiences," said Rush.
Guests at the 40th anniversary celebration also included Newark Mayor Jerry Clifton and Delaware U.S. Sen. Tom Carper, who supported the program during his two terms as governor and was proud to have his son, Christopher, chosen for Governor's School.
"You are not just good students, maybe good writers, good artists, good scientists and mathematicians, good athletes; you are a lot of those things, but we need you to be great leaders," said Carper to the Class of 2019. "A bunch of you are already leading in a variety of roles, and as you age out, we need you to step up and assume even greater leadership roles."