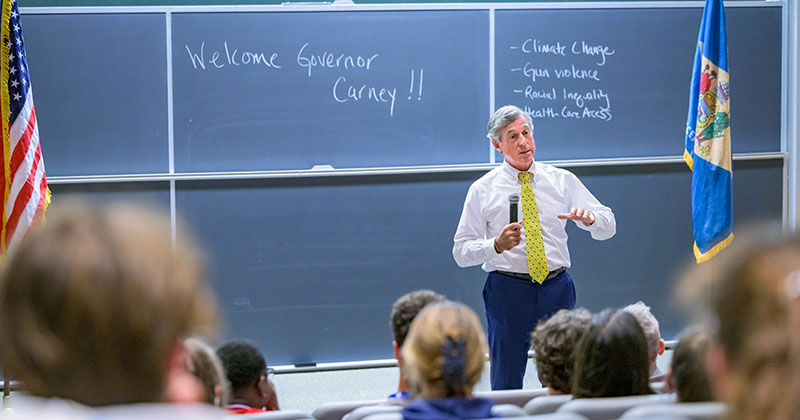 Pitching policy to the governor
High schoolers have John Carney's attention at 44th annual Governor's School for Excellence
Standing before a crowd of teens who were plainly worried about their troubled world, Delaware Gov. John Carney began to share his own troubles solving problems in the nation's second-smallest state.
Easy answers to big issues are almost always elusive, he told the students. In many cases, challenges are global, too big for individuals or even entire states to address, he said. But no obstacles are insurmountable, and all people hold the power to make a difference.
"It's not like it can't be done. You just have to do it," Carney told this year's class of the 44th annual Governor's School for Excellence, a weeklong program held each summer at the University of Delaware for academically and artistically talented rising high school juniors.
Carney's message of resilience, persistence and grit was a key takeaway of this year's program, which aims to give about 120 of the state's best and brightest students a concentrated exercise in public policy issues, leadership and creative expression.
''Forty-four years running, that's a big deal," said Carney, who earned his master of public administration degree from UD. "I hope you make the most of it. Programs like this are really important so that we can grow the next generation of workers in our state and be competitive."
An exercise in instilling 'grit'
Sponsored by the Office of the Governor in cooperation with the Delaware Department of Education and UD's Division of Professional and Continuing Studies (UD PCS), the program included a high-pressure, high-powered day for the students. Guided by professors from UD's Joseph R. Biden, Jr. School of Public Policy and Administration, the teens were challenged to identify four pressing social problems, devise solid policy proposals, and then present their solutions to the governor — in person, face-to-face, no filter.
The thought of discussing planet-sized issues with a real-life governor clearly rattled the students — but, by the end of the day, it would also inspire them.
In a way, that was the point: to challenge these teens to think under pressure, to force them to confront seemingly unsolvable problems, making them more resilient, nimble and confident in the process.
"Getting through these things that are not really academically oriented are as important to you as the academic side, as the artistic side," Carney told the teens. "It will help you develop that grit that will enable you ultimately to work your way through institutions like the University of Delaware."
On that day, the teens were focused on making it through the day. Working in teams, they pieced together persuasive policy proposals, searching for statistics that would strengthen their arguments, then fine-tuning their pitches with minutes to spare. In their eyes and in their voices, there was a clear sense of growing excitement, and a feeling of empowerment.
It was their big chance, they were told. "Your voices are historically and systematically underrepresented in these policy conversations," they were told by associate professor Andrea Pierce, the Biden School's program director for public policy (undergraduate). "And be ready, because the governor might come back with a couple of questions."
"The governor is really nice, don't worry," said Biden School assistant professor Tibor Tóth as he guided one section of frazzled students toward solutions for affordable and accessible health care, one of four topics chosen by the class. Soon, thoughts coalesced, and team leaders emerged.
Then, it was time to face the governor.
Climate change: No easy solutions 
Seeking ways to cool a planet that is growing hotter by the day, Daniel Okagbare's team zeroed in on a nonprofit called Energize Delaware, which offers renewable and energy-efficiency programs that help Delawareans reduce their carbon footprint.
"Energize Delaware helps put solar panels on school buildings in the state," the rising junior at Christiana High School told the governor. "We would like to extend this program: If we start putting solar panels on schools, we're setting a precedent that Delaware should be a more renewable state. And these children who graduate from these schools will go on and echo that same sentiment, making the whole world a more renewable place."
Carney was impressed, but cold realities tempered his reply. "Addressing climate change is going to take several generations," he told the teens. "And there is a little bit of a political problem here. There are people who don't accept climate science. I frankly don't have a lot of time for them. I'll listen. But I pay attention and follow the experts. This is an existential problem."
It's also one that will take the entire world to fix, he said.
Gun violence: Too close to home 
Polytech High School student Elyse Fuller grabbed the governor's full attention with one question: "Show of hands," she shouted to the crowd, "How many of you here have ever experienced a school shooting or a school shooting threat?"
The Kirkbride Lecture Hall auditorium was nearly filled with hands held high.
"Wow," Fuller said. "That's a lot of hands. It just shows how pressing and dire this issue is, not just to me, but to students in general." She outlined her team's plan: School shooter drills for every school, intruder-proof entrances and greater care for mentally ill young adults.
But it was that sea of hands that really captured the governor's attention. "I can't tell you how bad I felt when I saw almost every hand in this auditorium go up," Carney said. At the same time, most of the state's gun violence is felt in city neighborhoods, between gangs, he said, so solutions also need to be focused there.
"So our effort has been what we call joint group violence intervention. If the problem is the gangs, we've got to get the gangs to put down the guns," he said. "We tell them, 'If you put down the guns, we will help you. We'll help you get a job; we'll help you address the problems that you have.' And we've had some success. There's still a lot of work to do, but it's been paying off."
Racial inequality: It begins in the home
Laws now forbid the "redlining" that historically excluded black and brown families from some neighborhoods, but its legacy remains, said student Janelle Gyambini of Dover High School.
By pushing those families into poorer neighborhoods, society essentially forced students there to endure a substandard education, and unequal life opportunities, she said.
The governor agreed, but pointed out that the state's "equalization" framework already shifts money from better-off districts to areas where property values are lower. Despite that, he pointed out, success has been elusive. "It's very frustrating for me when I see school districts that can't get third-grade reading proficiency over 10%, 20%, 30%. That's just unacceptable."
The answer lies in pushing for change at the local level, he said. "We have a system in Delaware that's pretty equitable when it comes to resources that flow from the state to those districts. But the districts themselves and those boards make the decisions. The governor doesn't make the decisions."
Solutions to inequality lie within schools themselves, he said.
"Education is the answer," Carney told the teens. "If we're not educating our children in an effective way, particularly children from low-income neighborhoods, that's where we're failing those communities, and that's where our efforts have been focused. It's my highest priority as governor."
Health care: Start with healthy students 
Caroline Miller of Odessa High School came equipped with numbers: 40% of adults have delayed or skipped dentist treatments because of lack of finances. In 2019, 30% of the state budget was spent on health care insurance, but Delaware was ranked 31st for quality of care.
Part of the problem is lack of access caused by provider shortages, but it's also an issue of equity, she told the governor. "Many people are living with extreme health issues that could easily have been prevented by just going to the doctor every year and learning about how to take care of our own bodies," she said.
When the workforce isn't well, the economy suffers, she pointed out. When students aren't well, test scores suffer, she added.
"Our solution is to implement health center facilities from K-12 in Delaware schools," Miller told Carney. "My school is fortunate enough to have one, but we'd like to include these centers in every school in Delaware."
Carney agreed wholeheartedly that lack of access remains a problem, and pointed out that personal choices also play a role. The students' emphasis on better prevention is key, he said: Earlier detection of health problems will ultimately reduce costs for all. "We have to do better with respect to diet and with respect to prevention," Carney said. "Health care costs are sucking up a larger proportion of economic output every year, and that's a terrible thing."
By the end of the session, Carney seemed certain that a world full of problems had found at least 120 more young people with solutions to share.
"Unbelievable. Incredibly thoughtful," he said of the presentations, adding a few words of wisdom for their future:
"My advice is really pretty simple," Carney said. "Find that thing that really floats your boat. Find that thing that really gets you up in the morning, and do that. Whether you're a musician, whether you're a scientist, or whatever it is, if you find that thing that really excites you, you won't work a day in your life."