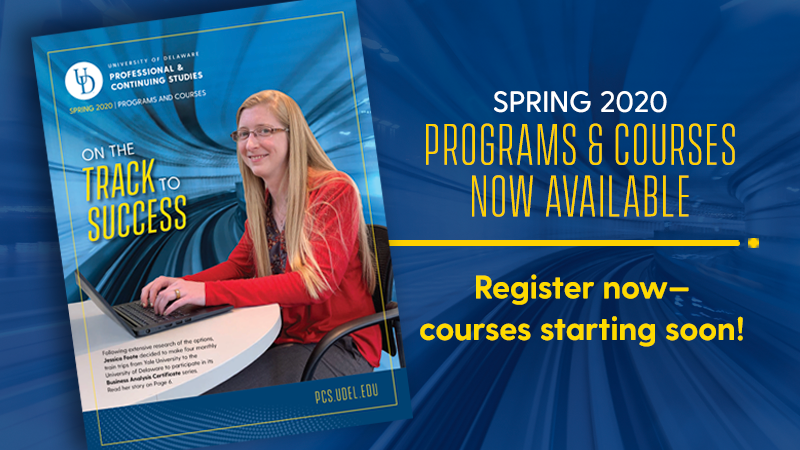 UD Professional and Continuing Studies Guide highlights Spring 2020 program offerings
The spring 2020 program guide from the University of Delaware's Division of Professional and Continuing Studies (UD PCS) is now available in print and online.
Along with listings of the business, healthcare, information technology, legal, occupational safety and test prep courses offered in the upcoming semester, the publication highlights the resources and services UD PCS provides.
UD PCS offers several new programs this spring, notably a set of courses for infrared thermography certification, focusing on the use of handheld and drone infrared thermography for a variety of business, public safety and scientific applications.
Two new short courses covering real estate law and elder law and wills are part of the Advanced Paralegal Seminar Series.
Also featured in this catalog are highlights from a variety of UD PCS global initiatives, including a special offering of the Clinical Trials Management Online Certificate in partnership with the Vidarbha Youth Welfare Society in India and the internationally-offered Socially Responsible and Sustainable Business online courses focusing on human trafficking and workers' rights.
The Division of Professional and Continuing Studies provides educational opportunities for anyone seeking to begin or complete their college career, enhance their professional skills, or enrich their personal lives. UD PCS also provides customized training and educational services to area businesses, organizations and professional associations.
UD PCS will host a free information session on Jan. 15, 6-8 p.m. at UD's STAR Campus in Newark. Guests can meet with faculty and program graduates, ask questions and learn more about the programs.
For details or to request a catalog, call 302-831-7600, email continuing-ed@udel.edu or click here to view the UD Professional and Continuing Studies Spring 2020 Guide.