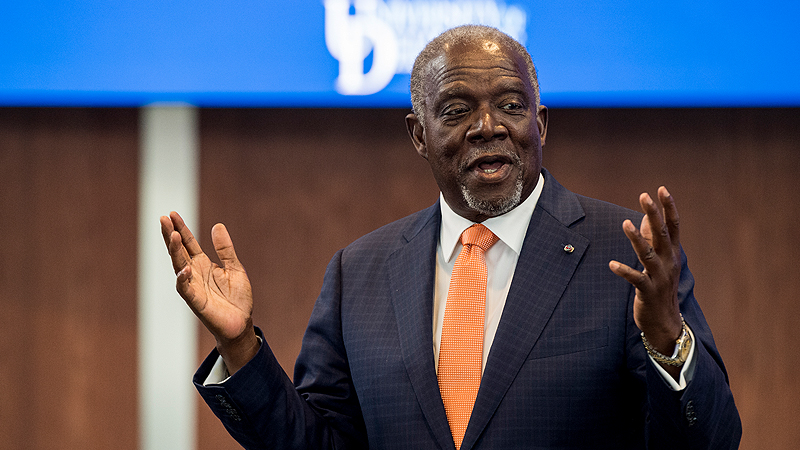 Potential partnerships with UD PCS and other units discussed
In his 1990 speech at Boston's Madison Park High School, Nelson Mandela said, "Education is the most powerful weapon we can use to change the world." Looking to do his part by changing his country through education, Haiti Ambassador Hervé H. Denis recently visited the University of Delaware to explore potential opportunities and partnerships with UD's Division of Professional and Continuing Studies (UD PCS) and other units.
"I am so pleased to be here," said Denis. "My country has a lot of needs in terms of education. We need more and more the support of institutions like yours."
Invited to the First State by the Delaware African and Caribbean Affairs Commission and the Delaware Haitian community, which includes both native Haitians and people of Haitian descent, Denis' visit to UD was part of a two-day itinerary that also included meetings with Gov. John Carney and Wilmington Mayor Mike Purzycki, as well as stops at the Port of Wilmington and the Delaware Art Museum.
While at UD, the Haitian delegation engaged in discussion about potential education opportunities for a variety of topics, such as technology, healthcare, entrepreneurship, business and energy. Much of the conversation centered on online programming, which would not require students to travel outside of Haiti.
"Our team at Professional and Continuing Studies serves working professionals in Delaware and around the world online," said George Irvine, interim associate vice provost for UD PCS. Irvine believes UD PCS' short, targeted noncredit certificate programs could assist Denis in addressing the need for online education in Haiti.
Brenda Romeus Mbu, whose parents were born in Haiti, completed the online Advanced Social Media Marketing for Business program through UD PCS earlier this year. Romeus Mbu emphasized that online continuing education is the future and is confident that programming developed for Haiti would be effective. To illustrate the convenience of online learning, she said she completed coursework while on work breaks, waiting at the airport, cooking and doing laundry, and she remotely interacted with her instructor, Nancy Dibert. Romeus Mbu also mentioned she corresponds via Facebook with friends in Haiti who have strong internet access.
Along with Advanced Social Media Marketing for Business, online UD PCS programs include Coding Bootcamp, Advanced Telehealth Coordinator Certificate, Clinical Trials Management Certificate, Healthcare Risk Management and test prep for the ACT, SAT, GMAT, GRE, LSAT and Praxis exams. For the Clinical Trials Management program, a partnership was formed with an organization in India that presents the course online.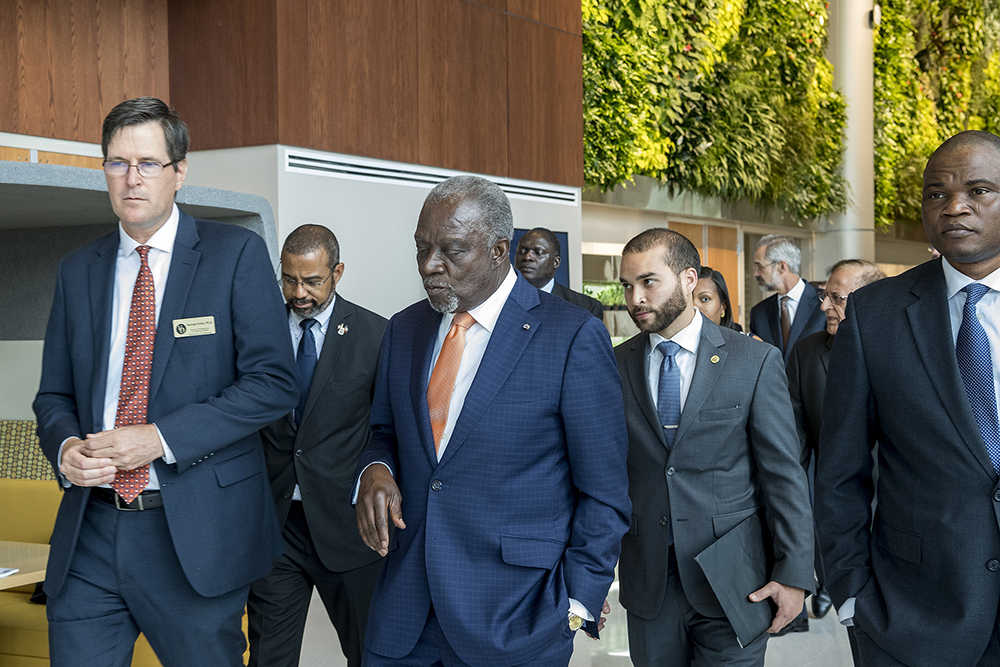 Irvine also stressed that there are plenty of other UD units that may be able to provide valuable and relevant programming. Some of these opportunities could be presented via the University's 24 completely online master's degrees.
Nicholas Mayard-Paul, first secretary at the Embassy of Haiti in Washington, said his country has the objective of being an emerging nation in the next 25-30 years, and education is the perfect way to answer the 21st century. At this point, he is open to all ideas for working with UD and is most concerned about the applicability of any education that may be offered.
"You will find Haitians who have completed their studies but lack the practical training and entrepreneurial skills that you find in the U.S.," said Mayard-Paul. "Practical training prepares you for the real world. Such classes can be very interesting. Practical training doesn't fit in one category. It fits in all of them."
Trevor Nelson, director of UD's Institute for Global Studies, said the University has more than 200 agreements with institutions around the world for a variety of academic initiatives that are to the mutual advantage of both parties.
"We realize that with the nature of the world we live in today, we cannot afford to be insular," said Nelson. "We cannot afford to be isolated. We need to develop these opportunities for the benefit of our students, our region and our nation."
Having established what is considered the first study abroad program by a U.S. institution in 1923, UD has considerable experience working with other nations to provide opportunities for education.
"We have long been welcoming to students from around the world," said Douglas Doren, UD interim vice provost for graduate and professional education and dean of the Graduate College. "About a quarter of our graduate students are international students, and we have about 5,000 international students altogether in the undergraduate and graduate programs. We have a couple of close personal connections with Haiti through some of our undergraduates."
Before enrolling at UD, Matt Watters visited Haiti to deliver soccer equipment he had collected for an Eagle Scout project. While attending the University, he returned to Haiti in 2008 and 2009 to work as an emergency medical technician and started a registered student organization, Students for Haiti at the University of Delaware. During a service trip to Haiti in 2012, UD student Eric McGinnis developed an English to Creole tutor application to help Haitian women send emails and communicate in English.
Shaun Sutherell, director of professional programs for UD PCS, acknowledged the progress accomplished during the meeting but emphasized more work needs to be done to establish new joint initiatives.
"It is good to talk about this, but it is better to put it in action," said Sutherell. "My goal is to continue this conversation with all of you to take some of these topics and needs, and see what we can potentially develop together that would be sustainable."
Shortly after the meeting at UD, the conversation continued when Sutherell and Romeus Mbu traveled to Washington to see Denis at the Embassy of Haiti. Subsequent dialogue will be taking place in the near future.