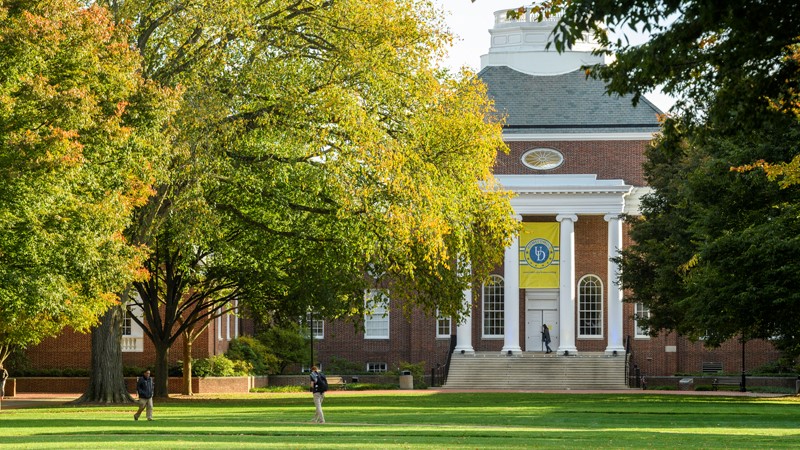 July 20-August 10, 2019


University of Delaware
Newark, Delaware
International university students, explore the American experience during summer 2019 at the University of Delaware.
What does it mean to be an American? While the answer is complex, two important characteristics found throughout the country are a commitment to creating ideas and transforming American culture through citizen engagement. This three-week certificate program examines both of these American characteristics.
You will begin your program in the classrooms of the University of Delaware's iconic Newark campus. An East Coast classic, you'll study beneath grand Georgian architecture and hear from world-renowned experts in political science, project development, entrepreneurship, leadership, communications and more.
Outside of the classroom, we'll engage with the local community and travel to Delaware's capital city of Dover, where participants will enjoy exclusive networking and learning opportunities with local and state government officials. Later, we'll take advantage of The First State's enviable location to explore close-by cities central to the American story, including New York City and Washington, D.C.
Participants will emerge with a greater understanding of United States history, culture and politics and will have gained critical professional skills in leadership, networking and communication.
Program Benefits
Participants who attend the entire program will receive an official certificate and Continuing Education Units (CEUs).* In addition, you will:
Visit iconic locations, and emerge with a greater understanding of United States history, culture and politics.
Immerse yourself in American university life at a Top 40 Public Institution. One of the oldest universities in the nation, UD is alma mater to three signers of the U.S. Declaration of Independence.
Gain critical professional skills in leadership and communication.
Build an international network.
*Participants may choose to seek course equivalency and transfer academic credits to their home institution.
Location
Just two hours from both New York City and Washington, D.C. and less than one hour from Philadelphia, our location provides prime access to national and global resources in a safe and friendly university town.
The University of Delaware main campus is located in the city of Newark, Delaware, a lively town with historic venues and a diverse blend of stores and restaurants. Newark has a population of about 31,000 people and was officially established in 1758. Stroll down Main Street, where you'll find plenty of options for dining, shopping and animated conversations over coffee. Get a map of the city at www.newarkde.gov and take a virtual tour of the University of Delaware at www.udel.edu/about/visit/.
Accommodations
Participants will be housed in University accommodations on UD's campus. Two program staff members will reside with the participants and serve as resident advisors. More details will be shared with participants in spring 2019.
Please contact Francisco Aragon-Guiller with questions at fcmag@udel.edu.
Campus Life
Participants will enjoy access to the University of Delaware's Morris Library, located in the heart of campus on our historic Green. In addition, participants are invited to take advantage of our state-of-the-art gym facilities, outdoor sporting fields, free campus transportation and much more.
Program Costs*
Early Registration Fee – $5,500
Registration after March 1 – $6,000
The University of Delaware is historically known for its combination of excellence and affordability. The 2019 UD International Summer School program fee includes all educational sessions, cultural excursions and civic engagement activities in addition to emergency health insurance, ground transportation to and from Philadelphia International Airport, housing (including linens and towels), comprehensive support from University of Delaware staff, and some meals.
Participants will also receive a complimentary welcome bag with a University of Delaware T-shirt and more.
*Some group discounts also apply. Institutions are invited to contact Francisco Aragon-Guiller at fcmag@udel.edu for additional information.
Additional Costs
Participants will be expected to cover the cost of their own visa, airfare, meals and other miscellaneous expenses. In addition, we recommend participants purchase a local phone plan upon arrival.
Contact Us
The Enterprise, Leadership and Politics in the American Experience International Summer School is a program of the University of Delaware Institute for Global Studies and the Division of Professional and Continuing Studies.
Those with questions are encouraged to email Jessica Netta at jrnetta@udel.edu or Patricia Allen at patallen@udel.edu, or call the Division of Professional and Continuing Studies at 302-831-7600.