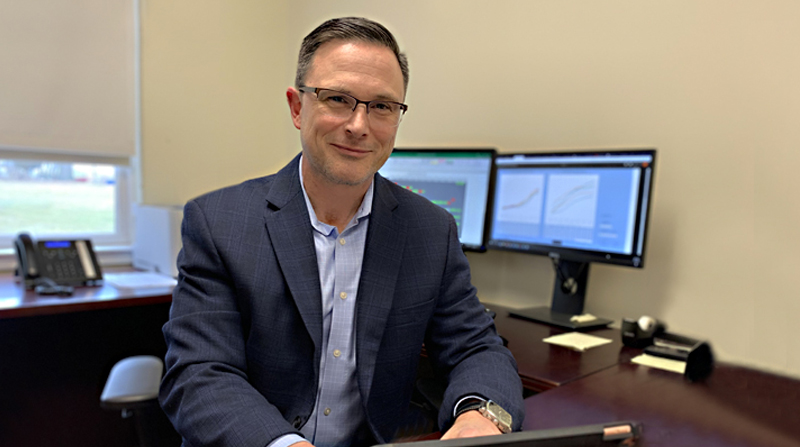 Honor to be presented in Seattle at annual conference
Steven M. Kendus, director, marketing and communications for the University of Delaware's Division of Professional and Continuing Studies (UD PCS), has been selected as the recipient of the 2019 University Professional and Continuing Education Association (UPCEA) Dorothy Durkin Award for Strategic Innovation in Marketing and Enrollment Management.
The award recognizes an individual for achievement in strategic planning, marketing innovation or enrollment management that has been used to position or reposition an institution of higher learning, to increase enrollment numbers, to improve or diversify the applicant pool, or to develop new educational products and services that meet the demands of the evolving marketplace. Along with this year's other national award winners, Kendus will be honored at the 2019 UPCEA Annual Conference, March 27-29, in Seattle.
"Serving contemporary learners with innovative and impactful education is at the core of professional, continuing and online education," said Mary Angela Baker, director of the Center for Continuing Education and Lifelong Learning at Salisbury University and chair of the UPCEA Association Awards Committee. "This year's award recipients exemplify the breadth and depth of the contributions UPCEA members bring to the field."
Kendus, who has more than 20 years of marketing and communications experience and more than 10 years of executive management experience, has assisted organizations in enhancing their productivity and identity through marketing, corporate communications and employee education. Since September 2016, he has led the UD PCS marketing and communications team, which currently includes two communications specialists, an art director, a marketing assistant, a data support specialist and a financial processor.
"When I started with UD PCS in 2016, I inherited a wonderfully talented team," said Kendus. "Taking time to truly understand everyone's strengths and areas of expertise enabled me to reshape the team a bit and to redeploy resources so they could provide the best possible value to our stakeholders. Along with our deployment of technology solutions to automate certain manual tasks, focusing team members on what they do best streamlined our overall operations, enhanced productivity and improved morale."
The UD PCS marketing and communications team is responsible for promoting all PCS programs, conferences and services to a broad audience. Specifically, the team produces all UD PCS web properties, including the Osher Lifelong Learning Institute (OLLI) websites; print, digital, social, audio and video ads; UD PCS and OLLI guides, catalogs, impact reports, brochures, flyers, posters and other marketing pieces; articles, blog posts and news releases; social media identities, pages and posts; return on investment reports; and mass mail and email campaigns. The group also annually promotes, sponsors and hosts various events.
"Since joining PCS over two years ago, Steve has elevated the sophistication and impact of our marketing and communications efforts," said Jim Broomall, who recently retired from his longtime position as UD's associate vice provost, Professional and Continuing Studies and online initiatives. "Steve has been adroit in understanding the diverse range of PCS opportunities across the lifespan and designing and implementing strategies to maximize enrollment and satisfaction. I knew Dorothy Durkin; Steve exemplifies her commitment to marketing excellence and innovative leadership."
When Kendus took over leadership of the UD PCS marketing and communications team, logistical challenges to address included a paper-based project management system, lack of data-driven decision making, unbalanced focus on traditional, print-based promotions, and lack of collaborative planning with program management teams. In response to these challenges, several innovative approaches have been taken.
"When analyzing existing business processes, it's relatively simple to fall back on the notion of working smarter rather than working harder, and there's absolute value in that adage," said Kendus. "However, it's also important to really think about the type of work being done, who's doing the work, how the work is prioritized, and the overall purpose of the work. Sometimes it takes an outsider's or a newcomer's perspective to identify areas and processes that can be improved and streamlined."
Marketing project management
Shortly after Kendus' arrival, UD PCS replaced its paper-based filing and project management system with the Smartsheet software program. The implementation of this application allows for every marketing plan and its associated tasks, subtasks, deliverables, resources and budgets to be located in one online location. Kendus also created a marketing assistant position in which one of the main responsibilities is managing the projects in Smartsheet. Leveraging Smartsheet, the unit's and division's operations are much more streamlined since all projects are tracked and shared with relevant stakeholders.
Data-driven, ROI-based decisions
Within a month of beginning his role at UD PCS, Kendus relocated an existing data support specialist position into the marketing and communications team and repurposed the role. In addition to creating and maintaining an online dashboard that tracks event RSVPs, program enrollments and comparison trends for the past five years, the data specialist generates semester-based, closeout reports for each program. After analyzing the data and writing narratives for the associated program managers, Kendus uses the data to make informed decisions for future campaign planning.
Rebalancing of marketing media mix
Following an analysis of historical spending, enrollment trends, existing contracts and target audiences, Kendus introduced a more balanced marketing approach that focused less on traditional communication channels, such as print and radio. He renegotiated existing print-focused contracts so that they included a mix of print and digital channels, and he created semester-based marketing plans that featured digital and social advertising over print advertising
Collaborative planning, outreach and decision making
Recognizing that decisions to launch, continue or discontinue programs were often made without market-driven data, Kendus now provides the program closeout reports to program managers after each semester and works directly with the UD PCS noncredit team to analyze program effectiveness, return on investment and market trends that could affect enrollment. He has also been instrumental in working directly with program management staff, prospective instructors and third-party partners prior to making decisions about offering new programs.
Notable successes
The solutions to the challenges have contributed to a number of positive outcomes that have benefited UD PCS. To analyze how promotional efforts have performed, detailed reports track website page analytics, advertising publish dates and costs, social media advertising analytics, email blast analytics, and student registration marketing question responses. The findings are presented to the individual program managers so they can reconcile the spending with their budgets and track marketing ROI.
In 2018, UD PCS experienced one of its highest totals of fall noncredit registrations over the last six years (191), and its fall information session set a record for the number of RSVPs (195) over the same time period. The biannual information sessions serve as the premier marketing events for UD's noncredit programming and must be promoted individually via their own budgets and marketing plans.
"The rebalancing of the marketing efforts and increased collaboration with program management has had a profound impact on the success of our programs," said Shaun M. Sutherell, director, noncredit professional programs for UD PCS. "Data and ROI insight has allowed us to have a comprehensive analysis when evaluating programs, their performance and strategic direction. It has also allowed us to be more agile as a unit and in the services we provide."