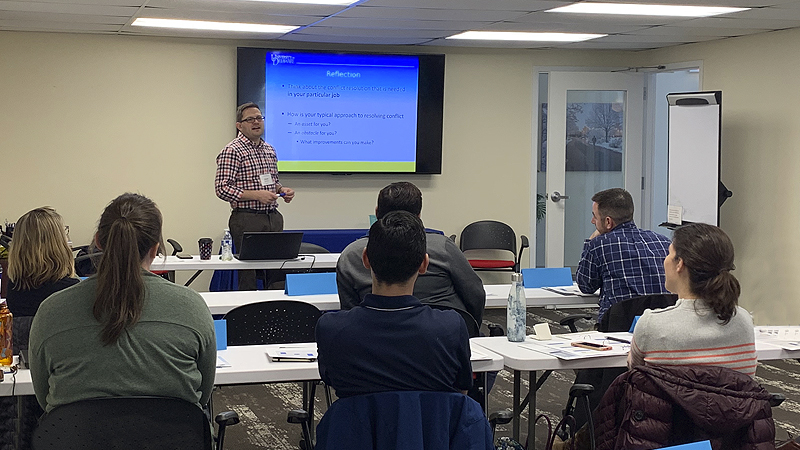 Two-day courses for emerging leaders begin in September
In a 2016 survey of 500 managers released by Grovo in partnership with Wakefield Research, 44% of the leaders felt unprepared for management when they assumed their roles, and 87% wished they had received more training before taking on the positions.
Management Essentials for Emerging Leaders
Fundamentals of Managing People
Sept. 12-13, 2019
Foundations of Finance and Accounting
Oct. 3 and 10, 2019
Fostering Relationships and Leading Effective Teams
Oct. 24-25, 2019
Negotiating and Resolving Conflict with Others
Dec. 10-11, 2019

Newark, Del.

Not only can this lack of preparation have detrimental effects early in one's managerial career, but it can impede the success of those who rise to higher leadership positions and are tasked with guiding entire organizations. A 2018 survey of 402 CEOs by Egon Zehnder revealed that 68% of the respondents admitted they were not fully prepared for their jobs. Participants acknowledged they were not ready to provide the personal and interpersonal components of leadership and wished they had previous knowledge or training in a variety of topics, such as finance and coaching.
"Some professionals work their way into management and leadership positions and just figure things out as they go," said Dustin Sleesman, assistant professor of management in UD's Alfred Lerner College of Business and Economics. "Unfortunately, this often results in copying the behavior of other managers and leaders, and picking up their bad habits along the way."
Sleesman and two of his UD faculty colleagues from the Lerner College—Amanda Bullough, associate professor of management, and John Stocker, associate chairperson, finance department and assistant professor—are teaming up with the University of Delaware's Division of Professional and Continuing Studies (UD PCS) to address this situation by offering Management Essentials for Emerging Leaders. Providing training for new or aspiring managers and leaders, the four, two-day short courses focus on the critical need for better soft skills development while pairing the complementary technical skills each emerging leader needs to manage more efficiently.
Presented on UD's Newark campus, the series commences Sept. 12-13 with Fundamentals of Managing People. The essential management skills required to effectively understand, motivate and lead others are taught in this module. Subsequent modules include Foundations of Finance and Accounting (Oct. 3 and 10), Fostering Relationships and Leading Effective Teams (Oct. 24-25), and Negotiating and Resolving Conflict with Others (Dec. 10-11).
"The Management Essentials for Emerging Leaders program is designed to give rising professionals a strong foundation so they can hit the ground running," said Sleesman. "Each module is backed by research and evidence-based practices, and the instructors are very passionate about their areas of expertise. Our goal is to provide an interactive and engaging experience so that participants can walk out the door with knowledge and skills that can be put into practice right away."
Participants can enroll in the series at any point and still benefit from the lessons. Students who register for all four modules in a single transaction will qualify for a bundled rate of $2,995, which equates to a savings of nearly $600 off the cost of paying $895 for each class individually, and be eligible to earn a University of Delaware Certificate of Completion.
Potential discounts are available for UD alumni, Project Management Institute Delaware Valley Chapter (PMI-DVC) members, active military members, veterans and groups of two or more from the same organization. For more information about the Management Essentials for Emerging Leaders program, visit pcs.udel.edu/emerging-leaders, email continuing-ed@udel.edu, or call 302-831-7600.