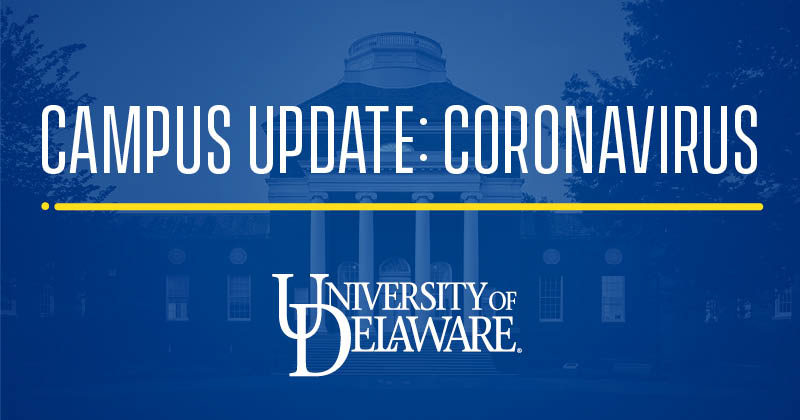 Updated 8/21/2020
UD PCS physical offices closed until further notice
UD's Division of Professional and Continuing Studies (UD PCS) has transitioned to remote operations. As such, the UD PCS offices at 501 S. College Ave will remain closed. Contact information for specific departments is listed below. For general inquiries, please email continuing-ed@udel.edu.
Guidelines for students participating in in-person continuing education classes
COVID-19 Testing Required
Students participating in in-person continuing education classes must follow protocols similar to those in place for UD undergraduate and graduate students. Continuing education students must submit proof that they tested negative for COVID-19 before arriving to class. COVID-19 tests must take place no more than 14 days before the student arrives in class, and the results must be submitted to Student Health Services through a secure portal.
Note: UD PCS representatives will provide additional detail to students who are enrolled in in-person continuing education programs.
ACCESS Center advisement and registration services
The UD PCS ACCESS Center is operating remotely to provide services for academic advisement, credit registration and career counseling. To schedule an appointment or to learn more about these services, please email access-advise@udel.edu.
UD testing centers
The Newark, Dover and Georgetown testing centers are closed until further notice. Please email any questions to udonline-exams@udel.edu.
Upcoming UD PCS programs and courses
UD PCS program schedules and registration details are available online.
Osher Lifelong Learning Institute
Osher Lifelong Learning Institute programs will be combined statewide in an online delivery system for summer and fall 2020. There will be no on-campus activities for members.
Additional information
For more information about current or upcoming UD PCS programs, please contact UD PCS at continuing-ed@udel.edu.
Official updates from the University of Delaware regarding the current status of the COVID-19 virus and its impact on the University community are available at www.udel.edu/coronavirus.