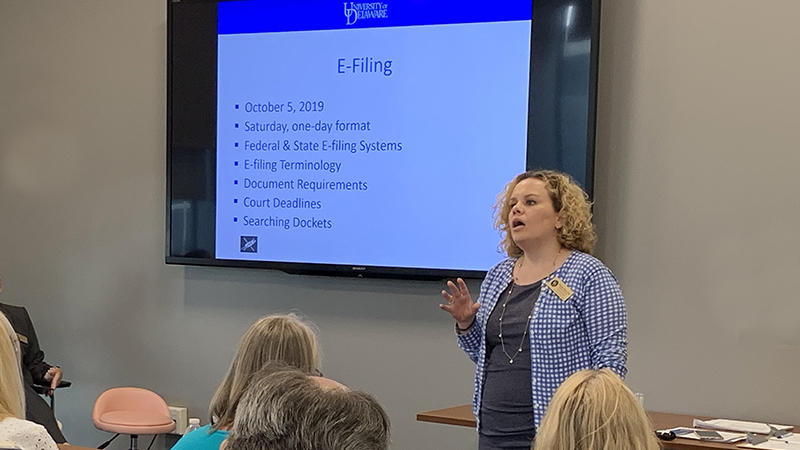 Certificate program and seminar series offered
Complementing its long-running Paralegal Certificate Program with the introduction of the Advanced Paralegal Seminar Series, the University of Delaware's Division of Professional and Continuing Studies (UD PCS) introduced the UD PCS Paralegal Institute earlier this year. The institute is designed to serve anyone preparing for a legal career as well as those who are established in the profession or have undertaken studies in the field.
Advanced Paralegal
Seminar Series

E-filing
October 5, 2019
Wilmington, Del.
Keep up with trending legal topics.

Paralegal Certificate Program
Sept. 4, 2019 – July 22, 2020
Wilmington, Del.
Prepare for a career as a paralegal or legal assistant.

"We take great pride in our Paralegal Certificate Program, which has produced many successful graduates over the last 41 years who not only work with attorneys and in numerous other industries, but have also used their education as a vehicle to prepare for law school," said Patricia Allen, UD PCS program coordinator. "Over the years, many of our former students have requested opportunities for further education on issues they are facing on a regular basis."
In response to this need, the Advanced Paralegal Seminar Series has been created to provide advanced study in various areas of the law to enhance the career of anyone employed by a law firm, interested in a legal profession, or possessing legal experience and wishing to increase their knowledge in the legal field. By concentrating on targeted trending legal topics, the series focuses on enabling students to gain the specialized knowledge that will increase their scope of practice and competencies and make them more effective in working with attorneys who may focus on particular legal fields and specialties. Designed to accommodate busy professionals, these short-term courses launched with offerings in Intellectual Property Law and Family Law.
"Along with enrolling experienced legal professionals, the Advanced Paralegal Seminar Series has been attracting recent graduates of our Paralegal Certificate Program who want to keep on going with their education," said Allen.
The series resumes Oct. 5 with E-filing, a one-day course at Arsht Hall in Wilmington addressing federal and state e-filing systems, including CM/ECF, File & ServeXpress™, File & Serve Delaware™, and eFlex. Students will learn common e-filing terminology, document requirements and deadlines for e-filing in each court, and how to search the docket in each e-filing system. Lectures include e-filing demonstrations, best practices, pitfalls to avoid and resources for additional training.
Future Advanced Paralegal Seminar Series topics in 2020 include Elder Law and Wills in March and Real Estate Law in June. Suggestions for other courses are encouraged.
The next Paralegal Certificate Program is scheduled for Monday and Wednesday evenings, from Sept. 4 to July 22, at Arsht Hall. The program covers the American system of law, court systems and procedures, and legal research and writing, and introduces the major branches of law.
According to the U.S. Bureau of Labor Statistics, employment of paralegals and legal assistants is projected to grow 15% from 2016 to 2026, much faster than the 7% average for all occupations. This equates to an increase of approximately 42,000 positions in the field. Formally trained paralegals with strong computer and database management skills should have the best job prospects.
To learn more about the UD PCS Paralegal Institute's offerings, visit www.pcs.udel.edu/paralegal-institute, email continuing-ed@udel.edu, or call 302-831-7600.