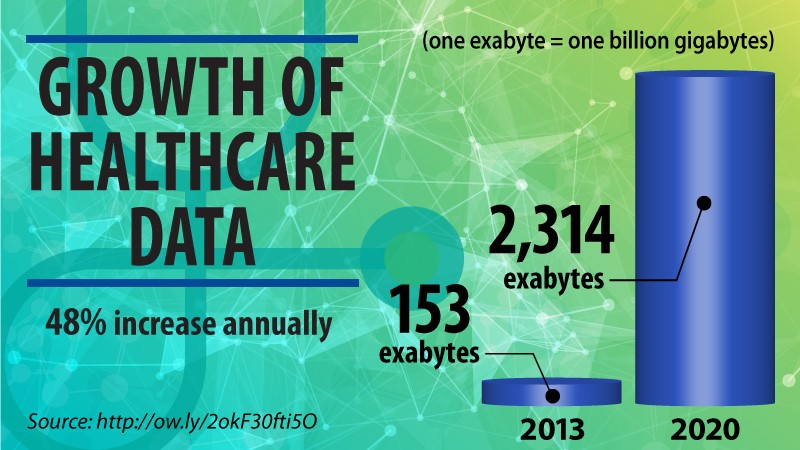 April 26-27: Two-day seminar focuses on healthcare big data
By 2020, the amount of patient health data is expected to total 2,314 exabytes—the data equivalent of the entire Library of Congress more than a million times over.
With that data expected to grow about 48 percent annually from a myriad of data sources, the healthcare industry faces both challenges and opportunities in leveraging that data in such areas as medical research, patient experience, population health and preventive care.
"With unparalleled change going on in healthcare, organizations must be able to understand the types of data available to them and how to use that data to gain insights into their business practices and care delivery," explained Lisa Moon, health informatics expert and lead instructor for the University of Delaware's Population Health Informatics for Healthcare Leaders Seminar.
"There is a knowledge gap that healthcare leaders are experiencing as the demand for data-driven practices increases," added Moon. "Understanding the practical implications is important, especially as new models of care and alternative payment are creating tensions in an already stressed environment."
UD's Division of Professional and Continuing Studies is once again offering the Population Health Informatics for Healthcare Leaders Seminar on the Newark campus this spring. Aimed at clinicians and other healthcare professionals who need to better understand the applications and implications of healthcare data, analytics, and data management and assessment, the two-day program takes place April 26-27 and focuses on how big data can be leveraged to improve patient care, reduce costs and manage population health.
Dee Campbell, UD professor of nursing, echoed the importance of effectively using healthcare statistics and patient data to inform healthcare delivery. "In the profession of nursing, evidence is driving our practice.
Evidence that is culled from exploration of large data sets must be used to evaluate our interventions and outcomes, and being knowledgeable on how to gather and analyze the data is crucial for all nursing leaders," said Campbell, who attended last fall's seminar.
Campbell added, "It's true that most healthcare professionals have been analyzing data their entire careers, but sometimes we just need to step back and refresh our approach and our ability to communicate effectively." She recommends healthcare leaders as well as students seeking advanced practice clinical degrees attend the seminar.
Offered through UD's Division of Professional and Continuing Studies, Population Health Informatics for Healthcare Leaders emphasizes practical applications, tools and strategies and takes place April 26-27, 8 a.m.-5 p.m., in Newark, Del.
An enrollment discount is currently available by using the code UDDISC upon registration. Curriculum highlights include:
Leveraging healthcare data to improve care, reduce costs and manage population health
Improving care coordination through patient engagement, case and disease management, telehealth and more
Insights for clinical practice through statistical prediction, risk identification and decision support
Analyzing and interpreting data for healthcare reporting
Interrelationships between health informatics, data analytics and the Medicare Access and CHIP Reauthorization Act (MACRA)
For more information about the Population Health Informatics for Healthcare Leaders two-day seminar, visit https://www.pcs.udel.edu/health-informatics/ write to continuing-ed@udel.edu or call 302-831-7600.