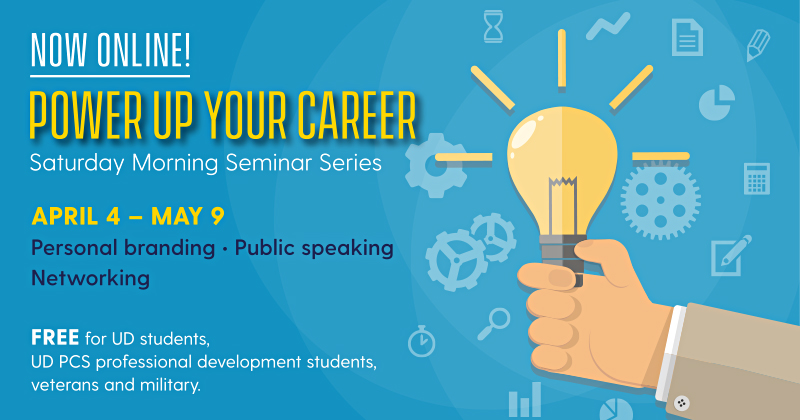 Power Up Your Career seminars offered free for military, UD students
The University of Delaware's Division of Professional and Continuing Studies (UD PCS) is again offering its Power Up Your Career seminar series from April 4 to May 9. The series features three online career- and personal-branding-focused seminars that are available for free to all University of Delaware students.
With sessions focused on networking, professional branding and public speaking, the series provides valuable tips and takeaways for anyone seeking professional or personal development.
"We are particularly pleased to make the Power Up Your Career seminars available to UD graduate and undergraduate students at no charge," said George Irvine, interim associate vice provost for UD's Division of Professional and Continuing Studies. "It allows UD students to augment their studies with career-enhancing soft skills and is consistent with our being part of UD's new Graduate College."
The Power Up Your Career workshops are also available at no charge to veterans and military service members as well as participants enrolled in 2020 UD PCS noncredit programs. The series is also open to the public for a $50 registration fee, which includes all seminars.
Presented in a live-online format from 10-11:30 a.m. on Saturday mornings, the following 90-minute seminars are intended for those seeking practical and immediately applicable career tips and resources:
April 4 — Building Your Professional Brand
April 11 — Public Speaking: Building Your Confidence and Getting Rave Reviews
May 9 — Networking Across the Lifespan
RSVPs are required and will be accepted on a first-come, first-served basis.
To register or for more information, including seminar descriptions and presenter bios, email continuing-ed@udel.edu or visit the website, https://www.pcs.udel.edu/power-up/.