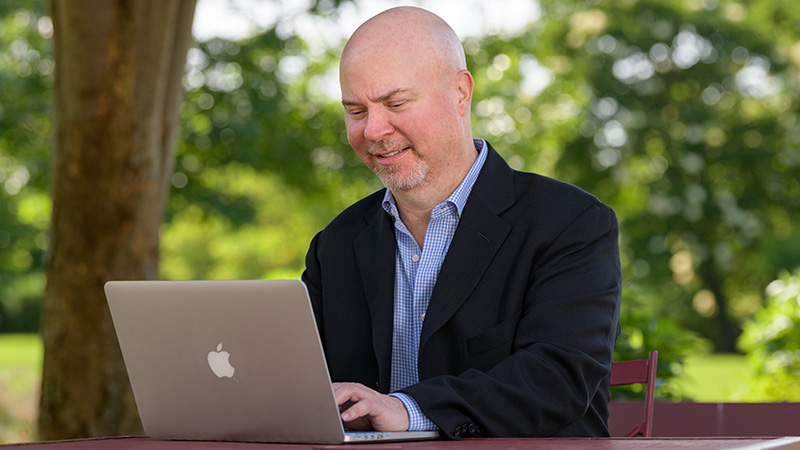 Online program begins in February and March
Although Tom Nesterak possessed plenty of relevant experience when he enrolled in the Project Management Certificate program offered by the University of Delaware's Division of Professional and Continuing Studies (UD PCS), he also suspected he had plenty to learn about the topic.
Project Management Certificate

Feb. 15 – April 19, 2021
Live-Online
March 16-May 18, 2021
Live-Online
Gain hands-on experience learning to understand the role and functions of the project manager.
Nesterak, who has a diverse employment history, has held a variety of positions predominantly centering around training development, project management and change management. Following four years of contract work for First Republic Bank, he joined the bank full time as a project manager in August 2018.
"The University of Delaware certification program was a perfect fit for what I needed at the time for a couple of reasons," said Nesterak. "One, it validated what I already knew about project management; two, it added some professional growth to areas I needed to develop. The instructor was incredible, respected that we were working professionals, and gave us plenty of time to complete our projects. He was extremely responsive and always replied to emails."
One of Nesterak's greatest takeaways was to apply lessons learned during a project and not put off until its completion a review of what could have been done differently. He has begun implementing this practice in his current position.
"You have the ability to learn and modify what the team is doing throughout the course of the project and not just wait until the end to say, 'Well if we had done X, Y and Z differently, it would have been better,''' said Nesterak. "There is a lot of rigor around project management, but you really have to be flexible enough to adapt to the project needs and be willing to change X, Y and Z midstream."
The Project Management Job Growth and Talent Gap Report 2017-2027 reported that employers in the United States will need 8.8 million individuals working in project management-oriented roles by 2027. With much of the available talent reaching retirement age as opportunities are growing, an annual average of 213,974 newly created positions in project management-oriented industries is expected during this period.
In response to this demand, the University of Delaware's Division of Professional and Continuing Studies is continuing to offer its Project Management Certificate program live-online beginning Feb. 15 and March 16. Providing hands-on experience with practical tools, including the use of software, risk assessment and team techniques that support effective project management, the certificate program can also be a starting place to fulfill the requirement of project management education hours for the Project Management Professional (PMP®) designation from the Project Management Institute (PMI®). Nesterak ultimately plans to pursue his PMP certification and said the Project Management Certificate program put him on the right track.
"I had been thinking about the PMP certification but realized I was kind of diving into the deep end of a pool," said Nesterak. "This was a really good first step to recognize what exactly that entailed and also to make sure I understood all the major components of project management from a professional designation perspective."
Along with potentially being the initial endeavor toward certification from the PMI, the Project Management Certificate program is designed to help students understand the roles and functions of the project manager, including planning and managing projects using tools such as Work Breakdown Structures, Gantt charts and PERT charts, and managing their time, budgets and project teams more effectively. Students learn to apply the tools immediately by completing a project plan and budget as part of the course of study. In addition, they can meet the education requirements for a PMI credential and earn Professional Development Units (PDUs) for recertification through the Project Management Institute.
Project managers can come from virtually any educational or experience background. Some of the top industries hiring project managers include engineering and construction, healthcare, financial services, law and technology. Nesterak appreciated the wide range of occupations represented in his class and benefited from the interactions.
"It was the most eclectic collection of students I've ever seen, which was great because we had a lot of diversity in terms of goals, work experience and professional backgrounds," said Nesterak. "Many viewpoints were brought to the table, and we had some outstanding discussions."
The 35-hour curriculum consists of weekly evening sessions conducted over 10 weeks. Potential discounts are available for UD alumni, Project Management Institute Delaware Valley Chapter (PMI-DVC) members, active military members, veterans and groups of two or more from the same organization.
To register, or for more information, visit pcs.udel.edu/project, email continuing-ed@udel.edu, or call 302-831-7600.
This article has been updated to reflect the spring 2021 Project Management Certificate schedule.