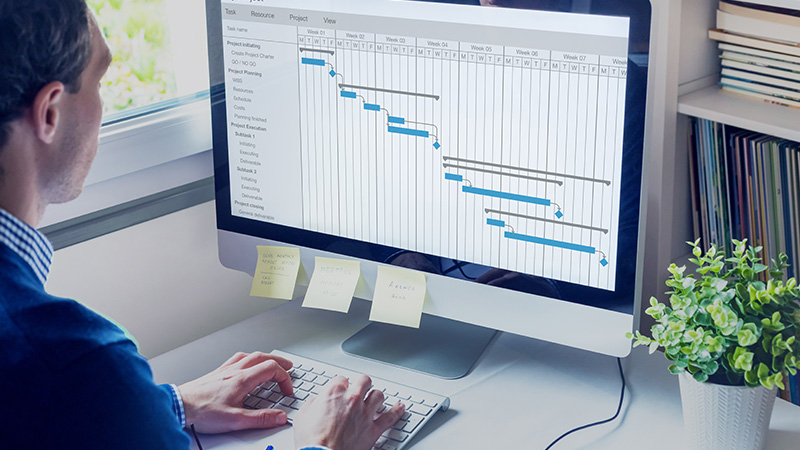 Variety of in-demand, online real-time and self-paced programs offered
When the Standish Group released its initial edition of The CHAOS Report in 1994, Barbara Cullis took the analysis of the software development industry personally. Working as a programmer at the time, Cullis was appalled to learn that only 16.2% of software projects in the United States were completed on schedule and on budget. Furthermore, the research revealed that a "staggering" 31.1% of the projects were canceled prior to completion.
"I had a big chip on my shoulder and said 'not my projects,' and I became very passionate about exploring project management so I can apply best practices and be more successful," said Cullis.
She joined the Project Management Institute (PMI) in 1996, earned Project Management Professional (PMP) certification in 2000 and has proceeded to have an information technology career spanning more than 25 years in the public and private sectors. Currently the faculty program director of technology projects and an instructor of management systems in the University of Delaware's Alfred Lerner College of Business and Economics, the self-proclaimed "IT project management geek" is conducting a new IT Project Management Certificate program presented by UD's Division of Professional and Conducting Studies (UD PCS).
Supporting successful IT projects
The Project Management Institute describes project management as the application of knowledge, skills, tools and techniques needed to meet the requirements of a project. IT project managers combine these proficiencies with their technical acumen to produce favorable results.
"IT project management is all about applying the tools and techniques of project management to successfully deliver the stated benefits a project must create to advance an organization within the context of an IT environment," said Cullis, who teaches a similar class to undergraduates in the Lerner College. "It's applying project management's best practices to IT and all of the constraints in that area."
Offered on Thursday evenings, Sept. 17-Dec. 10 in a live-online format via Zoom, the UD PCS IT Project Management Certificate program covers Waterfall, Agile and Hybrid methodologies and examines the breadth of the IT project management discipline. A foundation for directly applying the tools, processes and methods to support the management and delivery of successful IT projects, including value creation through strategic execution of an IT project portfolio, is provided. The experiential learning format includes a simulation activity in which student teams work with cloud-based project portfolio management software and are faced with challenges as they negotiate IT projects for a company.
Guiding the work-from-home transition
Thanks to the countless work-from-home orders in response to COVID-19, Cullis said business investments instantly had to shift to infrastructure, cloud applications, security and a huge change-management initiative that many people overlooked and underestimated. According to data provided by Gallup, the percentage of employed Americans working from home doubled from 31% in the middle of March to 62% by the end of the month.
"At the outset of COVID, companies had to stop, pivot on a dime and react," said Cullis. "At first, everyone did it fast, and now organizations are going back and doing it well because what we are seeing is not temporary. We are now all acknowledging that COVID is changing the way companies are going to work. The IT project managers are running these updates to support remote productivity."
Complementing the UD PCS project management portfolio
The IT Project Management Certificate class enhances the UD PCS portfolio of project management instruction, which includes its long-running, popular Project Management Certificate program as well as a selection of 15 new self-paced online programs, which allow students to learn anytime and from anywhere.
"We are pleased to build on the success of our Project Management Certificate program by substantially increasing our related selection of in-demand courses," said Vic Wang, UD PCS manager of customized learning. "Whether students are looking for real-time or self-paced education, we have a wide variety of online options to help them increase their skill sets, prepare to gain valuable industry-recognized certifications and advance in their careers."
Presented in a live-online format via Zoom, learners interested in the Project Management Certificate program can register for Monday evenings, Sept. 14-Nov. 16, or Wednesday evenings, Oct. 7-Dec. 9. The course is designed to help students understand the roles and functions of the project manager by planning and managing projects using tools such as Work Breakdown Structures, Gantt charts and PERT charts, and learning how to manage their time, budgets and project teams more effectively. Students apply the tools immediately by completing a project plan and budget as part of the course of study.
Expert instructors
Like Cullis, the Project Management Certificate instructors are accomplished, certified Project Management Professionals.
Ron DeLuca, who is also an MCPM (Master Certified Construction Project Manager), is the president and founder of DeLuca Project Management & Associates, Inc., a company specializing in project and construction management. In addition to teaching at UD, he has taught project management at the Temple University Fox School of Business and for the National Association of Home Builders.
Glenn Kmecz had a 40-year career at DuPont and was the engineering director for one of the company's business units. His consulting firm, Sustainable Project Solutions, has provided project management consultation for numerous multinational companies.
Programs lead to certifications
Both the IT Project Management Certificate and Project Management Certificate programs can serve as a starting point for those seeking entry into the PMP certification process, which students can further prepare for by taking the online self-paced UD PCS PMP Exam Prep Course and PMP Practice Exams and Exam Strategies class. Along with additional exam prep courses for students seeking Agile Certified Practitioner (PMI-ACP), Certified Associate in Project Management (CAPM), CompTIA Project+, Program Management Professional (PgMP) and Project Management Institute Risk Management Professional (PMI-RMP) certifications, the lineup of self-paced programs includes Agile and Microsoft Project classes. Bundled courses for Project Management Institute leadership and strategic professional development units (PDUs) are offered as well.
Project managers in demand
Project managers can come from virtually any educational or experience background. Some of the top industries hiring project managers include engineering and construction, healthcare, financial services, law, and technology.
"The beauty of project management is it touches every industry," said Cullis. "The project management job market is very hot across the board and looks to remain that way in the future."
At a median base salary of $77,896 and an overall job satisfaction rating of 3.6 out of 5, project manager is ranked No. 21 on Glassdoor's list of 50 Best Jobs in America for 2020. The Project Management Job Growth and Talent Gap Report 2017-2027 stated that employers in the United States will need 8.8 million individuals working in project management-oriented roles by 2027. With much of the available talent reaching retirement age as opportunities are growing, an annual average of 213,974 newly created positions in project management-oriented industries is expected during this period.
Discounts are available for the IT Project Management Certificate, Project Management Certificate and self-paced programs. To register, or for more information, visit pcs.udel.edu/it-project, pcs.udel.edu/project or pcs.udel.edu/self-paced, email continuing-ed@udel.edu, or call 302-831-7600.