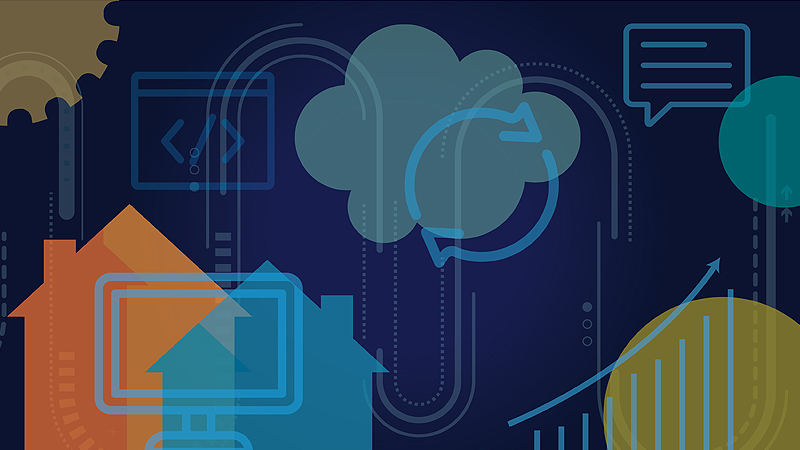 UD PCS programs prepare students for in-demand jobs
Along with countless other occupations, information technology professionals experienced substantial changes and challenges in their day-to-day responsibilities in 2020. As workers transitioned to home offices and maintained online communication with their colleagues, associates and other stakeholders, the IT departments were tasked with making it all instantly happen with minimal disruptions to the workflow.
Planned projects were put aside in favor of infrastructure updates, migrations to clouds and other activities to support remote productivity. While the impending mass distribution of several COVID-19 vaccines with high efficacy rates brings optimism for many aspects of life returning to normal—or some degree of it—in 2021, previously scheduled IT tasks will likely remain on hold a bit longer.
Citing data from several studies conducted during the pandemic, Apollo Technical reported that those who work from home are 47% more productive. According to the Global Work-from-Home Experience Survey, 97% of North American office workers worked from home more than one day per week between March 30 and April 24, and 73% of the nearly 3,000 respondents reported being very successful doing so.
"I can see much of the workforce shifting from always being in the office to being considerably more mobile or exclusively working from home," said Barbara Cullis, instructor for the University of Delaware's Division of Professional and Continuing Studies (UD PCS) IT Project Management Certificate program. "This is going to be a long-term investment and we're all acknowledging that COVID is changing the way companies are going to work. Remote tools, training, equipment and all the infrastructure to go with it are being reevaluated."
In many organizations, this investment and reevaluation is being led by IT project managers who Cullis said are charged with delivering the stated benefits a project must create to advance an organization within the context of an IT environment. Introduced in the fall, the UD PCS IT Project Management Certificate program prepares students to guide their organizations through these and many other changes.
"The pandemic has increased the demand for IT project managers across all industries," said Cullis. "As corporate project portfolios have been turned upside down, many low-priority infrastructure projects, collaboration platforms and cloud migrations are now essential. These shifting priorities have created a shift in the required skills, staffing and project delivery methods. Now more than ever, IT project managers must be tightly aligned with rapidly changing business strategy and deliver projects that enable the integration of technology in new products, services and processes that move the company forward."
Offered on Thursday evenings, March 4-May 20, in a live-online format via Zoom, the program covers Waterfall, Agile and Hybrid methodologies and examines the breadth of the IT project management discipline. A foundation for directly applying the tools, processes and methods to support the management and delivery of successful IT projects, including value creation through strategic execution of an IT project portfolio, is provided.
Cullis, who is the faculty program director of technology projects and an instructor of management information systems in the University of Delaware's Alfred Lerner College of Business and Economics, is also teaching one section of UD PCS' long-running, popular Project Management Certificate program.
Whereas the IT Project Management Certificate program is designed for people familiar with the components of an IT environment, the Project Management Certificate program is for participants from all backgrounds and varying levels of experience. Focusing on project delivery of non-IT products, services and solutions, the Project Management Certificate program addresses how to be an effective project manager by aligning project success with the creation of business value.
"In both courses, teams will virtually work together applying online best practices to complete a project, and they will be equipped with tools, techniques and templates that can be immediately utilized inside and outside the workplace," said Cullis. "Each course also enables students to meet the 35-hour educational requirement to sit for the Project Management Professional (PMP) exam or the 23-hour requirement for the Certified Associate in Project Management (CAPM) exam."
Presented in a live-online format via Zoom, students interested in the Project Management Certificate program can register for Monday evenings, Feb. 15-April 19, or Tuesday evenings, March 16-May 18. The course helps students understand the roles and functions of the project manager by planning and managing projects using Work Breakdown Structures, Gantt charts and PERT charts, and learning how to manage their time, budgets and project teams more effectively.
In a December blog post, Joe Cahill, chief operating officer of the Project Management Institute (PMI), said 2020 was the "Great Accelerator" for speeding adoption of new and increasingly virtual ways of working, and now organizations are rebuilding and re-strategizing, using the new business practices they have been honing over the past few months.
"The project management community will play a pivotal role in helping the world rebound and institutionalizing these new ways of working," wrote Cahill. "Project managers are change-makers and have the right skills and, more importantly, the right mindset to lead their organizations' recovery efforts."
While current and aspiring project managers are obvious candidates for the UD PCS programs, others can reap the benefits as well. Since military members are routinely tasked with exhibiting leadership and discipline while executing project-driven assignments, Cullis said veterans have a skill set that should lend itself well to project management.
At a median base salary of $77,896 and an overall job satisfaction rating of 3.6 out of 5, project manager is ranked No. 21 on Glassdoor's list of 50 Best Jobs in America for 2020. The Project Management Job Growth and Talent Gap Report 2017-2027 stated that employers in the United States will need 8.8 million individuals working in project management-oriented roles by 2027. With much of the available talent reaching retirement age as opportunities are growing, an annual average of 213,974 newly created positions in project management-oriented industries is expected during this period.
Discounts are available for the University of Delaware IT Project Management Certificate and Project Management Certificate programs. To register, or for more information, visit pcs.udel.edu/it-project or pcs.udel.edu/project, email continuing-ed@udel.edu, or call 302-831-7600.