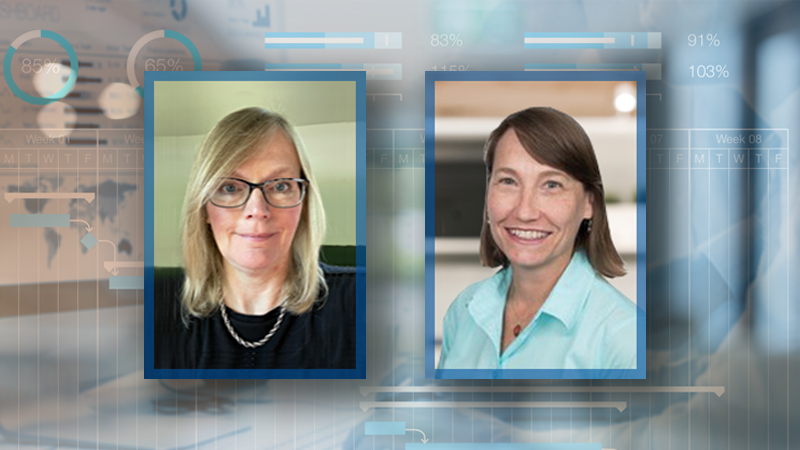 Friends take Project Management Certificate course together
Jennifer Gallmann was confident the Project Management Certificate program offered by the University of Delaware Division of Professional Continuing Studies (UD PCS) could help her in her career, but she was still hesitant to enroll.
Gallmann, who earned her bachelor's degree from UD in 1990 and completed the PCS Paralegal Certificate program shortly thereafter, has held a variety of project management-related roles over the years, mostly doing information technology work in the pharmaceutical industry. Though she knew she had a background that would enable her to thrive in the program, the mid-career professional did not know if she was ready to be a student once again at this point of her life.
"I had not been in a college class in many, many years, so the thought of going back to school was a bit intimidating to me," said Gallmann.
Following some thought as to how the endeavor could be less daunting, she reached out to one of her friends and former coworkers, Karen Larkin, to see if she would be interested in taking the class with her.
Larkin agreed, and the accountability partners completed the program together in spring 2020. Not only did they support each other throughout the class, but they continued to provide mutual motivation during their preparation for the Project Management Professional (PMP) certification exam, which they both passed later in the year. While UD's Project Management Certificate program is not a PMP exam preparation course, it provides current foundational knowledge and offers an opportunity to earn the contact hours needed to apply for the certification exam.
Sharing ideas and observations
"It looked like a really good opportunity, and I thought what better way to engage in something new than to do it with a friend and a former coworker," said Larkin. "Sometimes it can be a little scary doing something new. You learn much better when it is fun. We all do better when we have a rapport with the people we are learning with."
Along with sharing notes and talking about the various concepts and topics that were addressed in class, Gallmann and Larkin enjoyed the opportunity to catch up with each other on a personal level when time permitted. They regularly took advantage of being in the program together by having conversations about the material presented.
"It was really nice to be able to have someone to bounce ideas off who I was already familiar with," said Gallmann. "There is no way I would have passed that exam without this class and without Karen."
PMP certification highly recognized
Gallmann's initial interest in the University of Delaware's Project Management Certificate program was greatly influenced by her desire to earn her PMP certification. Though the designation has been around since 1984 when 56 people took the exam and 43 passed to become the first Project Management Professionals, its prominence has grown substantially with more than 1,000,000 certification holders worldwide.
"Companies really now recognize that project management is a career," said Gallmann. "I thought it would be a really good career growth opportunity to have that recognized credential by my name. That was my motivation."
More than required hours
While Gallmann might have been inspired to enroll to take a big step toward certification, she gained a lot more from the program than the required contact hours. She was especially impacted by the lessons on resource management, which she has been applying in her current position as an information technology business analyst. Being able to plan how to utilize their resources to complete their work has made her and her team more productive.
"Going into this class, I thought that I was not going to learn anything new because I had been doing it for so long, and I was sorely mistaken," said Gallmann. "I learned a lot."
Skills widely applicable
Larkin, who has worked in healthcare in various capacities throughout her career, was not too familiar with the PMP certification until Gallmann contacted her. Having earned a bachelor's degree in 1990, a master's in public health administration in 1995 and an MBA in 1997, she was not necessarily looking to add any more letters next to her name but was interested in increasing her skill set.
"The PMP certification was not on my radar," said Larkin. "I was not seeking it out as part of my career development, but when Jennifer mentioned this opportunity, I thought it could be a really good certification to have."
Though Larkin has had different job titles throughout her career, she quickly learned how project management skills were applicable to much of what she had done in the past and continues to do today. She was promoted to the role of associate director for a large pharmaceutical company last July and partly attributes her advancement to the PMP certification. The first word that comes to mind when she thinks about the University of Delaware's Project Management Certificate program is stakeholders.
"There are a lot of things that can go wrong in a project, and you need to make sure you have the right players in the room," said Larkin. "You cannot make well-informed decisions unless you are getting the information you need from the stakeholders, the people who are likely beneficiaries of your project and are in a position to make it successful."
Making in-class connections
While Gallmann and Larkin had the advantage of knowing each other before the course began, they also learned plenty from their other classmates and concur that strong connections can be made during the program as well.
"Whether you know who that accountability partner is going in or you find your accountability partner during the course, it is so key and helpful to have someone with a shared goal," said Larkin. "It's very doable, but having an accountability partner makes it that much easier to accomplish. The course allows you to meet other people interested in pursuing the certification you can check in with along the way."
Touching many industries
With a diverse roster consisting of students working in banking, nonprofit, healthcare, information technology, military, legal and other areas, Gallmann and Larkin were able to understand how project management skills and concepts are applicable across all industries. The students shared their collective knowledge and experience on a group project, which Gallmann said was a big benefit.
"The group project and presentation mirrored the professional world," said Gallmann. "When all of us are at work, this is what we do. None of us work in a vacuum. It is all about collaborating with colleagues and communicating. The instructor did a great job of treating us like adults and professional people. It was not a lecture-exam class."
Program pivots to online
Though it turned out to be a minor bump in the road, rather than a roadblock, the course was quickly transitioned from an in-person to a live-online format when COVID-19 necessitated much of the world to make a similar shift in March 2020. Gallmann and Larkin credit their instructor and classmates for enabling a seamless pivot.
"I am very appreciative that the University and specifically our instructor were so accommodating and committed to getting us past the finish line," said Gallmann. "We're all professionals, so whether we were already working at home or just used technology in our offices, it was not a big deal."
Register now for spring program
Continuing to be offered live-online, the University of Delaware's 10-week Project Management Certificate program begins March 8. Discounts are available, including for two or more individuals registering from one organization, and a payment plan is offered. For more information, visit pcs.udel.edu/project, email continuing-ed@udel.edu or call 302-831-7600.