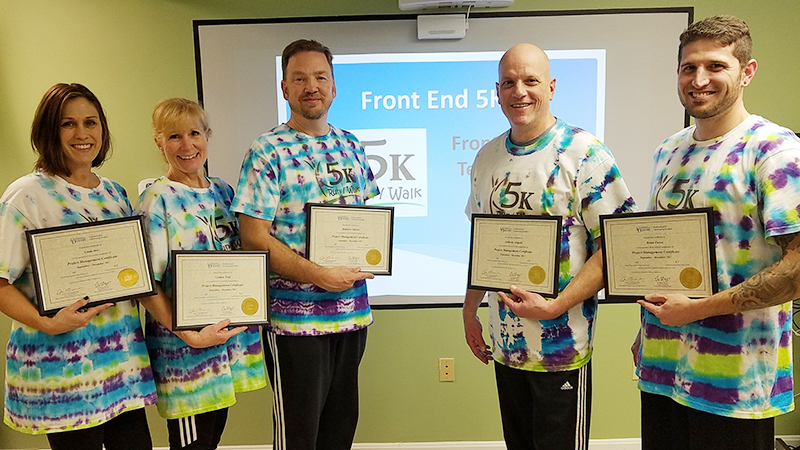 Exam prep and certificate classes offered in January and February
December 19, 2017
Outfitted in sweatpants and matching tie-dye T-shirts, Anthony Angotti, Matthew Chesser, Brian Fusco, Linda Orr and Cynthia Todd looked like they were ready to run a race.
Though they were actually in a Dover classroom making a presentation to conclude the Project Management Certificate program offered by the University of Delaware's Division of Professional and Continuing Studies (UD PCS), the quintet took all the steps needed to orchestrate a 5K run/walk designed to raise money for a fictitious school system to build computer coding into the elementary curriculum. In response to research that showed engaging children with activities such as a coding at a young age can have a positive impact on their science, technology, engineering and mathematics ability as they mature, Angotti, Chesser, Fusco, Orr and Todd ran through the entire fundraiser exercise by following the project management processes of initiating, planning, executing, monitoring, controlling and closing established by the Project Management Institute (PMI®).
"The group regularly met outside of class to build out their project and really demonstrated what our course is all about," said Vic Wang, UD PCS program coordinator. "Because of their commitment and effort, they all gained a great deal from their experience."
UD's Project Management Certificate is ranked No. 13 on the ValueColleges.com national list of the most trustworthy programs that deliver solid return on investment. The program provides hands-on experience with practical tools, including the use of software and risk assessment and team techniques that support effective project management. The certificate program can also be a starting place to fulfill the requirement of project management education hours for the Project Management Professional (PMP®) designation from the PMI®.
Along with Dover, the program is offered in Newark and Wilmington. The 42-hour curriculum consists of weekly evening sessions conducted over 14 weeks. Classes begin in February at all three locations, and potential discounts are available for early registration, UD alumni, Project Management Institute Delaware Valley Chapter (PMI-DVC) members, active military members, veterans and groups of two or more from the same organization.
For experienced project managers and students who have completed UD's Project Management Certificate or a project management foundation course elsewhere, UD offers Project Management Exam Prep: PMP/CAPM. The Project Management Institute's Project Management Professional and Certified Associate in Project Management credentials are among the most recognized certifications for project managers. Presented in partnership with the Project Management Institute Delaware Valley Chapter, the intensive two-day workshop runs over two consecutive Saturdays, Jan. 20 and 27, from 8:30 a.m. to 4:30 p.m. in Newark. Discounts are available for those who have earned UD's Project Management Certificate and members of the PMI-DVC.