Learn project management best practices and theories

Understand the roles and functions of the project manager
Explore best practices in predictive (Waterfall), adaptive (Agile) and Hybrid project methods
Take the first step to attaining the Project Management Institute's (PMI®) Project Management Professional (PMP®) designation
Agile Simulation Game: online simulation game that will challenge your skills as a a Scrum Master
10-week live-online course — October 4-December 13 — REGISTER NOW!
Discounts, payment plan, scholarships available
LEARN MORE — view info session presentation
Successful companies and organizations in all fields use project management to achieve breakthrough results. The powerful and versatile tools of project management are transferable to any work environment and can be used to manage any project. Participants in this course learn by applying these tools and experiencing both the art and science of managing a successful project through the project life cycle.
Whether you are new to the project management discipline or looking to formalize your project management experience, this course provides current foundational knowledge to boost your project management skills. Participants will define a project and explore best practices in predictive (Waterfall), adaptive (Agile) and Hybrid project methods, applying the tools required for successful project delivery. Students acquire a set of functional tools and techniques that can immediately be applied in the workplace.
This course provides current foundational knowledge and offers an opportunity to earn the professional development units (PDUs) required by the Project Management Institute (PMI®) to maintain certifications or earn the contact hours needed to apply for a certification exam. The curriculum is aligned with the current PMP® exam content outline and applies principles from the PMBOK® (A Guide to the Project Management Body of Knowledge®) and the PMI® Agile Practice Guide, as well as references from other leading publications. This is a foundational program that teaches how to practice successful project management using PMI® best practices. This is not an official PMP® exam preparation course. An exam preparation courses does not cover foundational techniques. Exam prep assumes you are a practitioner with at least three years of project leadership and experience applying the foundational tools taught in this program.
---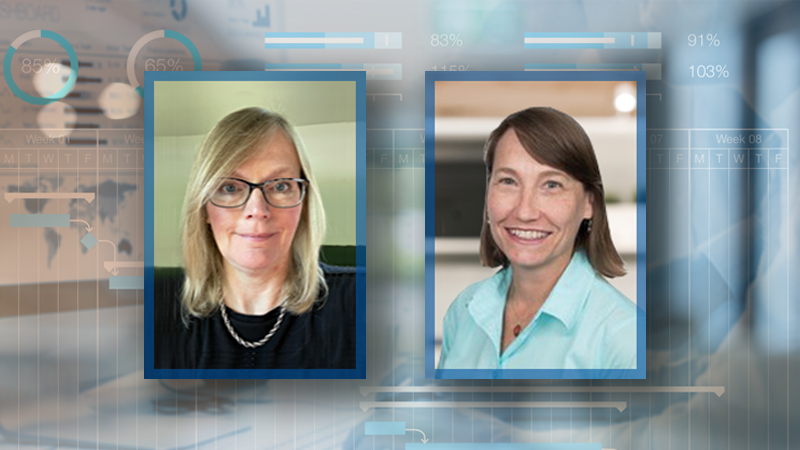 Accountability partners Karen Larkin and Jennifer Gallmann provided mutual support by participating in the UD PCS Project Management Certificate program together. – LEARN MORE

---
Check out our online project management Self-Paced Programs, which include a large selection of Agile, exam prep and strategy, Microsoft® Project, and PDU bundle classes. — LEARN MORE
---
Program details

Project Management Certificate – Noncredit Certificate
LOCATION: Live-Online
SCHEDULE: October 4-December 13, 2022 — Tuesdays, 6-9:30 p.m.
PRICE: $2,595. Payment plan, scholarships and potential discounts available, including: Elevate Delaware funding, Early registration, Military, UD student or alum, 2 or more (group).
CONTACT HOURS: 35
---
Who should participate in this program?
Newly appointed or aspiring project managers
Experienced project leaders who want to take their management skills to the next level
Managers who want to apply the discipline of project management to make their organizations more effective and more competitive
Business and management professionals who want to enhance their planning and resource management knowledge
Project managers seeking an entry into the Project Management Institute's PMP® (Project Management Professional) certification process
---
Instructors
Barbara Cullis is a faculty program director of technology projects and an instructor of management information systems (MIS) for the Department of Accounting and Management Information Systems in the University of Delaware's Alfred Lerner College of Business and Economics. Along with leading the MIS senior capstone program and the Global Enterprise Technology (GET) Immersion Internship experience, Cullis teaches undergraduate, graduate and professional development courses and workshops in IT project management and enterprise architecture. Prior to becoming a full-time faculty member in 2016, she was the director of information technology for Lerner.
A reviewer of two IT project management textbooks, her IT career has spanned 25 years in both the public and private sectors. In industry, she served as vice president of central engineering within the IT Managed Services Division of SunGard Availability and IT director of CCOR, a global telecommunications manufacturer in the cable network space. Providing strategic leadership on global enterprise resource planning, supply chain, data center builds and recovery projects, Cullis demonstrated a track record of successful implementations. In addition to having presented project successes at major conferences, such as Oracle Apps World and EDUCAUSE, she has led university-wide projects at Penn State University and successfully implemented new cutting-edge technology projects for Lerner.
In partnership with JPMorgan Chase, Cullis brought IBM's Master the Mainframe (MtM) contest to UD in 2019. The global competition is designed to teach students mainframe skills. At the conclusion of UD's first semester of participating in MtM, three of its students finished in the top tier and earned mainframe internships at JPMorgan Chase.
Cullis received her B.S. in business administration from Marymount Manhattan College and graduated from the inaugural class of the executive MBA program at Penn State. A self-proclaimed IT project management geek, she became a member of the Project Management Institute (PMI®) in 1996, a certified Project Management Professional (PMP®) in 2000, a certified Scrum Master in 2007 and a certified PMI® Authorized Training Partner in 2020. Cullis also serves on the PMI-Delaware Valley Chapter Academic Outreach Council raising awareness among college students about the benefits of both project management skills and project management as a career path.
---
Course outline
Module 1: Project Management Framework and Planning – Weeks 1-5
This module provides an introduction to project management concepts and the terminology commonly encountered in the world of project management. Further, it describes the constraints and benefits of project management and then presents an overview of project management standards and related disciplines.
Students will select a problem or opportunity that needs to be solved through a ranking process. Project selections will feed the formation of project teams. Each team will compose a team charter to define how it will govern itself throughout the program.
Topics include:
Introductions and Course Overview
Project Management Foundational Elements
Project Life Cycles – Agile (Adaptive), Waterfall (Predictive), Hybrid
Project Portfolio Management and PMO Concepts
Team Charter
Subarctic Survival (Team Building Simulation)
Defining Organizations and Matrixes
Introduction To Agile Concepts
Project Selection and Initiation
Project teams initiate a project by completing a business case and a project charter. After completing the project charter, the project teams identify project stakeholders and develop a stakeholder register. The project teams begin the process of planning a project in earnest by conducting a risk analysis, creating a communication plan, developing a work breakdown structure and defining the required tasks. Students then estimate the duration and work for all tasks in the project.
Topics include:
Initiating A Project
Project Mission and SMART Goals
Leadership, Motivation and Managing Expectations
Defining Roles and Responsibilities
Defining, Gathering and Prioritizing Requirements
Business Case Basics
Project Charter: Why Your Project Needs One
Stakeholder Identification and Engagement
Developing A Project Management Plan
Defining the Scope
Create a Communication Plan
Project Status Meetings and Reports
Module 2: Scheduling, Execution and Closing – Weeks 6-10
This module includes planning the work involved in the project and determining the schedule for Agile, Waterfall and Hybrid projects. After finalizing the project plan, the project baseline is set against which progress is tracked and performance is measured so that corrective action can be taken when necessary to meet project objectives. Students will hold project status meetings, manage project changes and variances, and motivate and manage project resources.
Topics include:
Identifying and Assessing Project Risk
Change Management
Developing the Work Breakdown Structure
Activities and Sequencing
Estimating Duration
Creating Task Dependencies
Building an Executable Schedule
Reporting Progress Against the Project Plan: Earned Value Analysis
Agile Simulation Game: Test Your Skills as a Scrum Master
Closing a project formalizes acceptance of the product, service or result and brings the project or a project phase to an orderly end. As the final requirement for completion of the certificate, students present their capstone project and share lessons learned.
Topics include:
Quality Management
Lessons Learned
Closing a Project
Archiving Historical Information
Capstone Presentations
Grading policy — To earn the Project Management Certificate, students must complete each module with a passing grade and earn a "C" or above as the course grade.
---
Learner outcomes
Upon completion of this course, participants will be able to:
Understand the role and functions of the project manager and Scrum Master.
Plan and manage projects using tools such as Work Breakdown Structures, Gantt charts and Agile ceremonies.
Manage your time, budget and project team more effectively.
Apply these tools immediately by completing a project plan and budget as part of the course of study.
Acquire practical, use-it-next-day skills to manage any project, large or small.
Gain hands-on experience using powerful, versatile tools to keep projects on track, on time and on budget.
Complete the required project management education hours toward a Project Management Institute (PMI®) certification.
Earn PDUs (Professional Development Units) for recertification purpose through the Project Management Institute (PMI®).
---
Career resources to help you succeed
NEW! — Participants enrolled in this certificate program will have access to a new suite of career resources and services to help them navigate a career transition, maximize their job search efforts and more. Click here to learn more about UD PCS Career Services.
---
About PMP® and PMI®
The Project Management Professional (PMP®) credential is the most important industry-recognized certification for project managers. Globally recognized and demanded, the PMP® demonstrates one has the experience, education and competency to lead and direct projects. The PMP® credential is offered through the Project Management Institute (PMI®). This program is an excellent starting place to attain the Project Management Institute's (PMI®) Project Management Professional (PMP®) designation, which remains the global standard for professional project managers.
The Project Management Institute was the first organization to offer a credential specifically for project managers, and continues to be one of the world's largest professional membership associations. With half a million members and credential holders in more than 185 countries, it seeks to advance the project management profession through globally recognized standards and certifications, collaborative communities, an extensive research program, and professional development opportunities.
---
Technology requirements
A laptop or desktop computer (PC or Mac) is required to participate in this class.
---
Prerequisites
There are no academic prerequisites for this program. Project managers can come from virtually any educational or experience background.
Project managers have to be able to understand and communicate both the technical and business cases for a project.
Access to a computer (PC or MAC) with internet access is required for this course. A laptop is preferred.
---
What our students say
"It was the most eclectic collection of students I've ever seen, which was great because we had a lot of diversity in terms of goals, work experience and professional backgrounds." – Tom Nesterak
"Since completing the program, I have moved into a new role managing large scale global projects." – Shams Naim
"This course introduced me to Microsoft Project, which I find to be a very useful tool."
– Ginny Kucharski
"I pursued the Project Management Certificate in order to increase my value as an employee with my company." – Randy Huber
---
---
For more information
---
---
Power Up Your Career free online seminars
Fall 2022 — "Industry Insights" series
Hear from industry insiders about their field
Industries represented — Healthcare | Legal | Fintech (financial technology)
Networking, live-online Q&A
---