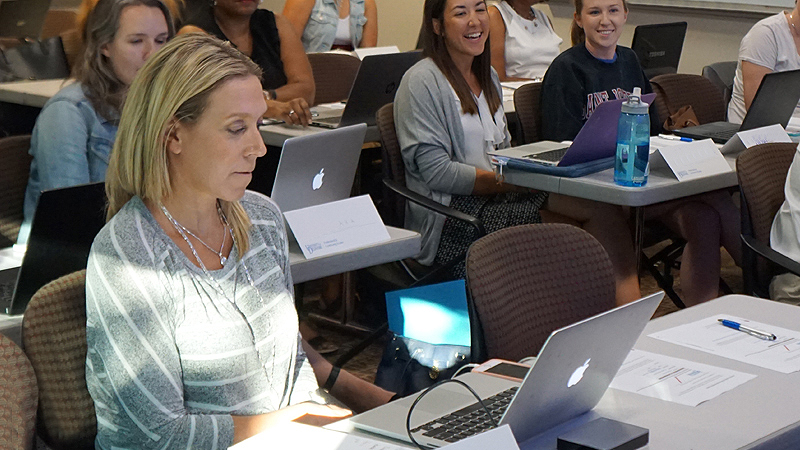 Fundamentals and advanced classes offered
Although Ann Manley was already well aware of the power of social media and enjoyed practicing it, she knew she had a lot to learn about how it can effectively be utilized by organizations. Following the completion of the fundamentals and advanced Social Media Marketing courses offered by the University of Delaware's Division of Professional and Continuing Studies (UD PCS), she now understands the difference between personal and professional use and is applying her newly acquired skills in multiple ways.
Fundamentals of
Social Media Marketing
March 13 – May 1, 2019
Wilmington, Del. and Online
Advanced Social Media Marketing for Business
Feb. 4 – May 19, 2019
Online

Two classes provide broad and deep coverage of in-demand social media marketing skills.

"The classes really taught me that there is much more to social media than just scrolling through your feed," said Manley. "We learned how to get our posts to the top of people's feeds and receive the engagement that we want. You really have to think about if what you are posting is relevant, if people are going to want to look at it, and if it fits your organization or brand. It all needs to be cohesive and connected."
Fundamentals of Social Media Marketing focuses on leveraging a variety of social media platforms to build and extend awareness, increase visibility, converse with prospects and customers, cultivate brand ambassadors, gain market share, and support organizational goals. Advanced Social Media Marketing digs deeper by researching, planning, developing, integrating and executing comprehensive social media marketing strategies, integrated campaigns, targeted content and paid placement, and then measuring success.
Looking to apply the program's lessons to three very different needs, Manley was able to achieve each of her goals. An administrative assistant in UD's Department of Chemistry and Biochemistry, she was encouraged to enroll so she can help beef up her team's social media presence. Manley has seen a significant increase in the department's Facebook following and is employing a strategy that incorporates video.
She also sought to gain social media marketing skills to help promote her photography business and embark on another venture as well. Prior to taking the classes, a big chunk of her company's budget was used to outsource functions such as search engine optimization and social media monitoring.
"I do it all on my own now," said Manley. "I check my own Google Analytics, Facebook Insights and Instagram Insights, post and hashtag differently, and make sure my branding is really consistent."
In addition, Manley has gained the ability to provide social media services to others. She recently signed her first client and is enjoying the opportunity to create content designed to increase social presence and strengthen brand awareness.
"I now have the confidence in myself that if someone wants to hire me to make their social media more relevant and present, I know I can do that," said Manley. "I can take the tools I learned and apply them to a business to make it flourish. I would not have been able to do that without these classes.
While balancing the demands of multiple positions could pose a time challenge in many endeavors, social media is a natural fit for someone looking to take on a variety of tasks.
"Thanks to the around-the-clock availability of the social media platforms, as well as the programs used for scheduling posts, I can work from anywhere at any time and not have my part-time jobs interfere with my full-time position at UD as well as my other responsibilities," said Manley.
Having only taken a handful of college courses since her 1993 high school graduation, Manley admits it was a bit tough to make her return to the classroom. Her fears were quickly alleviated when she found how well she fit in the non-credit offerings.
"It felt great to be in classes with people who were just like me," said Manley. "There were a lot of working parents and other professionals wanting to advance in their careers."
While she enjoyed getting to know her classmates through face-to-face interaction, she also greatly appreciated having 24 of the 30 sessions for the advanced class being conducted online via Facebook Live. Manley participated in class from a variety of locations, including the café of the studio where her daughter takes dance lessons.
"The online aspect was really great, especially for people with busy schedules," said Manley. "Since the lessons were all recorded, I was able to go back and listen again if I needed to."
Striving to accommodate more students while expanding the geographical reach of the program, Advanced Social Media Marketing is now being conducted completely online. Consisting of 60 contact hours, the next session runs Feb. 4–May 19. Each week, participants will have until Sunday to complete their assignments while continuously collaborating and working on a group project.
The next Fundamentals of Social Media Marketing course will run from 6 to 9:15 p.m. on Wednesdays, March 13–May 1. Four of the sessions will be held at UD's Arsht Hall in Wilmington, while the other four will take place online.
"If you are really wanting to take your business to a new level, these are the classes to take," said Manley. "There is a lot of work involved, but I enjoyed all of it and it was definitely worth it for me."
Students interested in UD's Social Media Marketing program are encouraged to find out which course best fits their needs by completing the self-assessment questionnaire at www.pcs.udel.edu/socialmedia. For more information, email continuing-ed@udel.edu or call 302-831-7600.