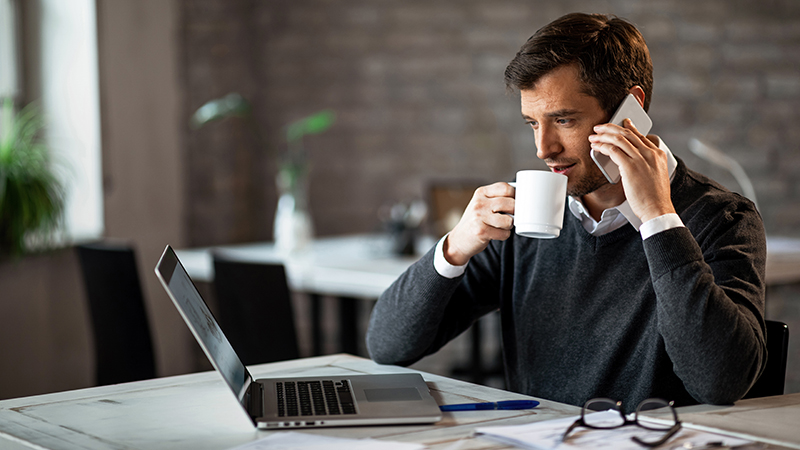 Demand for skilled professionals skyrocketing
Although social media managers are not included on the highly deserving list of front-line responders eligible to receive free Starbucks coffee throughout the month of December, they certainly are among the many professionals who have been putting in some long, stressful hours.
Advanced Social Media Marketing for Business Certificate
Feb. 8-May 23, 2021
ONLINE
Fundamentals of Social Media Marketing Certificate
March 8-May 2, 2021
ONLINE
While those tasked with running their employers' Facebook, Twitter and Instagram pages—as well as a host of other platforms—are probably not saving lives, they do have a great influence on the health of their organizations and have been consuming plenty of caffeine of late.
"Social media managers have had a lot of coffee since March," said Nancy Dibert, program director and instructor for the University of Delaware's Division of Professional and Continuing Studies' (UD PCS) online Social Media Marketing program and CEO of EPIC Marketing Consultants. "Every word that is typed and every video that is posted is dissected. The amount of crisis management of self-inflicted wounds that organizations have done on social media has been mind-blowing."
Whether it has been the COVID-19 pandemic, the Black Lives Matter movement, the economy or the presidential election, Dibert said social media has been the driving force of the exchange of information.
"As social media marketers and managers, we have had to have our fingers on the pulse of what is happening, not on a day-to-day basis, not even on an hour-to hour basis, but on a minute-to-minute basis," said Dibert. "The most important advice I can give is to always be aware of your audience and its values, and if you can't say something that is supportive, it is probably best to not say anything at all."
Hopefully Starbucks is keeping its own social media managers fortified as they have been immersed in the fray. Shortly after expressing support for the Black Lives Matter movement via social media, Starbucks was inundated with a social media backlash on June 11 in response to a report that its employees were prohibited from wearing BLM apparel. The next day, Starbucks used its social media channels to announce its change in stance. Though many of the more than 25,000 comments on its Facebook page following the reversal have been negative, Starbucks has acknowledged the concerns and kept the discussion going by responding to numerous posts in a nonconfrontational manner and emphasizing its commitment to listening, learning and working to be a better company.
Praised over the years for engaging its audiences in online conversations about social and environmental issues, as well as its photo and video content, only time will tell if Starbucks responded fast enough and appropriately. According to data released by DealAid on July 23, 45% of consumers surveyed said they are less likely to buy from Starbucks because of its initial policy banning its employees from wearing Black Lives Matter apparel; 14.7% will actively try to avoid making purchases at Starbucks; and 41.2% said it will have no influence on their decision. Based on its surging stock price over the six months following the backlash, highlighted by an all-time high in mid-December, Starbucks appears to be weathering the storm just fine.
Already on the rise prior to the events of 2020, the need for skilled social media professionals is continually escalating, and the number of people using the title of social media manager on LinkedIn has doubled over the last seven years. With an estimated 91% of U.S. businesses on social media—in all industries—there are plenty of opportunities for employment. Over the last decade, job postings seeking practitioners to fill these roles have increased by more than 1,000%.
Dibert said the UD PCS program provides a great avenue for people to enter the field, and whether students are just learning social media marketing skills or looking to advance their fundamental to midlevel proficiency, there is a course to meet their needs.
Fundamentals of Social Media Marketing Certificate, beginning March 8, focuses on leveraging a variety of social media platforms to build and extend awareness, increase visibility, converse with prospects and customers, cultivate brand ambassadors, gain market share, and support organizational goals. Advanced Social Media Marketing for Business Certificate, beginning Feb. 8, digs deeper by researching, planning, developing, integrating and executing comprehensive social media marketing strategies, integrated campaigns, targeted content and paid placement, and then measuring success.
Despite all that has been happening in the world, Dibert does not see the need to make any significant changes to the curriculum because the program is already providing relevant lessons on timely social media for business topics, including decision trees, crisis communications, listening and when to go dark, and preparing participants for countless situations.
"I have heard from many former students over the last few months, and it has been a resounding, 'I never thought I would have to use that and am so glad I learned it and have those tools,''' said Dibert.
Caffé Gelato employee Kiran Wiker was not able to wait to become a former student to begin utilizing the coursework, since she was enrolled in Advanced Social Media for Marketing for Business Certificate during the spring COVID-19 quarantine period.
"Every lesson, lecture and piece of reading material was crucial to getting us through quarantine because I had to apply it that second," said Wiker. "I couldn't learn fast enough and was astounded by how much of the material I was able to put into practice."
Students interested in UD's Social Media Marketing program are encouraged to find out which course is appropriate for them by completing the online self-assessment questionnaire.
Discounts and payment plans are available for both courses. For more information, visit pcs.udel.edu/socialmedia, email continuing-ed@udel.edu or call 302-831-7600.