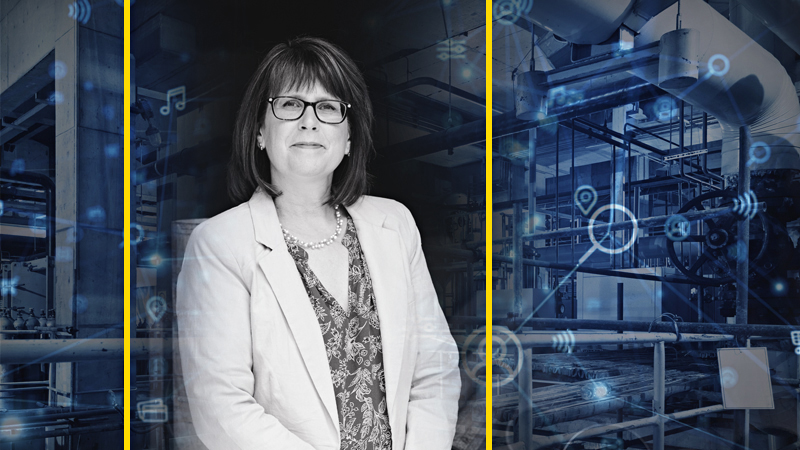 Lessons help student's career advancement
Recognizing the need for M. Davis & Sons to significantly ramp up its social media presence about 10 years ago, the industrial construction company's CEO, Peggy Del Fabbro, tasked longtime employee Elaine Buonopane with leading the effort.
Advanced Social Media Marketing for Business Certificate
Feb. 7-May 22, 2022
ONLINE
Fundamentals of Social Media Marketing Certificate
March 14-May 8, 2022
ONLINE
Buonopane, a marketing and operations coordinator at the time, had been dabbling in social media and knew she had a lot to learn. Embracing the challenge posed to her by Del Fabbro, she began attending seminars and conferences in an attempt to gain all the knowledge she could about social media marketing.
"I credit Peggy with really making a marketing push toward social media," said Buonopane. "She said we are missing the boat if we don't get out there and do it. With her behind me, I just kind of went for it."
Taking a strategical approach
Though she was comfortable with the act of posting on various social media platforms, such as Facebook and LinkedIn, Buonopane knew she needed to acquire a greater understanding of the strategic process of doing it for a business.
"I wasn't really sure what to post and how to go about it, and I didn't want us to look foolish," said Buonopane. "There is also the time factor of working it into your schedule. It's like having another mouth to feed. You have to take care of it."
Acknowledging the forward strides she was making on Del Fabbro's request and her desire to keep progressing, Buonopane's supervisor, Christina MacMillan, encouraged her to enhance her education by enrolling in the Advanced Social Media Marketing for Business Certificate program offered by the University of Delaware Division of Professional and Continuing (UD PCS). In spring 2020, Buonopane completed the 15-week online course, which teaches students with fundamental to midlevel social media marketing skills to effectively and successfully leverage the power of social media to support organizational goals, and said the quality and variety of the material presented was a lot more than she expected.
"I learned how to take a brand that is looking for social media marketing and build its presence from the ground up," said Buonopane. "Because it was an advanced class, we dug in deep with lessons on strategies, campaigns and how to really gain some traction."
Serving multiple purposes
One of the first lessons Buonopane benefited from was how to conduct an audit on a company's social media activities. By assessing what an organization has done on social media and what it is trying to accomplish, a strategy can be developed. While the obvious intent is to increase business for the company headquartered in Wilmington, Delaware, M. Davis also uses its platforms to attract future employees, interact with its current staff, bring awareness to its training programs for students and connect with members of the region.
"For M. Davis, it is not just about construction," said Buonopane. "It's about what we do for Delaware and how we help and impact our local communities. The class helped me evolve our content and attract a wider audience. People do not want to follow a construction company that just shows employees welding or moving large pieces of equipment. That is great, but it is just one piece of the puzzle. We need to have a rotation that includes fun posts, interesting posts, industry-related posts and community-related posts."
Buonopane has used the teachings from the class to implement several targeted campaigns, including one to increase brand awareness and another to encourage people to register for a free webinar with an M. Davis subject matter expert about a power distribution product. Her campaigns have been utilizing video production, which she learned a lot about in the program.
Convenient online format
Conducted in an asynchronous format, students in the University of Delaware's Advanced Social Media Marketing for Business Certificate Program review the materials when it is best for their schedule. Though there are weekly deadlines to meet, being able to study the lessons on her time and not having to travel to class worked very well for Buonopane, a mother of three who balances her career with her family and other commitments.
"While there is value to an in-person experience, I definitely appreciated the online format," said Buonopane. "I probably got more out of it by being able to do the readings and watch the videos when I could instead of rushing to class after dropping one of my kids off in the driveway following a practice and not being prepared or fully present for what we were working on."
Job well done
Along with positive responses to her targeted campaigns by those outside the organization, her work has been recognized internally by her coworkers, including Del Fabbro. In December 2020, Buonopane was promoted to marketing and digital media specialist. In addition to continuing to handle and grow the social media for M. Davis, she has been charged with heading a rebuild of the company's website.
"Social media engagement was, and still is, an important marketing strategy for M. Davis & Sons," said Del Fabbro. "Years ago, I believed that getting active on our social platforms would increase our visibility. Working with Elaine to increase our social media started a push toward digital marketing. She has developed engaging content and posts and has launched new channels for M. Davis. Through UD's Advanced Social Media Marketing for Business Certificate program, Elaine was well-equipped to manage our social channels and digital media."
Expert and supportive instruction
Buonopane gives great credit to the knowledge she gained and the productive online learning format to Nancy Dibert, program director and instructor for the UD PCS Social Media Marketing program and CEO of EPIC Marketing Consultants.
"Even though the class was remote, I definitely did not feel like I was on my own," said Buonopane. "I could email Nancy, send her a message through the Facebook group where all of the class materials were downloaded or post a question within a module, and she was always super responsive and available. She welcomed the students' conversations, input and comments and was helpful in guiding the discussions. I never felt like I was asking a stupid question."
Buonopane also appreciated that the curriculum can be adapted to the makeup and needs of any organization.
"You can come from a large business and you can come from a mom and pop kind of business," said Buonopane. "There really is information that helps every level of business. It is not just geared for a Fortune 500 company with a massive budget."
Classes open for registration
Because of her positive experience in the Advanced Social Media Marketing for Business Certificate program, Buonopane also participated in Dibert's Search Engine Optimization short course. Along with several other digital marketing short courses, Search Engine Optimization is in the process of being converted to an online, on-demand format. The first course of the series, Foundations of Digital Marketing, is open for registration.
"I think I can attribute my promotion to the University of Delaware," said Buonopane. "The two classes I took were awesome and really key. I cannot wait for the next digital marketing classes that are rolled out."
The spring session of the Advanced Social Media Marketing for Business Certificate program begins Feb. 7. For those seeking introductory level education, UD PCS also has an online Fundamentals of Social Media Marketing Certificate course starting March 14.