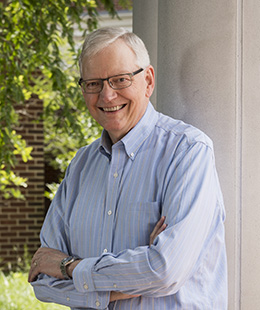 "After retiring from a 33-year career as a research chemist with DuPont, I enrolled at the University of Delaware through the Over 60 Tuition-Free Degree program. I had been out of school for a long time and had some concerns, which were quickly alleviated.
Although I was occasionally mistaken for a professor, everyone was very cooperative and nobody looked at me like 'what the heck is he doing here?' The tools have changed considerably, but it really wasn't that big of a deal. Most of the professors are still essentially teaching the way I remembered. They are just using PowerPoint presentations instead of overheads.
It was interesting taking classes with students more than 40 years younger than me. I didn't try to pretend I was 18 years old, but I made sure that I always treated my fellow classmates as peers.
Thanks to UD's Over 60 Tuition-Free Degree program, I graduated with a master's degree in computer science at the age of 66 and am beginning a second career. From the ACCESS Center to admissions to my professors to my fellow students, everyone was so kind, helpful and supportive. It was a wonderful opportunity."
Paul Soper has accepted a position with the Army Materiel Systems Analysis Activity at Aberdeen Proving Ground. He recently completed UD's master of science degree in computer science.