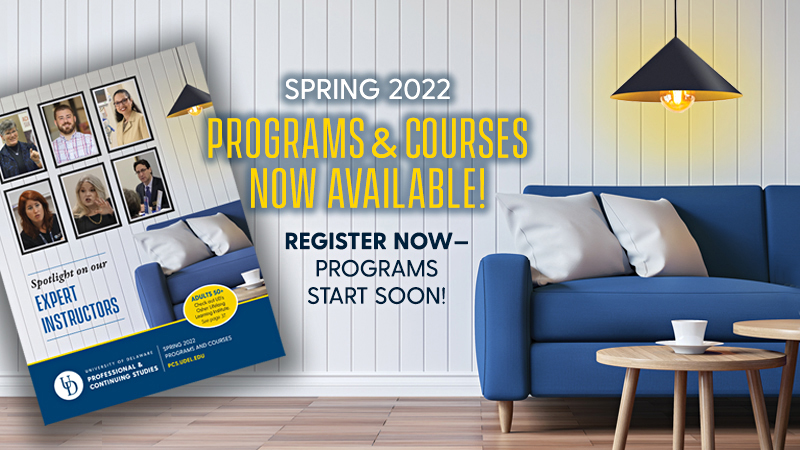 Spring 2022 Professional and Continuing Studies catalog available
The spring 2022 program guide from the University of Delaware's Division of Professional and Continuing Studies (UD PCS) is now available online.
Along with listings of upcoming business, healthcare, IT and legal courses, the publication highlights the resources and services UD PCS provides. Most spring programs are offered online, with financial assistance options like scholarships, payment plans and discounts.
This semester's catalog features UD PCS program faculty who combine their education and experience with a passion for the subjects they teach and include business owners, industry experts, veteran educators and leaders in their fields.
The catalog also highlights several impactful UD PCS programs or people and their successes this year. Highlights include the ACCESS Center and Osher Lifelong Learning Institute, the Clinical Trials Management and Montessori Teacher Residency programs and Advanced Social Media Marketing program graduate Heather Cox.
UD PCS provides educational opportunities for anyone seeking to begin or complete their college education, enhance their professional skills or enrich their personal lives. UD PCS also provides customized training and educational services to area businesses, organizations and professional associations.
PCS is home to more than 17,000 enrollments each year — including UD employees — through UD credit courses and degrees, professional development courses, certificate programs, specialized conferences, workshops and lifelong learning member cooperatives throughout the state.
Members of the public and the UD community are invited to learn about spring programs at free online information sessions held Jan. 18-20 at 7 p.m. each night.
For details or to read the current catalog, visit the UD PCS Spring 2022 Guide website.