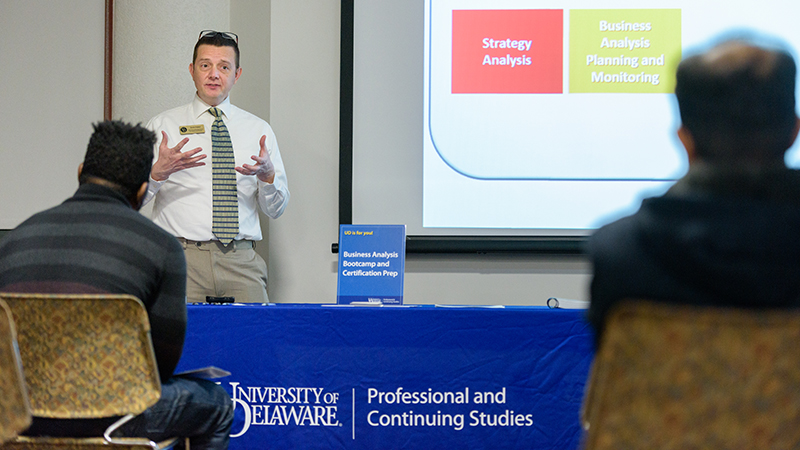 Bootcamp and certification prep program offered March 5-9
According to CareerBuilder, business analysts within organizations tend to be people with highly analytical minds who enjoy finding patterns and solving problems and who are constantly looking for ways to address waste and inefficiencies in production and processes.
Business Analysis Bootcamp and Certification Prep

March 5-9, 2018
Newark, Del.
Bridge the "understanding gap" between an organization and its technology, and function as a type of translator.
Functioning as a type of translator, business analysts bridge the "understanding gap" between organizations and their technology. One of the most important roles of a business analyst is facilitating communications among an organization's stakeholders to find out what their needs are and to turn those needs into measurable IT requirements and solutions. To succeed in this role, business analysts must have a broad range of business, technical and interpersonal skills.
Looking to identify trends and discover why certain patterns occur, responsibilities of business analysts may include creating and updating performance reports, studying industry-wide business trends, identifying irregularities in performance and researching why these anomalies occur, creating predictions and forecasts for long-term performance, building contingency plans and estimating the cost to the company in a crisis, and assessing the impact new vendors and changes have on a business.
Data suggests a strong need for business analysts. The U.S. Bureau of Labor Statistics' projected growth rate of 19 percent for business analysts between 2014 and 2024 is significantly greater than most positions and industries in the United States. This rate of growth equates to a predicted 495,000 jobs.
To assist interested professionals in becoming certified business analysts, the University of Delaware's Division of Professional and Continuing Studies (UD PCS) is offering a five-day Business Analysis Bootcamp and Certification Prep course March 5-9 in Newark. The class runs from 8 a.m. to 5 p.m. and includes daily lunch. Along with a participant manual and other necessary materials, students will receive a copy of A Guide to the Business Analysis Body of Knowledge® (BABOK® Guide) third edition.
The course defines business analysis, describes the BABOK® Guide, and addresses business analysis key concepts, including elicitation and collaboration, strategy analysis, business analysis planning and monitoring, requirements analysis and design definition, requirements life cycle management, and solution evaluation.
Individuals who can benefit from this program include IT professionals new to business analysis, people who are currently working in or interested in moving into a position in which business analysis skills would be useful, and anyone preparing for Certified Business Analysis Professional (CBAP), Certification of Competency in Business Analysis (CCBA), or Entry Certificate in Business Analysis (ECBA) credentials.
Potential discounts are available for early registration, UD alumni and Project Management Institute Delaware Valley Chapter (PMI-DVC) members. For more information about Business Analysis Bootcamp and Certification Prep, visit www.pcs.udel.edu/analyst, email continuing-ed@udel.edu, or call 302-831-7600.