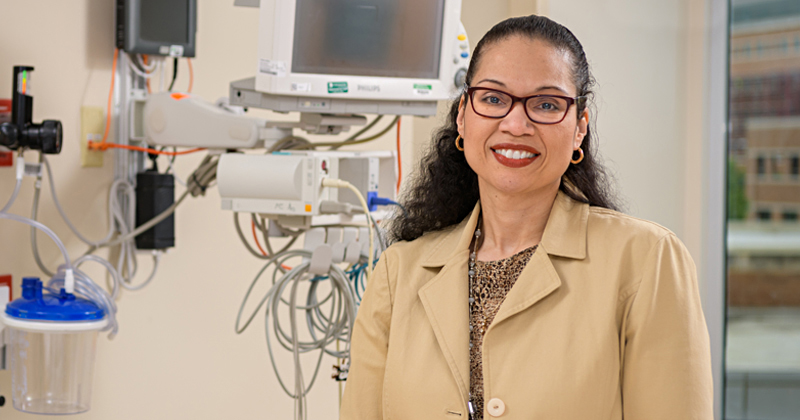 Telehealth experts weigh in on the value of telemedicine applications during COVID-19 pandemic
In Delaware and the surrounding region, telehealth experts and practitioners already knew the value of telehealth when it came to providing remote patient monitoring and virtual doctor visits to populations in underserved locations.
But in the current COVID-19 pandemic environment, telehealth solutions are taking center stage as healthcare providers seek to stay ahead of the crisis while offering continued care for their patients and the larger community.
For the providers and organizations with telehealth capabilities already in place, they've been reporting an increased number of appointments and services, allowing patients and clients to stay at home while receiving diagnostic and ongoing care.
And in the case of providers with implementation plans in the works or with no previous virtual capabilities, many are accelerating their plans for telemedicine adoption.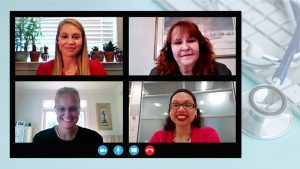 UD telehealth faculty recognized

With telehealth taking center stage during the coronavirus pandemic, it was especially timely when Carolyn Morris, program director of the Advanced Telehealth Coordinator Online Certificate program, earned the 2020 Excellence in Teaching Award from the University Professional and Continuing Education Association (UPCEA) Mid-Atlantic Region. Read full article.
Increased pace of telehealth adoption
"The number of providers and practices who've approached us for telehealth expertise in the last few weeks has been unprecedented," said Carolyn Morris, director of telehealth planning and development for Delaware Health and Social Services (DHSS) and co-chair of the Delaware Telehealth Coalition.
As program director and lead instructor of the University of Delaware's Advanced Telehealth Coordinator Certificate program, Morris is also hearing from program graduates out in the field who are receiving similar requests for telemedicine technical assistance and expertise within their organizations.
"From primary care, specialty care and behavioral health, to counselors, rehab therapists, doctors, nurses, physical therapists, speech language pathologists, occupational therapists, every type of practice I can think of is in the process of trying to launch telehealth use cases to provide care for their clients and patients," added Morris.
"This crisis has made everyone think outside the box," said Morris. "Groups are accelerating their efforts to find ways telehealth can help mitigate the spread of infection, while still caring for their patients and clients and keeping the lights on during the current events that are impacting healthcare delivery as we know it."
Telemedicine at ChristianaCare
At ChristianaCare, UD alumna Gemma Lowery is the telehealth program manager, responsible for leading and expanding telemedicine initiatives for the state's largest health system. One of the first graduates of UD's Advanced Telehealth Coordinator Certificate program, she is on the front lines of ChristianaCare's telemedicine program.
"Here at ChristianaCare, our longest-running telehealth effort is the Virtual ICU, where overnight physician coverage has been provided virtually for well over a decade, and we've added many other telehealth initiatives since then." said Lowery.
"Our extensive telehealth knowledge and experience have allowed us to provide excellent care in the current COVID-19 environment," said Lowery. "In the past several weeks, ChristianaCare has expanded its virtual capabilities at a feverish pace. The balance between maintaining the care of patients with non-COVID-19 illnesses and assessing and treating positive COVID-19 patients in a manner that best protects our caregivers, our patients and our community at large has been our guiding force."
At ChristianaCare, that has meant monitoring at-risk community members at home, creating virtual support groups and community outreach town hall meetings, and setting up video visits with primary care providers and patients, said Lowery. An increase in "virtual rounding" over traditional hospital rounds is reducing exposure and helping to conserve utilization of PPE (personal protective equipment).
ChristianaCare teams have also fielded calls from Delaware and area hospitals and have participated in regional and national calls to share COVID-19 experiences and best practices.
Continued benefits of telehealth
For many providers, experts anticipate that telehealth will remain an integral part of their organizations' caregiving practices even after the immediate pandemic crisis subsides. Added Morris, "I suspect when the emergency is over that new, refined policies will make it easier for providers to continue using telehealth." In most states, legislative gains in the last several years have already led to Medicaid laws requiring provider reimbursement for most telehealth services, and the majority of states also require reimbursement by private insurers.
"The COVID-19 crisis has shined a bright light on the value of telehealth as a very significant part of our medical treatment toolkit," added Lowery. "We are very proud to be part of a new evolution in how medical care will be delivered going forward."
About UD's telehealth certificate program
Now in its fifth year, UD's Advanced Telehealth Coordinator Certificate program is focused on providing the foundations of telehealth for the delivery of healthcare, including technology evaluation, business and operational considerations, regulations, ethics, privacy and more.
First offered in 2016 as an on-campus class, the program was initially developed in partnership with Delaware Health and Social Services (DHSS), partly in response to the need expressed in the wake of UD's successful 2015 regional telehealth conference. Input from other Delaware telehealth initiatives such as the Delaware Telehealth Coalition, Delaware Telehealth Roundtable and Delaware's State Health Care Innovation Plan, among others, helped reinforce the need for telehealth training.
The program's present all-online format was quickly developed in response to demand from Delaware and the region, said Morris. "We had course inquiries from practitioners in nearby states and even other countries. When the course was originally offered on campus only, several participants commuted up to an hour-and-a-half to attend."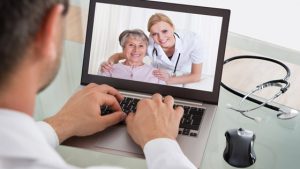 Advanced Telehealth Coordinator Online Course

Starts Sept. 12, 2022
ONLINE
Leverage telehealth technologies to improve access to healthcare and manage the business aspects of telehealth. Register now or learn more.
"We knew from the start that our program would be addressing a real need within the healthcare industry to provide the training and education that would help facilitate the wider adoption of telehealth," said Lynn Fishlock, program manager for noncredit and professional development healthcare-focused programs for UD's Division of Professional and Continuing Studies.
"We often find that one or two professionals from a healthcare organization enroll in the UD program as a first step in the process of launching telehealth initiatives for their practice, whether it's primary care, speech/language pathology, hospital-based programs and more," added Fishlock.
The 15-week online Advanced Telehealth Coordinator Certificate program is currently offered three times a year, with February, May and August start dates. UD students and UD alumni are eligible for a discount when enrolling in this program. Other discounts include a military/veterans discount and a group discount when two or more individuals from one business or organization register for the program.
The upcoming summer cohort is receiving a significant number of early registrations, with some enrollees asking if they can access the course content ahead of schedule because of current events. Fishlock added, "It's extremely gratifying to see that the program and its graduates are providing some of the knowledge base that's fueling the adoption of telehealth solutions in the current healthcare environment."
Article by Nora Zelluk
Photo by Evan Krape