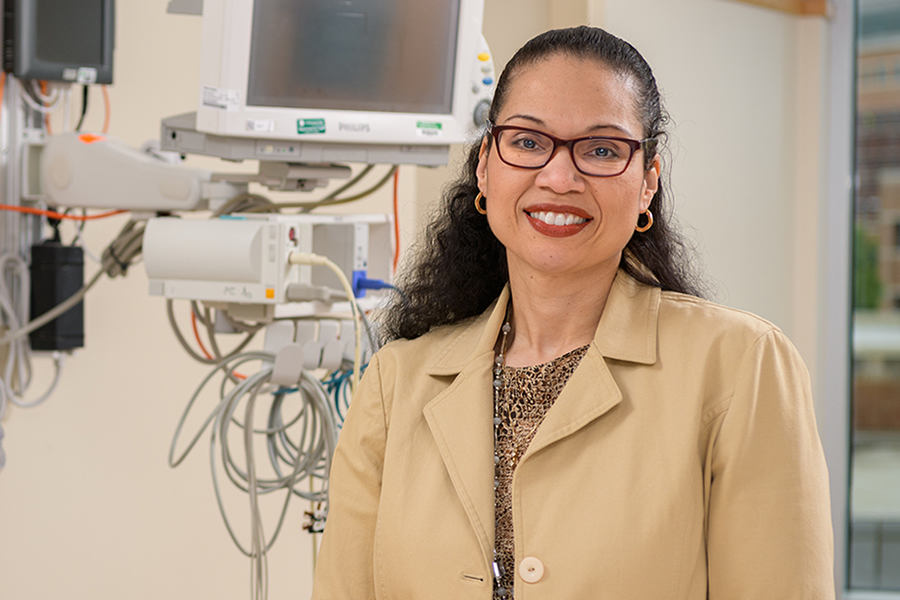 Gemma Lowery is the new Telehealth Program Manager at Christiana Care Health System where she is responsible for leading and expanding telemedicine initiatives. A University of Delaware alumna and graduate of UD's Advanced Telehealth Coordinator Certificate program, she is a big believer in the potential of telehealth to address a wide variety of healthcare access issues.
In her previous role as Christiana Care eICU operations coordinator, Lowery was already knowledgeable about telehealth's capabilities. "Christiana Care's longest-running telehealth effort is the Virtual ICU, where overnight physician coverage has been provided virtually for the past 13 years," she said, adding, "During that time, we've experienced shorter ICU stays and earlier ventilator removal. Both lead to improved outcomes in the ICU."
Lowery enrolled in one of the original cohorts of UD's telehealth certificate program. At the time, she was interested in learning more about non-ICU applications for telehealth. Said Lowery, "The field was and still is growing so quickly, staying updated with federal, state and local laws is one of the keys to success. The course helped provide a huge list of resources to assist with that process."
In addition, because of her background in the virtual ICU, she collaborated with the original program faculty to help facilitate the course's module about telehealth applications relating to virtual intensive care units.
Lowery believes that innovations powered by telehealth and telemedicine technologies will continue to gain traction in the industry. "At Christiana Care, our eCare multidisciplinary team is an optimal blend of new technology and outstanding clinical staff support. This results in excellent patient outcomes that include reduced length of stay, less time on ventilators and the best care available for their chronic or crisis situation. I believe that speaks volumes to the importance we place on providing innovative care to our patients."
"A newer program that's been well-received is the Employee Virtual Practice coverage, which provides Christiana Care employees with virtual access to primary care providers," said Lowery. "Some Christiana Care specialists have also adopted virtual visits for patient follow-up visits, providing flexibility for patients to avoid taking time off work or arranging transportation or child care."
"I am a huge advocate for health equality and health equity," said Lowery. "I believe telehealth is a way to help bridge gaps in healthcare access. Understanding all the ins and outs of the telehealth environment has helped me make smart decisions as I partner with clinical, IT and other teams involved in telehealth at Christiana Care."
Article by Nora Zelluk
Photo by Evan Krape