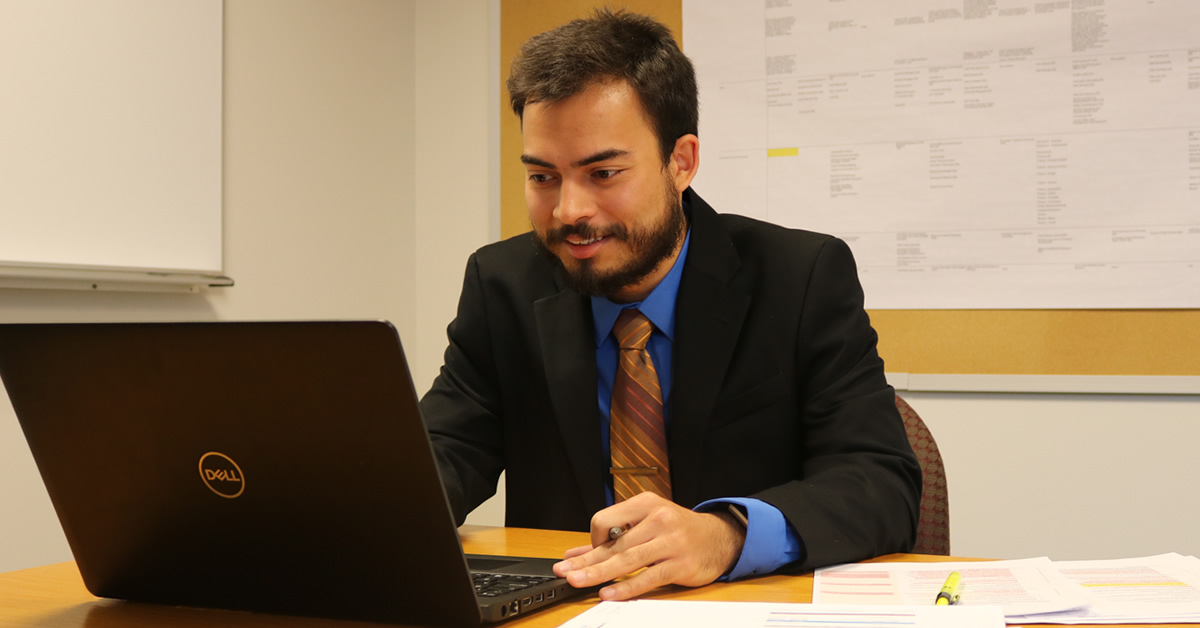 UD's Alex Lindstrom to share continuing education experiences
Alex Lindstrom is an IT Security Analyst II with UD's IT Security group who completed multiple certificate programs through UD Professional and Continuing Studies, and has some great insights to share about professional training goals and lifelong learning.
UD Employee Education Open House
Thursday, Nov. 15, 2018
Perkins Student Center, Rodney Rm., 11 a.m.-2 p.m.
Free lunch!
Win prizes!

"I started looking for training and certificate programs because I wanted to develop myself in the areas of my job in which I had responsibilities but not necessarily formal training," said Lindstrom. "Professional advancement and professional development are closely related, and they drive each other in this symbiotic sort of way. You learn, and as you learn, you become more qualified to advance, which exposes you to new responsibilities and opportunities, for which you need to keep learning."
He doesn't deny that it takes some effort to acquire that training, but says that prioritization is key, adding, "It also helps if you don't think of it as work. Sure, there are assignments that need to be completed and readings to finish, but, ultimately, you enroll because you have an interest in developing yourself in some way. Viewing these programs as the opportunities they are is a great way to motivate yourself to commit. In that light, it's absolutely worth it." (Click here to read the full Q & A with Lindstrom.)
Lindstrom will be discussing his experiences at the UD Employee Education Open House on Nov. 15, along with other UD staff who will be on hand to answer questions and discuss resources and education opportunities for UD employees. RSVPs are requested.
The open house will take place on Thursday, Nov. 15 from 11 a.m.-2 p.m. in the Perkins Student Center, Rodney Room.
Staff from Human Resources; UD Library, Museums and Press; Professional and Continuing Studies; Graduate Admissions; Office of Equity and Inclusion; and UD's Osher Lifelong Learning Institute (OLLI) will be on hand to answer questions and discuss available resources and opportunities.
Attendees will also hear from UD employees who have taken advantage of education opportunities at UD. Other mini-presentations will take place from noon to 1 p.m. covering:
Free career and educational advisement at UD's ACCESS Center
How to use your education benefits to enroll in UD classes or earn a UD graduate or undergraduate degree
Additional workshops and training opportunities on campus
Light lunch refreshments will be available, and attendees will be eligible for prize raffles. UD employees are asked to RSVP for the open house.
For more information or to RSVP, visit https://www.pcs.udel.edu/ud-employees/.
Photo by Elise Maxfield