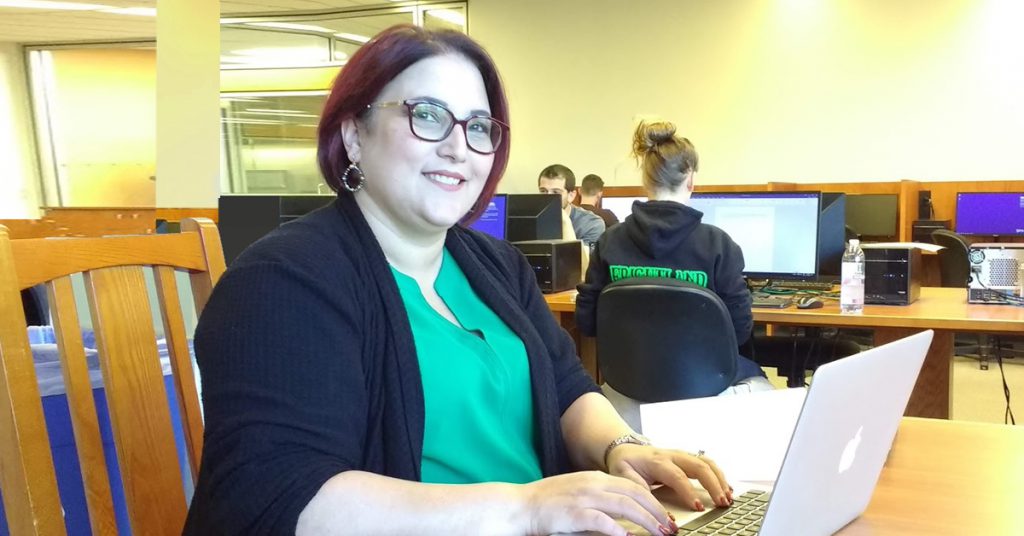 Professional and Continuing Studies to host education open house for UD employees Nov. 15
UD's Blaze Delaney to share educational journey
UD's Blaze Delaney is completing a UD degree while working full time for IT–Network & Systems Services as interim manager of Telephone Services. This semester, she's enrolled in her very last class before completing an associate in arts, and now has her sights set on a bachelor's degree.
UD Employee Education Open House
Thursday, Nov. 15, 2018
Perkins Student Center, Rodney Rm., 11 a.m.-2 p.m.
Free lunch!
Win prizes!

She will be sharing her educational journey at the UD Employee Education Open House on Nov. 15, along with other UD staff who will be on hand to answer questions and discuss resources and education opportunities for UD employees. RSVPs are requested.
"I didn't have the opportunity to go to college before," said Delaney. "Once I became a UD employee, it was my chance to finally earn a degree. It was definitely a personal goal, as no one else in my immediate family went to college."
"Also, when I started a family of my own, I wanted to show my children how important education is and how important it is to continue to work toward your goals," added Delaney.
Delaney acknowledges that it's hard work. "I can't say that it's easy. Work keeps us all busy, and life has a way of throwing curve balls when you least expect it. At times it does feel like taking one or two classes at a time won't make a difference. Then all of sudden, a degree is in sight!"
Delaney has completed the majority of her coursework online, with some on-campus courses in Newark.
Along with other UD staff, Delaney will discuss her experiences on Nov. 15 at the UD Employee Education Open House, where UD employees can learn more about education opportunities available to them and how to take advantage of their education-related benefits.
The open house will take place on Thursday, Nov. 15 from 11 a.m.-2 p.m. in the Perkins Student Center, Rodney Room.
Staff from Human Resources; UD Library, Museums and Press; Professional and Continuing Studies; Graduate Admissions; Office of Equity and Inclusion and UD's Osher Lifelong Learning Institute (OLLI) will be on hand to answer questions and discuss available resources and opportunities.
Attendees will also hear from UD employees who have taken advantage of education opportunities at UD. Other mini-presentations will take place from noon to 1 p.m. covering:
Free career and educational advisement at UD's ACCESS Center
How to use your education benefits to enroll in UD classes or earn a UD graduate or undergraduate degree
Additional workshops and training opportunities on campus
Light lunch refreshments will be available, and attendees will be eligible for prize raffles. UD employees are asked to RSVP for the open house.
For more information or to RSVP, visit https://www.pcs.udel.edu/ud-employees/.